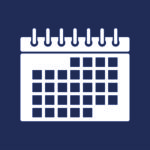 Our two-year residency program features numerous well-defined rotations to ensure a complete, high-quality training curriculum for our physics residents. Additionally, we integrate our residents into many facets of clinical practice. Explore the specifics of our program structure below.
Clinical Rotations
Each year in the program, the residents receive 12 vacation days and 12 sick days (approximately 1 month combined). This time is taken into consideration in the above schedule.
Additionally, residents will receive up to five business days to attend conferences and up to five business days to attend interviews in their second year in the program. These days are in addition to vacation days and are already taken into consideration in the above schedule of rotations.
Integrated Clinical Activities
Physics residents have the opportunity to contribute to clinical services in a variety of areas after residents have demonstrated competency. Examples include:
Monthly Quality Assurance of Linear Accelerators

Independent measurement of IMRT Delivery QA plans

Preparing and managing the display of patient data for departmental Chart Rounds

Brachytherapy HDR Remote Afterloader Daily QA

Brachytherapy clinical patient planning

External Beam clinical patient planning
Acquisition and processing of patient 4DCT and Respiratory-Gated Simulation Data

Weekly patient chart review

Quasi-independent clinical coverage

Various clinical projects, including device and procedure commissioning measurements

Unique patient consultations

Shadowing clinical physicists on a rotating basis
Resident Assessment
After each rotation, residents will be given an oral exam with two components: "quick response" questions, where each question is limited in scope and the answer must be provided in a timed manner (usually five minutes) and "free-form" questions that are designed to probe the depth of the resident's knowledge in a given area.
The "quick response" questions are designed to encourage the resident to smoothly and efficiently demonstrate an understanding of the examined topic without getting lost in excessive detail and to prepare the resident for similar question formats found on certification exams.
The "quick response" and "free-form" questions are scored separately, and the resident must pass both portions of the exam to move unencumbered to the next rotation.
Program Oversight
The Radiation Oncology Physics Residency Program is directed by the program director and associate director and is overseen by the Residency Program Oversight Committee. The oversight committee reviews the program at least annually and makes recommendations for improvements to the directors. Through this leadership, our program conscientiously and actively seeks opportunities to make our training program one of the best programs available in clinical radiation oncology physics.