I am a tenured professor in the Department of Human Oncology at the University of Wisconsin in Madison. Nationally, I have served in the presidential chain of both the American Association of Physics in Medicine (AAPM) and the Society of Directors of Academic Medical Physics Programs (SDAMPP) and within various committees of the American Society of Radiation Oncology (ASTRO), the Radiological Society of North America (RSNA) and the American Board of Radiology (ABR).
For several years, I have investigated the clinical impact of advanced treatment approaches in radiation oncology, including intensity modulation radiation therapy treatment (IMRT) planning, image-guided radiation therapy (IGRT), respiratory-gated imaging and radiation therapy and functional imaging for treatment planning and response to therapy. My primary area of research is acquisition and analysis of 4DCT images to quantify longitudinal pulmonary functional changes following radiation therapy, and I am currently the principle investigator (PI) of an NCI funded (R01 CA166703) Investigator Initiated Clinical Trial open at UW-Madison (UW16037), whose goal is to design and deliver radiation treatment plans that will improve pulmonary function of radiation therapy patients.
Beginning in 2013, I worked on the clinical development and implementation of MRI-guided Co-60 radiation therapy (ViewRay) at UW-Madison. This program is creating novel research in IGRT, as patients are imaged daily and during treatment delivery, demonstrating the indication for and enabling execution of online adaptation of treatment delivery and providing a wealth of tumor and normal tissue response information.
Education
Research Fellow, MD Anderson, Houston, TX, Radiation Physics (1993-1994)
PhD, MD Anderson, Houston, TX, Radiation Physics (1993)
MS, Kansas State University, Manhattan, Kansas, Nuclear Engineering (1991)
BS, Kansas State University, Manhattan, Kansas, Nuclear Engineering (1988)
Academic Appointments
Professor , Human Oncology (2013)
Selected Honors and Awards
Fellow, American Association of Physicists in Medicine (2014)
Boards, Advisory Committees and Professional Organizations
Member, American Board of Radiology (Therapeutic Radiological Physics) (1997-pres.)
Research Focus
Quantifying and minimizing normal tissue toxicities during and following radiation therapy
Enabling cancer patients to survive their disease with the highest possible quality of life
Our group uses medical images to quantitatively characterize tumors and normal tissues. Tissue characterization changes that occur during therapy provide an indication for adapting therapy; we hypothesize that this form of personalized medicine will lead to improved effectiveness of radiation therapy, measured by increased overall survival and reduced normal tissue toxicity.
Improving Pulmonary Function following Radiation Therapy
Radiation is highly damaging to healthy lung tissue. Our group is using information about the patient's healthy lung tissue to design radiation treatments that may reduce the side effects of radiation therapy to lung tumors. We have established a clinical trial that is set out to determine if subjects who have been treated with radiation therapy plans designed to spare high ventilation regions have superior preservation of pulmonary function compared to those treated with standard radiation dose distributions. Four-dimensional computed tomographic imaging (4DCT) will be used to determine lung tissue elasticity, as required for ventilation. Lung tissue elasticity maps at three months after RT will be compared to those prior to RT and used to quantify the change in the lung elasticity maps. Reduced lung tissue elasticity is defined in this study as a >6 percent reduction in expansion when compared to the baseline; the amount of lung tissue showing a >6 percent reduction is the metric for our primary endpoint and will be tested for a significant difference between the two arms.

The figure shows images from a 4DCT scan; one at inhale, one at exhale and the subsequent ventilation map derived from those images. The ventilation map shows regions of the lung where lung function is high, so we hope to avoid these regions during treatment delivery.
MRI-guided Adaptive Radiation Therapy
MRI-guided radiation therapy provides a method by which we are able to observe daily changes in the patient's internal anatomy. This can be caused by many factors, ranging from reduction in tumor size to differing amounts of content in the stomach, bladder and bowels. Consequently, radiation treatment plans based on an image acquired weeks prior to radiation delivery may not adequately represent the patient's anatomy on a daily basis.
MRI-guided Adaptive Radiation Therapy is a process through which we can identify these anatomical changes and adapt the patient's treatment on a daily basis, which can produce a substantial improvement in the radiation dose distribution. The image below shows a Dose Volume Histogram for two treatment plans, the original plan and an adaptive plan. The adaptive plan shows much better radiation dose delivery to the gross tumor volume (GTV) and planning tumor volume (PTV) when compared to the original plan. The doses to normal tissues are also reduced with the adaptive plan. We are investigating novel planning techniques to make this process robust and effective.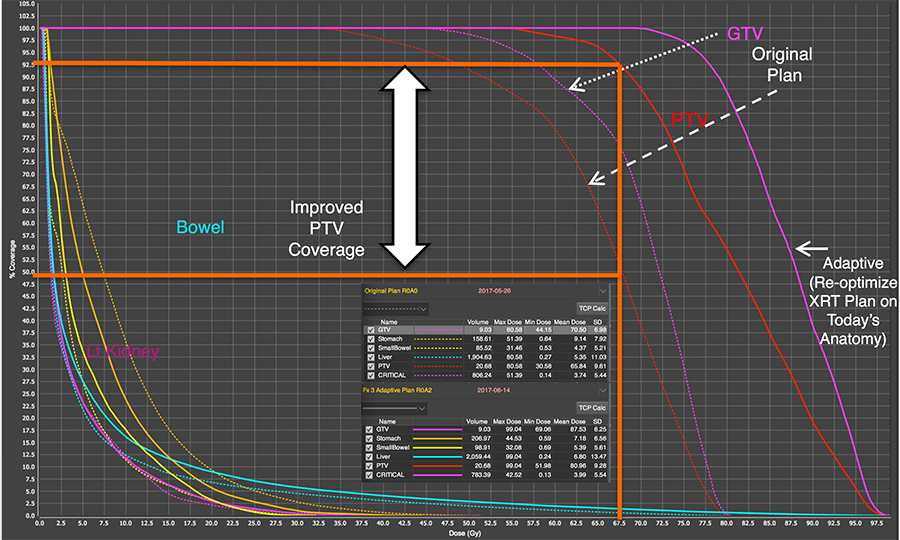 Tomotherapy Motion Compensation
Tumor and normal tissue motion during respiration creates many unique challenges in radiation therapy planning and treatment delivery. Most strategies to account for this motion assume the patient's breathing pattern remains consistent during the entire course of treatment, which may be as long as eight weeks. Unfortunately, humans do not breath as consistently as mechanical phantoms that medical physicists like to use to simulate this behavior. The image below shows variation in tumor position during normal respiration. Note that the tumor motion is large (nearly 10 mm) but also changes substantially from one breath to the next.
Consequently, we require more sophisticated techniques for managing respiratory motion. Through collaborative research with Accuray, Inc., we intend to develop and validate a motion compensation system on the Tomotherapy delivery platform.
MRI-guided Radiation Therapy
MRI is an excellent imaging modality for visualization of soft tissues. This is particularly useful for tumors of the abdomen, such as pancreatic cancer shown below.  The left image shows the patient's anatomy during exhale, while the image on the right shows the anatomical change during a maximum inspiration breath hold (MIBH). In the MIBH image we can see motion of nearly all the soft tissue, providing us superior ability to align the tumor during our treatment delivery. We are analyzing the clinical impact of using these treatment planning and delivery techniques and our patient's ability to comply with self-guided breathing maneuvers.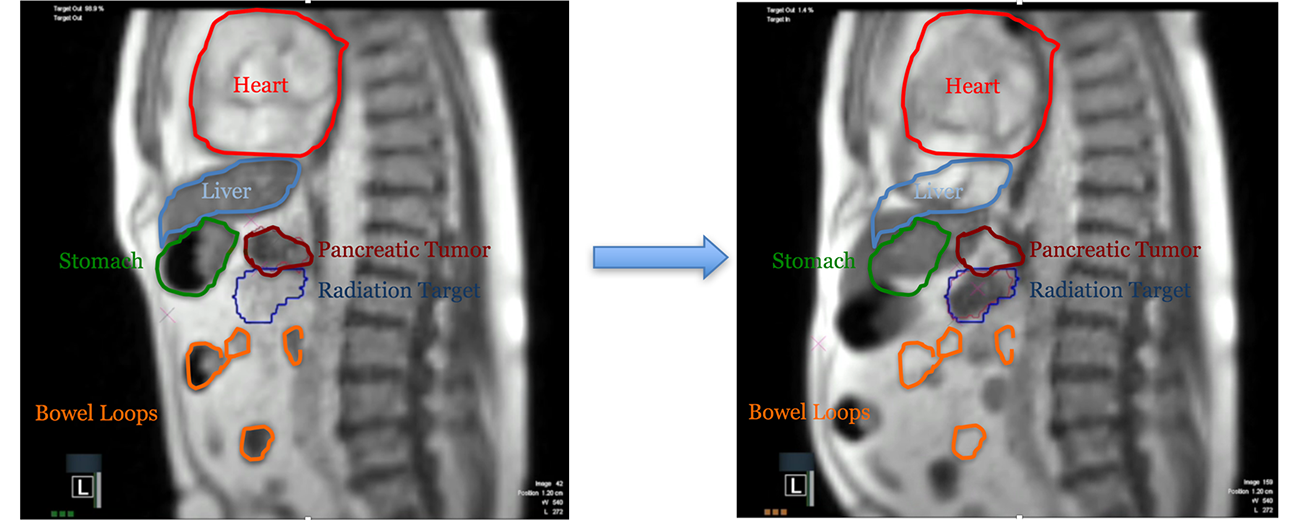 Patient-Specific Response-Informed Treatment Planning
Changes to the patient occur during the course of radiation treatment, which can be eight weeks. Some of the changes are morphological (tumor size and/or position) and some are physiological (metabolic activity, inflammation, oxygenation, perfusion, etc.). We are developing imaging techniques to quantify these changes that occur during the patient's treatment process. The results of these studies are then being used to design subsequent treatments that exploit the observed changes.  This enables a new type of precision radiation therapy that we hope will significantly improve patient outcomes.
The image below shows an example of patient-specific response-informed treatment planning. This patient has highly functioning lung tissue in the apex of the right upper lobe. While this is an uncommon region of the lung to demonstrate high levels of ventilation, this knowledge enables us to design radiation treatment plans to avoid delivering doses in the high functioning lung (as shown in the second row of images). We are imaging these patients after radiation treatment as well to determine how much improvement can be accomplished using this novel therapeutic approach.
Performance evaluation of image reconstruction algorithms for a megavoltage computed tomography system on a helical tomotherapy unit Biomedical physics & engineering express
Tegtmeier RC, Ferris WS, Bayouth JE, Culberson WS
2022 Jun 10;8(4). doi: 10.1088/2057-1976/ac7584.


More

Objective. To evaluate the impact of image reconstruction algorithm selection, as well as imaging mode and the reconstruction interval, on image quality metrics for megavoltage computed tomography (MVCT) image acquisition for use in image-guided (IGRT) and adaptive radiotherapy (ART) on a next-generation helical tomotherapy system.Approach. A CT image quality phantom was scanned across all available acquisition modes for filtered back projection (FBP) and both iterative reconstruction (IR) algorithms available on the system. Image quality metrics including noise, uniformity, contrast, spatial resolution, and mean CT number were compared. Analysis of DICOM data was performed using ImageJ software and Python code. ANOVA single factor and Tukey's honestly significant difference post-hoc tests were utilized for statistical analysis.Main Results. Application of both IR algorithms noticeably improved noise and image contrast when compared to the FBP algorithm available on all previous-generation helical tomotherapy systems. Use of the FBP algorithm improved image uniformity and spatial resolution in the axial plane, though values for the IR algorithms were well within tolerances recommended for IGRT and/or MVCT-based ART implementation by the American Association of Physicists in Medicine (AAPM). Additionally, longitudinal resolution showed little dependence on the reconstruction algorithm, while a negligible variation in mean CT number was observed regardless of the reconstruction algorithm or acquisition parameters. Statistical analysis confirmed the significance of these results.Significance. An overall improvement in image quality for metrics most important to IGRT and ART-mainly image noise and contrast-was evident in the application of IR when compared to FBP. Furthermore, since other imaging parameters remain identical regardless of the reconstruction algorithm, this improved image quality does not come at the expense of additional patient dose or an increased scan acquisition time for otherwise identical parameters. These improvements are expected to enhance fidelity in IGRT and ART implementation.

PMID:35654009 | DOI:10.1088/2057-1976/ac7584

View details for

PubMedID 35654009
Contact Information
John Bayouth, PhD
600 Highland Avenue, K4/B78
Madison, WI 53792-0600