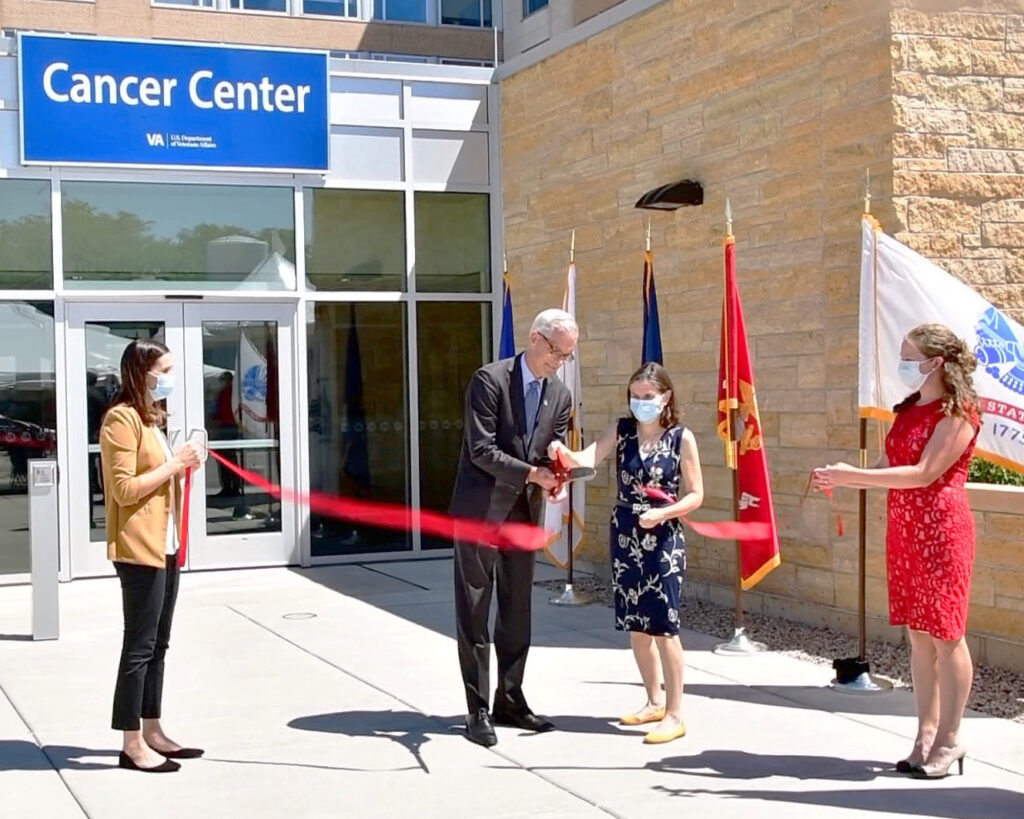 This winter, the William S. Middleton Veterans Hospital will open its new state-of-the-art radiation oncology clinic, providing patients convenient access to radiation therapy in an integrated, multidisciplinary cancer care facility. On August 13, a ribbon cutting ceremony featuring the Secretary of Veteran Affairs, Denis Richard McDonough was held to inaugurate the new Middleton VA Cancer Center. Drs. Jessica Schuster and Jennifer Smilowitz from the Department of Human Oncology joined Secretary McDonough for the ceremonial cutting of the ribbon.
Located adjacent to the hospital's medical oncology clinic, nutrition therapy, and social services, the radiation oncology clinic enhances the ability of specialty providers to coordinate care. It also provides veterans easy access to comprehensive services to meet their unique needs.
Prior to the opening of the new clinic, veterans commonly went to one location for radiation therapy and another for chemotherapy and other care. The new clinic will reduce travel for many patients and streamline care through a single Veterans Affairs patient portal rather than them having to navigate disparate health care systems. It will also improve communication among health care providers.
"Communication between providers is super important, particularly when patients are getting concurrent chemotherapy and radiation therapy," says Dr. Jessica Schuster, Department of Human Oncology (DHO) clinical associate professor and section chief for the new clinic. "The integration of the radiation oncology clinic makes communicating about a patient's care more effective, so we're better able to provide continuity of care."
Technology
The clinic is equipped with a Varian TrueBeam Radiotherapy System and a dedicated CT simulator. The arrangement affords the following technical features:
Advanced imaging—The TrueBeam has an integrated imaging system. This enables clinic staff to capture patient images just prior to treatment and compare them with images from the intended treatment plan to maximize delivery accuracy.
A highly adjustable couch—The clinic's new treatment couch can be adjusted in six dimensions. This reduces the need to move the patient manually and makes overall treatment times quicker.
High-energy radiation—The TrueBeam can deliver high-energy radiation to treat tumors deep within the body.
Optical Surface Monitoring System (OSMS)—This system uses three ceiling-mounted cameras to create a 3D model of the patient. The system compares this model to the images of the patient from the treatment plan. If the patient moves out of position, the system shuts off the treatment beam.
Respiratory gating system—This video-based system uses an infrared camera that tracks a reflective marker on the patient. It enables clinicians to correlate tumor position to the patient's breathing.
The clinic's TrueBeam has been expertly matched to the TrueBeam machines at University Hospital, UW Health Johnson Creek, and UW Health East. This means that the radiation beam energies and shapes are the same. From a treatment perspective, the machines are interchangeable. If the Veterans Hospital's TrueBeam needs to be taken out of service for an extended period, patients could seamlessly continue treatment on one of the other TrueBeams.
Having matched machines also enables the new clinic to build on the experience within DHO. "DHO will provide professional services to the VA clinic. We're better able to provide those services most efficiently and safely with the technology we already use, which was a consideration in selecting the technology for the clinic," says Dr. Zacariah Labby, DHO associate professor who helped the VA select the new clinic's technology. "Our goal is to keep their procedures the same as ours as much as possible so that we can keep learning from each other and reduce the amount of overhead it takes to deliver superb care. If they make improvements to procedures at the VA because of what they learn, they'll be able share that with the UW so our patients benefit as well and vice versa. It will be a two-way knowledge exchange."
DHO-VA Connections
This knowledge sharing between clinics will be enhanced by proximity and shared staff. The new clinic is staffed by DHO radiation oncologists—Drs. Schuster and Shuang (George) Zhao—and DHO radiation oncology physicists—Drs. Jennifer Smilowitz and Brendan Barraclough.
"We'll be piggybacking on the success of everything we built with the UW TrueBeam program and provide care consistent with what's available at top-notch academic institutions. But it will be on a smaller scale, so it will be more accessible for veterans," Dr. Smilowitz says.
The VA clinic will be able to treat the majority of patients for whom radiation therapy is indicated. Some patients who require more specialized care may be referred to UW. "The VA serves primarily as a community-based clinic, where we'll treat all types of cancer. I think having that connectivity between doctors knowledgeable of both systems, we may refer some patients to UW for special procedures such as brachytherapy," Dr. Schuster says.
Clinical trials
The VA clinic will also enhance opportunities for veterans to participate in clinical trials.
"It has been very challenging to have veterans participate in clinical studies when they were not receiving all of their care in one place. The difficulty of accessing their follow up information between health care system meant that veterans have not been offered the huge array of clinical studies," Dr. Schuster says. "One of our main goals with the comprehensive care center is to offer a wider range of clinical studies to veterans and to work with the Milwaukee VA Medical Center to potentially open some studies in rarer diseases, such as bladder cancer and testicular cancer. As the cancer center develops increased patient volume, we'll have more capacity to offer more clinical studies for our patients."
"I am really excited about providing care to our veterans," Dr. Schuster says. "They deserve the absolute best care, and that's what they'll get with this new clinic. They'll have all the advantages of the personal care and services of a community clinic backed by the expertise of a world-class academic institution."