The Department of Human Oncology offers access to state-of-the-art machines and cutting-edge software development tools. Below is a sample of technologies currently available.
Treatment Delivery Systems
TREATMENT PLANNING SYSTEMS
RAYSTATION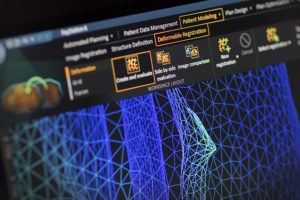 The RayStation treatment planning system is used to plan treatments for our TrueBeam and TomoTherapy delivery systems. In addition to standard planning tools, RayStation offers automated planning, multi-criteria optimization, and robust optimization and evaluation to improve efficiency and plan quality. RayStation is also designed to make adaptive planning much more efficient, allowing us to extend adaptive radiotherapy to a larger number of patients.
VARIAN ECLIPSE
The Eclipse treatment planning system offers a full array of radiotherapy treatment planning tools for a wide variety of treatment modalities. We use Eclipse at UW Hospital for stereotactic radiosurgery (SRS) treatment planning. Eclipse allows us to create SRS treatment plans for multiple treatment techniques, including dynamic conformal arc delivery, volumetric modulated arc therapy (VMAT) and cone-based delivery. Eclipse includes the AAA and AcurosXB dose calculation algorithms for photon dose calculations. Eclipse is fully integrated with ARIA, our oncology information system.
VIEWRAY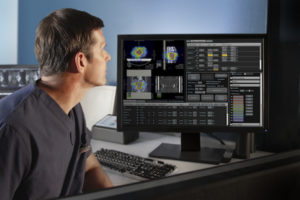 The ViewRay treatment planning system is the exclusive treatment planning software for our ViewRay MRIdian system. The ViewRay treatment planning system is fully integrated with the MRIdian treatment and delivery platform, allowing for streamlined treatment planning and on-table adaptive re-planning. The ViewRay software can create plans for three-dimensional conformal radiation therapy (3D-CRT), intensity modulated radiation therapy (IMRT) and stereotactic body radiation therapy (SBRT). At UW Hospital, we have developed a rapid-access palliative radiation workflow utilizing MRIdian's online adaptive radiotherapy capabilities to simulate, plan and treat urgent palliative cases efficiently in a single session. The ViewRay software is used to perform treatment planning for a wide variety of treatment sites.
ONCENTRA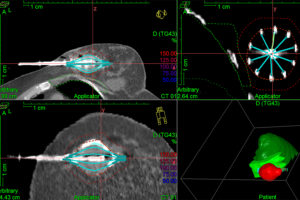 The Oncentra Brachy treatment planning system is used to plan high dose rate brachytherapy treatments for our Elekta Flexitron remote afterloaders. The Oncentra Brachy software is optimized for brachytherapy treatment planning. The software includes contouring tools, applicator and implant modeling tools and specialized dose calculation engines that are designed to maximize planning efficiency.
We also use the Varian Aria oncology information system and other clinical software applications including:
PIPSPro

DoseLab

MIM

Mobius3D