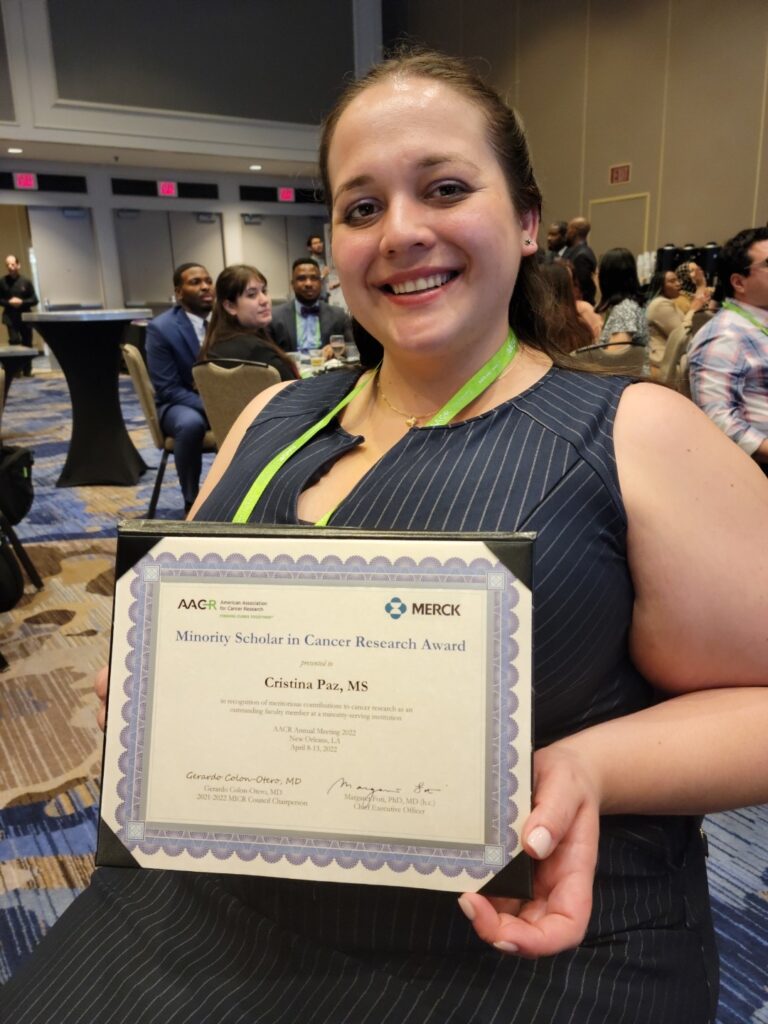 Two outstanding researchers in the Kimple Lab won awards at the 2022 American Association for Cancer Research (AACR) Annual Meeting.
Cristina Paz, a third-year cancer biology graduate student, won the AACR Minority Scholar in Cancer Research Award. Her research focuses on radiation-induced xerostomia (dry mouth), a common side effect of radiation treatment for head and neck cancer. Xerostomia, which affects 80 percent of head and neck cancer patients who receive radiation therapy can negatively affect patients' quality of life. Recent research has shown that the injection of mesenchymal stromal cells (MSCs), an adult stem cell type, into the damaged salivary gland can recover some saliva function. Paz's research project aims to understand how these MSCs interact with the radiation-damaged salivary tissue, which could lead to better ways to treat or even prevent xerostomia.
"This award means a lot to me," Paz says. "I am a second-generation immigrant and the first in my family to pursue a doctorate. My cultural identity has always been an important part of my life and who I am. My mother was born in Colombia and my father was born in Guatemala. They worked hard to build a life here where my brother and I would have the opportunity to pursue our interests and excel in our chosen fields. I was raised to believe that my ethnic background serves as an advantage to me by offering me a unique perspective that is additive to whatever environment I am a part of. I am determined to be an example for young, aspiring Latina scientists to show that we can excel in any field and at any level and actively work to increase diversity and equity in cancer research. This award has given me an opportunity to meet diverse cancer researchers and leaders from around the country and build a network that will help me as I move forward in my career."
Once she completes her degree, Paz plans to conduct research in academia and possibly contribute to community outreach efforts with an emphasis on scientific communication to the public—goals that have been influenced by her own cancer experience.
"As a cancer survivor—I was diagnosed with Hodgkin's Lymphoma at the age of 14 and have been in remission for nearly 16 years—it is very important to me to study cancer and contribute to the field that saved my life," Paz says. "I am especially happy to be working on research focused on improving the quality of life of cancer survivors struggling with the aftereffects of cancer therapy. Earning this award for Minority Scholars in Cancer Research fills me with pride. I feel humbled to be recognized by the American Association for Cancer Research."
Paz joined the Kimple Lab in November 2019. "I feel very supported and at home in the Kimple Lab and I feel so thankful to Dr. Randy Kimple (associate professor in the Department of Human Oncology) and my lab mates for giving me a sense of stability and belonging as a pursue my PhD. I have found the Kimple Lab to be the perfect fit for me."
"This travel award for Ms. Paz is an outstanding recognition of her work both in the lab and in the community to support and mentor students from backgrounds that are traditionally under-represented in the biomedical sciences," Dr. Kimple says. "Cristina has been an outstanding advocate for diversity, equity, and inclusion and this award recognizes the importance of her efforts."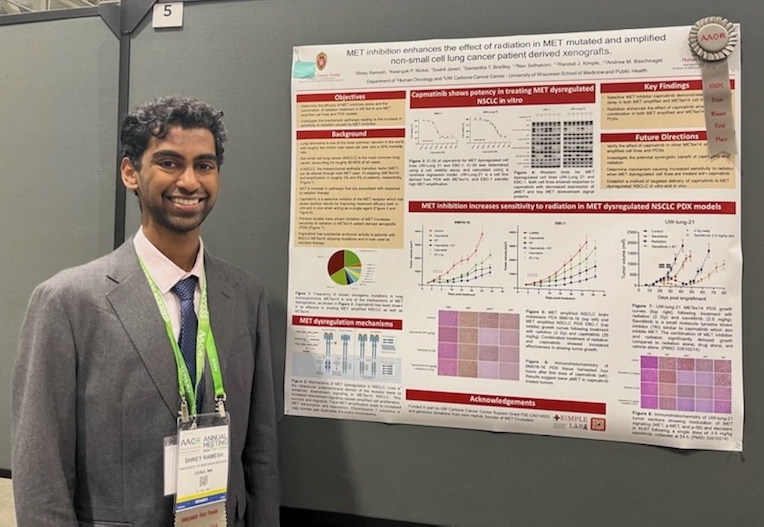 Shrey Ramesh, a sophomore studying biomedical engineering and member of the Kimple Lab, won the Margaret Foti Foundation Undergraduate Student Prize for Cancer and Cancer-Related Research at the AACR meeting for his outstanding scientific poster.
The poster highlighted his research on the radiosensitizing effect of MET inhibition using a drug called Capmatinib in non-small cell lung cancer.
"It feels amazing to be recognized for my research among such an accomplished group of students from the top research institutions around the world," Ramesh says. "It does not feel right to call it an award for myself. It is really an award highlighting the hard work and support everyone in the lab as well as my family invests in me."
Ramesh plans to attend medical school "hopefully here at Wisconsin" while continuing to conduct translational research. He says that joining the Kimple Lab was the best decision he made in his first two years at the university.
"Dr. Kimple is the best PI and mentor anybody could ask for," Ramesh says. "Whether it's long-term career advice, trouble with an experiment, or just needing to talk, his door is always open. I know the lessons I learn from him and everyone else in lab every day are lessons I will take with me.
"This award highlights the hard work and support everyone in the lab as well as my family invests in me," he says and credits Dr. Andrew Baschnagel, DHO associate professor and frequent collaborator with Dr. Kimple "for his great work coordinating the project" as well as the support and knowledge of Dr. Kwang Nickel, senior scientist in the Kimple Lab; Ahmet Cifci, Kimple Lab research associate; and Kimple Lab member Saahil Javeri.
"We are incredibly proud of Shrey," Dr. Kimple says. "He has been working extremely hard over the past year on this project and this award is a wonderful recognition of his effort. He has been a true pleasure to have as a member of the lab."