The Department of Human Oncology (DHO) at the University of Wisconsin–Madison recently celebrated the graduation of two radiation oncology residents, two radiation oncology physics residents, and a Bentson Translational Research fellow.
For the second year in a row, the celebrations were held remotely due to COVID-19 precautions. Nevertheless, the event reflected the department's collective pride of the graduating trainees' achievements and provided a heartfelt sendoff as they advance in their careers.
Reflecting on the graduating trainees' accomplishments and future, DHO Chairman Dr. Harari said: "The greatest reward and satisfaction is the knowledge that you're going to help advance cure and palliation for thousands of cancer patients over the years to come. That gives us enormous pride as you head off into the world. Congratulations to each of you on your graduation."
Radiation Oncology Residents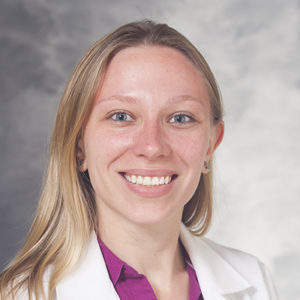 Dr. Aleksandra Kuczmarska-Haas completed her radiation oncology residency and will join a private practice in Connecticut, where she will serve as an attending radiation oncologist.
"I am so grateful to my attendings for teaching me and being my friends and colleagues during the past four years. It has been an absolute privilege, and I am so grateful to have been selected as a UW resident," Dr. Kuczmarska-Haas said. "I look up to each and every one of you. Also, thank you to our physicists, dosimetrists, radiation therapists, nurses, and front desk staff. It has been an honor to work with all of you."
Dr. Jacob Witt, who also completed his radiation oncology residency, will join Cancer Care Specialists of Illinois, a private practice in O'Fallon, Ill. "I am very much looking forward to taking care of my own patients and treating them using all the skills I have learned here. I am also looking forward to being closer to my family."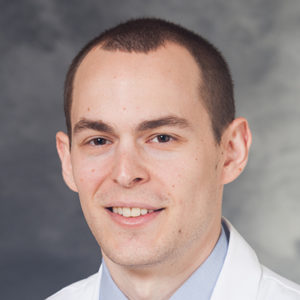 "I learned how to treat an incredible breadth and depth of pathology while here, and ultimately grew into the kind of doctor I always wanted to be," Dr. Witt said. "I'm still getting better every day, but I cannot imagine a better starting point than this training program.
"I thank Ali (Dr. Kuczmarska-Haas) for being an amazing co-resident and partner in this crazy journey. I got incredibly lucky to train alongside her. I want to thank Dr. Kristin Bradley (DHO professor and radiation oncology residency director) for allowing me the chance to train here and for being the physician that we all aspire to be."
Dr. Bradley praised Drs. Kuczmarska-Haas and Witt for their enthusiasm, knowledge, and hard work. "You are going to be wonderful independent practitioners. Your patients will be lucky to have you as their physicians," Dr. Bradley said.
Radiation Oncology Physics Residents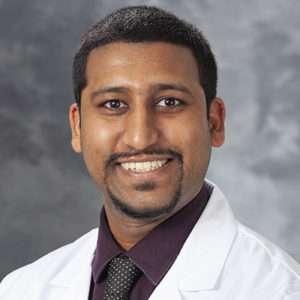 Dr. Vimal Desai, who completed his radiation oncology physics residency, has accepted a clinical instructor position with a primary appointment in the Department of Radiation Oncology at Thomas Jefferson University in Philadelphia. His focus will be therapeutic radiation physics.
"I'm looking forward to being back near my family and working in a large academic institution, where I can work in the clinic and also contribute to the field through research and clinical development," Dr. Desai said.
He credited his residency to his "exponentially higher level of clinical competency, understanding of clinical workflows, and appreciation of all the moving pieces required to help treat patients with cancer."
Dr. Desai thanked the entire department and offered special thanks to Dr. Bhudatt Paliwal, DHO professor emeritus, and Dr. Zachariah Labby, DHO assistant professor.
"Dr. Paliwal helped me get my foot in the door at UW when I was a struggling as a graduate student candidate. None of this would have been possible without his initial support," Dr. Desai said. "Dr. Zac Labby also deserves my unending gratitude for his mentorship and for allowing me to bother him with questions large and small both as a member of my PhD committee and later as my residency director. His thoughtfulness, knowledge, aptitude for teaching, and clinical excellence are all traits that I will continue to emulate for the rest of my career."
Dr. Labby said of Dr. Desai: "You know what you want and how to make it happen. That's going to drive you to great success going forward."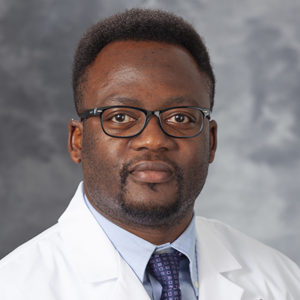 Dr. Leonard Che Fru completed his radiation oncology physics residency and has accepted an assistant professor position with the University of Texas MD Anderson Cancer Center with breast cancer as his primary clinical focus.
Dr. Fru praised the department's teamwork, integrity, helpfulness, and exceptional care—all of which he hopes to bring with him to his new position.
"The whole team has been tremendous," he said. "I count myself as one of the luckiest people in the world for having had the opportunity to work in this department."
"Leo is a consummate multidisciplinary guy," Dr. Labby said. "He's so curious and a tinkerer at heart. When faced with a challenge he'll find a way around it or a way through it and always does it with a smile."
Bentson Translational Research Fellow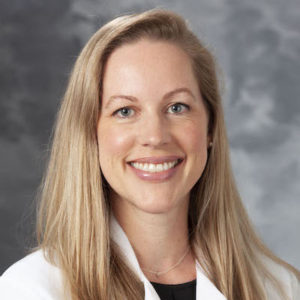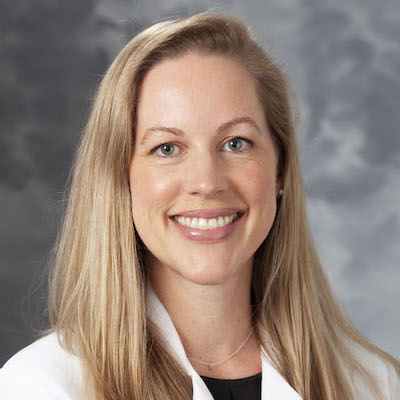 Dr. Pippa Cosper, who completed her Bentson Translational Research Fellowship, will continue in the DHO as an instructor on the clinical research track with the goal of becoming an assistant professor with her own lab.
"I look forward to continuing my research, building a lab, and establishing independence," Dr. Cosper said. "I want to better understand the biological consequences of radiation and utilize inherent vulnerabilities in cancer cells to promote radiation-induced cell death. I am also looking forward to getting back to caring for cancer patients!"
As a Bentson Fellow, Dr. Cosper worked under the mentorship of Drs. Randy Kimple, DHO associate professor, and Beth Weaver, associate professor in the Department of Cell and Regenerative Biology. Her research earned her an American Society of Clinical Oncology (ASCO) Young Investigator Award and a Radiological Society of North America (RSNA) Research Fellow Grant.
"This fellowship has been the most important part of my training thus far because it has given me a chance to find my scientific niche and grow as an independent scientist," Dr. Cosper said. "It has allowed me to obtain critical preliminary data and a vision for my future research, which culminated in a K08 Career Development Award from the National Institutes of Health. I could not be more thankful for this fellowship!"
"Dr. Cosper has made a name for herself in radiation oncology and as a rising star in radiobiology," said Dr. Zachary Morris, DHO assistant professor and director of the Bentson Translational Research Fellowship. "I look forward to seeing what she does in the years to come."