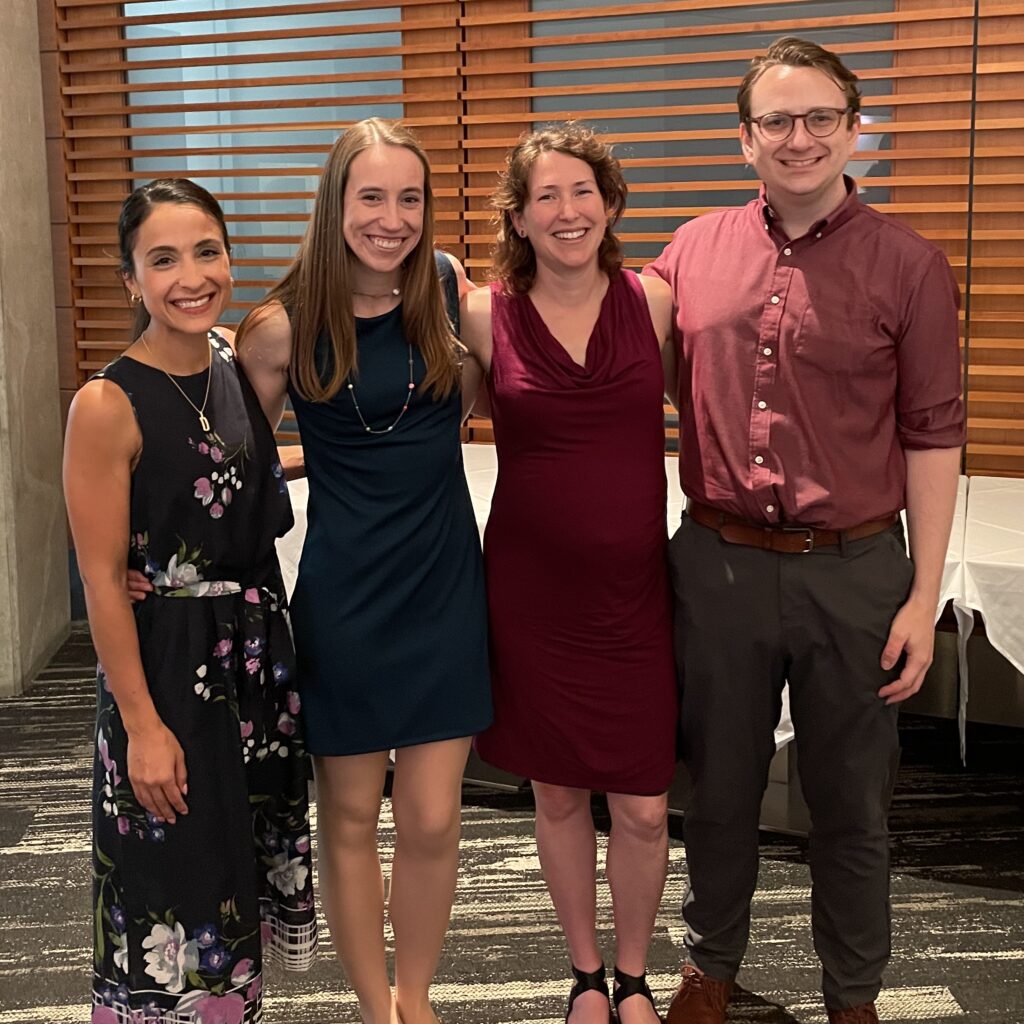 The Department of Human Oncology (DHO) recently celebrated the graduation of two radiation oncology residents, two radiation oncology physics residents, and a Bentson Translational Research Fellow.
Radiation oncology residents
Drs. Grace Blitzer and Nicholas Rydzewski completed their radiation oncology residencies.
Dr. Blitzer will join DHO as an assistant professor in a position that combines clinical service and translational research.
"My experience as a resident was fantastic!" Dr. Blitzer said. "I had the huge opportunity to write multiple clinical trials from IRB submission to protocol writing through enrolling patients and analyzing results. Getting to be part of that has solidified my interest in cancer research, specifically translational research and clinical trials."
She will continue her translational research two days a week in the areas of head and neck and endometrial cancers to "explore different avenues for improving patients' quality of life."
Dr. Blitzer will also treat patients at the Johnson Creek clinic three days a week, which will provide the opportunity for her to gain valuable experience in a community setting.
"I'm really excited to be working at Johnson Creek," Dr. Blitzer said. "I'm looking forward to the opportunity to work with patients and treating a variety of disease sites that you see in community practice. It will be a wonderful way to build my independent practice."
Dr. Rydzewski has accepted a two-year research fellowship at the National Institutes of Health to conduct research on prostate cancer genomics and use machine learning to help identify biomarkers and predict treatment response.
"This residency has given me superb clinical training that has really prepared me to be a great radiation oncologist," Dr. Rydzewski said. "It also has provided me the research support that has allowed me to pursue my research interests and get support and resources to be able to do exactly what I'm interested in. I have built a lot of research off those resources and the connections I made during my residency."
Dr. Adam Burr, DHO assistant professor, said that Dr. Blitzer and Dr. Rydzewski exemplify what the residency program is about—differentiating themselves to find their niches in radiation oncology, noting Dr. Blitzer's success in both the clinic and lab and Dr. Rydzewski's success in bioinformatics.
"Grace is an example we use in our course for medical students for what you can achieve as a resident," Dr. Burr said. "Nick has figured out how to be a bioinformatician in a place where we weren't doing a lot of that before. He differentiated himself into this career, which I think was his goal all along. The residency program is flexible to enable you to find your way, and Grace and Nick both did that well."
Radiation oncology physics residents
Drs. Jennie Crosby and Lianna DiMaso-Myers completed their radiation oncology physics residencies.
Dr. Crosby will join DHO as an assistant professor.
"It's been really great to learn from a lot of experts in our department and to get one-on-one time with them and a lot of opportunities to get hands-on with different projects in various areas of the clinic," Dr. Crosby said.
As a resident Dr. Crosby helped commission equipment in the new radiation oncology clinic at the William S. Middleton Memorial Veterans Hospital and worked on projects focused on patient safety and quality assurance.
In her faculty role, Dr. Crosby will work in the clinic on the ViewRay system and continue to work on patient safety and quality assurance. She will also write scripts to automate processes that can help free up clinicians to apply their skills where they matter most: directly helping patients. She will also teach courses and mentor residents.
Dr. DiMaso-Myers has accepted a position at Sherman Hospital in Elgin, Ill., where she will serve as a general medical physicist.
"Because I'll be the sole physicist there, I have to be as good as possible in all aspects of medical physics. As a resident I worked with so many patients, so I've been able to practice those skills really well and gain a lot of hands-on experience with everything."
Dr. DiMaso-Myers, who also completed her medical physics degree at UW, said that her time here has laid the foundation for her career. "I have been able to learn from the best physicists in the field, and I think that's going to help my career long term. I'm going to miss everyone tremendously. I've built strong co-worker relationships since I've been here.
Dr. DiMaso-Myers gave special thanks to her mentors: Drs. Jessica Miller, Zachariah Labby, and Michael Lawless. "I've known them since grad school. They've all been great role models, and it means a lot that they've taught me everything they could and gave me the confidence and helped me be the best physicist I can be. I owe a lot to them."
Dr. DiMaso-Myers also thanked her co-resident Dr. Jennie Crosby. "My residency would have not been as fulfilling without my co-resident, Jennie. We have spent a lot of time together, and I have enjoyed every minute of it. I learned so much from her and have gained a true friend. I am going to miss working with her but know we will keep in contact."
"They've been fantastic residents—so smart and so driven and so passionate to learn new things," said Dr. Zachariah Labby, DHO associate professor and director of the Radiation Oncology Physics Residency Program. "We are going to miss them in the residency program for sure. We are lucky that Jennie is going to be joining us as a faculty member. Lianna is joining a private practice group and is going to be closer to family in Chicago area. Our loss is their gain."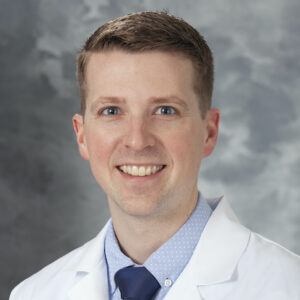 Bentson Translational Research Fellow
The department also celebrated the success of Dr. Nikolai Mickevicius, who competed his Bentson Research Fellowship in February 2022 under the mentorship of Dr. Carri Glide-Hurst, director of Radiation Oncology Physics. He is now an assistant professor in the Department of Radiology at the Medical College of Wisconsin, where he is researching the use of real-time simultaneous multislice MRI pulse sequences and image reconstruction algorithms to manage patient motion during MRI-guided radiation therapy.
Educator awards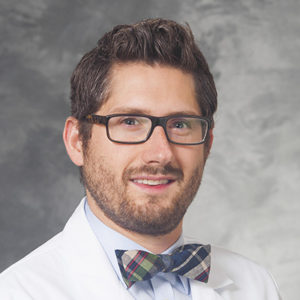 In addition to celebrating this year's graduates, the residents presented Educator of the Year awards to DHO Assistant Professors Drs. John Floberg and Dustin Jacqmin. Both noted that in addition to the satisfaction they get from teaching the residents, the experience has benefited them in other ways.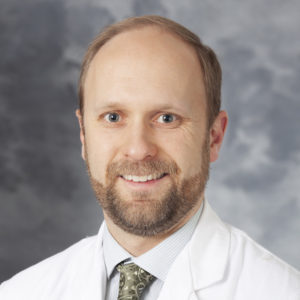 "I really enjoyed working with the two of you," said Dr. Jacqmin, who taught the radiation oncology physics residents. "I'm grateful for opportunity to be able to teach, but you taught me things over the past two years as well, reminding me that it's really important to see the bigger picture and recognize a good ending point for a project and get things done."
Dr. Floberg had similar sentiments: "I'd like to thank you for what you've taught me. One of the things I've been trying to learn is how to give up some responsibilities. You both have been so great that you have boosted my own confidence in delegating tasks and responsibilities. Thank you so much for that."