Claire Baniel was nervous about presenting her research at a Howard Hughes Medical Institute (HHMI) meeting in Boston, Mass. Although she was an HHMI  Research Fellow, had been active in research since she was an undergraduate and had given research talks before as a medical student at the University of Wisconsin School of Medicine and Public Health, she wondered if she would be able to hold her own among these exceptional scientists. "After presenting my work and talking to the other attendees, I quickly realized that I belonged in that room with those world-class researchers," she says. "And that has a lot to do with the mentoring I've received from Drs. Zach Morris and Paul Sondel."
Baniel is one of many medical, graduate and undergraduate students who benefit from research mentoring in the Department of Human Oncology. By working with mentors, these trainees learn to think like scientists, gain insights into the connection between the lab and clinic, acquire hands-on skills and identify their career paths.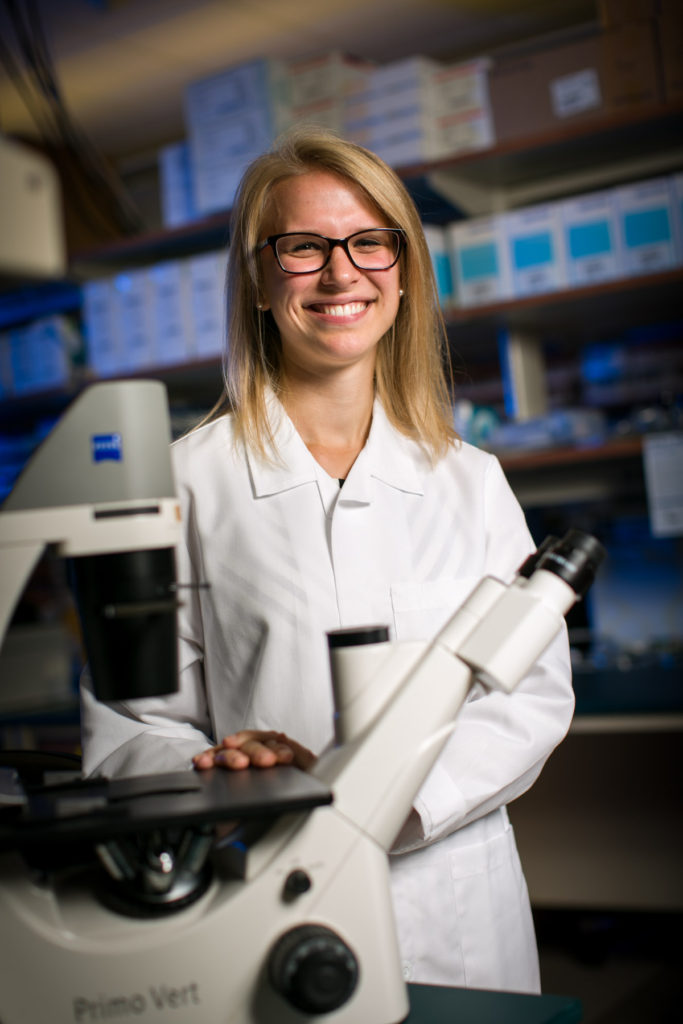 Envisioning a Career as a Physician-Scientist
Baniel knew she wanted a career in academic medicine but wasn't entirely clear as to how she would get there. By working with her mentors and being part of a team that comprises a variety of research roles, her path forward became clearer.
During her first year in medical school, she attended the annual Student Research Forum, where she met keynote speaker Dr. Sondel, professor of human oncology and pediatrics. His research theme was similar to work she had done as an undergraduate at Michigan State University. They talked and decided that she would be a good fit in his lab. She worked there for eight weeks over the summer between her first and second years of medical school as part of the Shapiro Summer Research Program.
Sondel teamed Baniel with Dr. Morris, then a radiation oncology resident and now an assistant professor in the Department of Human Oncology with his own lab, on a project that looked at antibody response to combined radiation and immunotherapy treatments. "Getting back in the lab was so exciting for me and really formative. Drs. Morris and Sondel both helped me realize that research was something I wanted as part of my career," she says.
The project was successful, and Baniel presented a poster session on it the following winter at the ASCO-SITC Clinical Immuno-Oncology Symposium. Other successes followed.
In 2018, Baniel was awarded an HHMI Medical Research Fellowship, which enabled her to devote the year between her third and fourth years of medical school to research antibody responses to combination radiation-immunotherapies under the mentorship of Morris and Sondel.
"This research involves a lot of teamwork," Baniel says. "The nice part of working in a big lab like Dr. Morris' is that all of our projects are interwoven. I might be looking at one specific aspect of a drug therapy while someone else is looking at another. We have meetings, we talk and bring together our different research projects to help each other."
Working with Morris has helped Baniel envision her future career. "I didn't always know I wanted to go into radiation oncology," she says. "We had some really great conversations in the beginning, not only about what I was interested in scientifically but also balance, the role research will play in my career, the type of patients I want to treat. Dr. Morris is always available when you knock on his door, and he has been very helpful as I transition back to medical school and think about my next steps going forward. He really cares about you, not just as a scientist but as a person. He wants to help you succeed."
The Undergraduate Research Experience
Morris and other faculty in the department also mentor undergraduates. "We're fortunate at the University of Wisconsin to have a tremendous number of undergrads who are interested in doing research," says Dr. Randall Kimple, a DHO associate professor who runs his own lab. "I find mentoring undergraduate students one of the most rewarding parts of what I do."
Kimple recruits undergraduates with a strong work ethic, enthusiasm, good grades and research-related career goals. He has each prospective lab member meet the entire team without him present to ensure compatibility with the team.
He assumes each new undergraduate knows little about working in a lab and starts by teaching them basic techniques—cell culture and one or two assays frequently used in his lab for studying the use of therapies to sensitize head and neck cancer to radiation therapy.
Gopika SenthilKumar was a freshman biomedical engineering major doing glaucoma research as part of a UW undergraduate research scholars program, when she sought cancer research opportunities in the Kimple Lab. She worked on a project on inhibiting autophagy—a cell survival and recycling mechanism—as a potential way to overcome cancer's resistance to radiation. But she wanted to do more than just carry out other people's ideas. She wanted to learn how to pursue her own.
"Gopika she is so full of energy and so inquisitive. It was very clear she had great potential and wanted to have some independence, but she wasn't ready for it when she first joined the lab," Kimple says. "Part of our role as mentors is to pull on the reins a little bit—and tell them hold on; don't run before you can walk."
The amount of time undergraduates are able to spend in the lab can influence their rate of progress. During the school year they might spend 10 hours a week in the lab spread over several days. But experiments may take all day or two days, which is why Kimple encourages undergraduates to work in the lab full time during the summer. "After a summer in the lab, students come back better prepared to take ownership of a research question," he says.
Kimple promotes collaboration. He encourages students to present articles at journal club to analyze what other researchers have done. He also has them present their own research—what they've done and the challenges they've faced—"so they get exposed to collaborative problem-solving in the lab, where it's not just one person working on their own but a team moving things forward," Kimple says.
He also helps students understand the connection between the lab and the clinic. "One of the unique advantages that physician-scientist mentors offer is the ability to be focused on a specific scientific question in the lab and then step outside of that and see the people who stand to benefit from what we're doing," Kimple says.
"I started realizing more and more the impact of research, especially when I would shadow Dr. Kimple in the clinic," SenthilKumar says. "Seeing the type of research questions Dr. Kimple asked based on his clinical experience helped me more fully understand why this research is so important."
As SenthilKumar gained experience, her interest in a career as a physician-scientist grew and Kimple gave her more opportunities to explore. He mentored her on how to write grants, form connections and find collaborators. He taught her how to think scientifically and provided opportunities to apply what she learned and propose ideas.
"One of the best aspects of Dr. Kimple's mentoring was that he gave me enough freedom to think on my own, make mistakes and learn from them," SenthilKumar says. "We had meetings every week on every project. We'd present the data and propose next steps. He'd ask probing questions to get us to come up with conclusions rather than telling us what we should do next. I'm sure this took a lot of patience on his part because he undoubtedly knew what should be done next considering how long he's been doing research. His patience has helped me grow as a scientific thinker and prepare for graduate school."
Whenever possible, Kimple and Morris have their students attend the American Association of Cancer Research (AACR) Annual Meeting. Attending this meeting of 20,000 scientists provides students who have worked in the lab for several years to participate in an event that brings them in contact with top researchers, attend presentations and present their own work. "The people whose papers they've read or presented in journal club may come up to them and ask questions. It's a really awesome experience for them," Kimple says.
At a recent AACR conference, SenthilKumar won second place for her 10-minute poster presentation on a project on how inhibiting fibroblast growth factor receptors might sensitize cancers to radiation.
But her biggest accomplishment—and a clear reflection on the quality of mentoring she received from Kimple—was getting accepted into the Medical Science Training Program (MD/PhD) at the Medical College of Wisconsin. "I know these programs are very competitive," SentihlKumar says. "I am beyond grateful to Dr. Kimple for helping me achieve this."
Ryan Brown, a UW genetics and genomics major, began in the Morris Lab during his sophomore year and has worked on projects investigating the differences in treatment outcomes between surgery and radiation when paired with immunotherapies in a lung cancer model. He has won several awards for his work, including a Goldwater Scholarship, an (AACR) Undergraduate Research Award, and most recently the opportunity to do research at Cambridge University as part of the Summer Cambridge Oxford Research Experience (SCORE) program. He hopes to pursue an MD/PhD after he graduates in 2020.
"Working in the Morris Lab has made my campus experience very special," Brown says. "It has allowed me to apply everything I've learned. At the same time, it has allowed me to do something a little bit beyond myself and push the needle a little bit forward in this research area."
Brown's day-to-day mentor in the Morris Lab is Dr. Ravi Patel, a Bentson Translational Research Fellow. "Ryan has taken ownership of his project," Morris says. "He has been intellectually driving it together with Dr. Patel and has demonstrated that he can function as a co-researcher in interpreting results and thinking about next questions."
The relationship is mutually beneficial. Patel, who aspires to lead his own lab, will need experience mentoring trainees and helping them become effective in the lab, which is one of the reasons why Morris has him work with undergraduates. Baniel has also mentored an undergraduate for the same reason.
While taking on students adds to the workload of everyone in the lab, it's an essential part of the department's teaching mission and a source of career satisfaction. "It's fun to see them succeed," Morris says. "It makes me reflect on my own path. There are certainly people who played tremendous mentorship roles for me. I can never repay them directly, but I can certainly pay it forward."