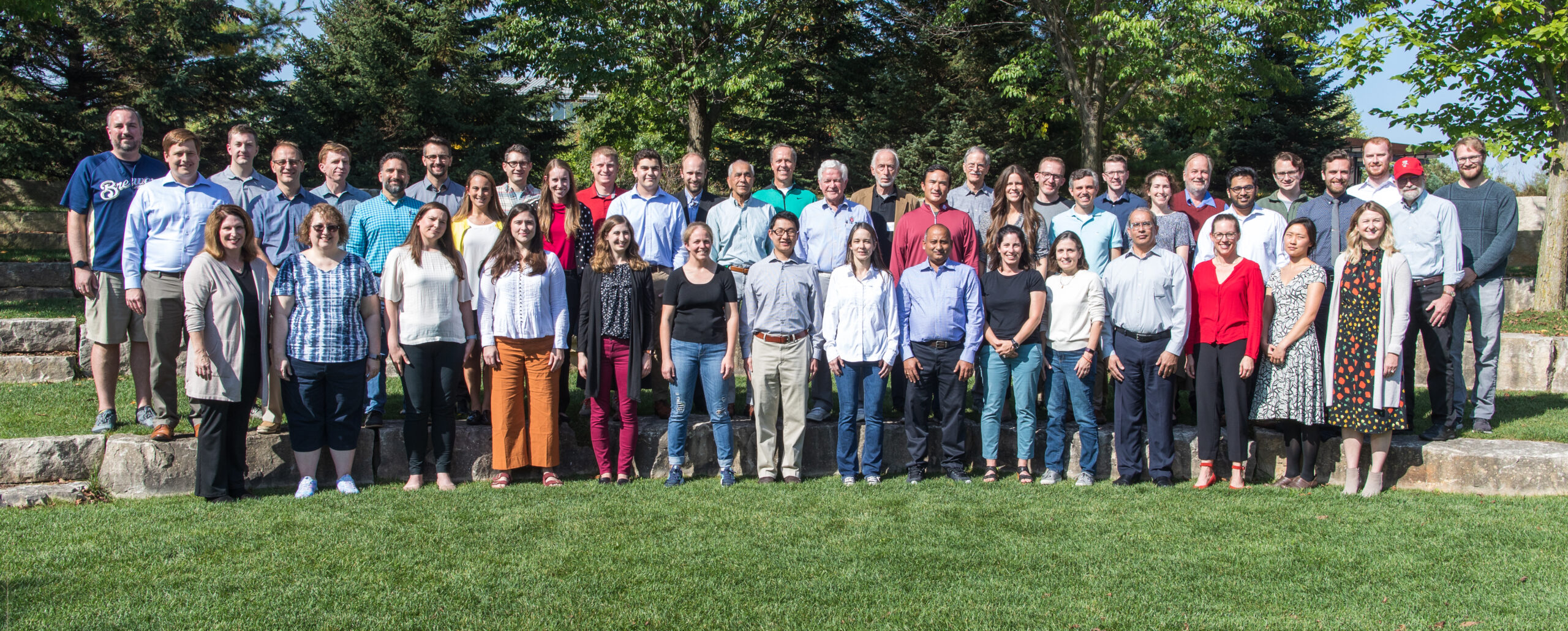 The Department of Human Oncology (DHO) recently held a Research Retreat at Epic Systems Headquarters in Verona to share research, celebrate successes, and explore new research opportunities.
Dr. Paul Harari, DHO chairman, opened the retreat by highlighting some of the department's successes and future milestones:
Research funding in the department has tripled over the last nine years.
The department ranks number one in career fulfillment among the University of Wisconsin School of Medicine and Public Health's 17 clinical departments.
The new radiation oncology clinic at the William S. Middleton Memorial Veterans Hospital has been completed with patient treatments to commence in January 2022.
Radiation Oncology will have a robust clinical footprint in the new UW Health Eastpark Campus set to open in 2024.
The program featured several presentations by researchers in each of the department's three divisions—cancer biology, medical physics, and clinical—as well as research posters and a Shark Tank-style competition in which researchers competed for $20,000 in research funding.
Cancer Biology
Dr. George Zhao, DHO assistant professor and co-director of the UW Carbone Cancer Center Circulating Biomarker Core, discussed his research on developing biomarkers to guide personalized treatment for metastatic prostate cancer.
According to research by Dr. Zhao and his colleagues, there are two primary subtypes of metastatic prostate cancer—luminal and basal. Luminal tumors respond more robustly to testosterone-blocking treatments than do basal tumors. A biopsy is needed to determine a tumor's subtypes. However, it can be challenging to obtain biopsies of metastatic prostate cancer, which tends to spread to bone. Dr. Zhao's proposed solution: blood-based liquid biopsies to extract circulating tumor cells and circulating tumor DNA to determine the cancer's subtype.
Dr. Zhao and Dr. Josh Lang, UW Department of Medicine associate professor and director of the UWCCC Biomarker Core, have demonstrated the feasibility of using liquid biopsies to monitor the same patient over time in a non-invasive manner.
The goal of this work is to create a streamlined approach that includes consent, sample collection, sample processing, plasma and whole cell extraction in order to look at DNA, circulating tumor cell RNA and circulating tumor cell methylation—"basically being able to recreate everything we do in tissue biopsies with a tube or a couple of tubes of blood," Dr. Zhao said.
Dr. Pippa Cosper, a DHO instructor, also does research aimed at providing personalized treatment for cancer patients. In her talk, Dr. Cosper noted that head and neck cancers are typically treated with the same dose of radiation despite each cancer being biologically unique.
Her research seeks to provide more information to help personalize radiation therapy based on biological aspects of the tumor. Her research focuses on using chromosomal instability (CIN) as a biomarker of radiation response. CIN is the gain or loss of chromosomes that can occur when cells divide. CIN levels vary among tumors. Tumors with high rates of CIN tend to be more sensitive to radiation. This could have clinical implications. For example, perhaps a lower dose of radiation may be able to achieve local control and cure with fewer side effects for high-CIN tumors. For tumors with low levels of CIN, perhaps the standard dose of radiation could be combined with CIN-inducing agents to promote more effective treatment.
Medical Physics
Dr. Dustin Jacqmin, DHO assistant professor, shared his work on using radiation therapy to treat ventricular tachycardia (VT)—abnormal rhythm in the lower chambers of the heart. VT reduces the heart's pumping efficiency and is a leading cause of cardiac arrest.
Thus far UW Health has treated three patients using this investigational technique, which is reserved for patients who have not achieved desired outcome from medications or catheter ablation.
Dr. Jacqmin said that imaging is an aspect of this technique that poses some challenges because cardiac imaging and cancer treatment imaging use different techniques.
In addition, Dr. Jacqmin said there is still much to learn about the biological effects of this technique. Initially, researchers thought that radiation provided benefit by inducing fibrosis, which reduces electrical conductivity in the area of the heart causing the problem. However, Jacqmin said that scarring can take several months to a year to form and that patients often respond to treatment much sooner.
Dr. Michael Lawless, DHO assistant professor, shared his research on imaging active bone marrow. He noted that studies of pelvic cancer patients show that reducing the radiation dose to active bone marrow can lead to better outcomes.
Dr. Lawless and a team of collaborators across various disciplines are comparing three imaging modalities in swine. These are PET imaging, fat fraction imaging (typically used in liver imaging), and dual-energy CT. Through this research, Dr. Lawless hopes to correlate biological and image data to help predict which patients might experience toxicity to active bone marrow.
Clinical
Dr. Adam Burr, DHO assistant professor, discussed a Phase 1 clinical trial of the use of CLR-131, an investigational drug that selectively delivers radiation to tumor, combined with external beam radiation to reirradiate patients with recurrent head and neck cancer.
He said that up to 50 percent of patients with human papilloma (HPV)-negative head and neck cancer will experience recurrence at some point. Reirradiation can be used to treat these patients, but it is limited by toxicity. CLR-131 has two potential advantage for this group of patients. First, CLR-131 is selectively uptaken by tumors and delivers radiation from inside the tumor, which can spare adjacent organs at risk. Second, CLR-131 also has the potential to target distant metastatic disease.
Thus far, nine of 24 patients have completed treatment on this clinical trial. Dr. Burr said that the combination of reirradiation with CLR-131 and external beam radiation appears to be well tolerated. "I think this is a promising step forward. I hope this combination of radionuclide and external beam is something that can be used to treat more tumors in the future," Dr. Burr said.
Dr. John Floberg, DHO assistant professor, talked about advances in molecular imaging and, specifically, the clinical insights that PSMA PET imaging enables.
Rather than solely focusing on using imaging in treatment planning, Dr. Floberg proposes using PRMA PET imaging to predict treatment response to help guide treatment. He said that correlating pre- and mid-treatment PSMA PET imaging with biopsies of high-risk prostate cancer patients could be used to predict treatment response.
Dr. Floberg was also the winner of the Shark Tank competition that awarded $20,000 for his research proposal to study response to radiopharmaceutical therapies. He noted that for patients with multiple metastatic tumor deposits, not all lesions respond to treatment in the same way. Using a tool developed by UW Professor of Medical Physics Robert Jeraj to categorize treatment response to systemic therapies, Dr. Floberg will classify lesions as responding, partially responding, stable, or progressing. Categorizing tumor responses may help clinicians direct treatment efforts to lesions that demonstrate less robust response to initial treatments.