Members of the Department of Human Oncology (DHO) shared their wide-ranging expertise in more than 30 sessions at the 2022 American Association of Physicists in Medicine (AAPM) Annual Meeting recently held in Washington, DC.
Dr. Carri Glide-Hurst, DHO Director of Radiation Oncology Physics, highlighted three major themes among the sessions that represent the department's strengths and future directions. These included state-of-the-art imaging, novel treatment delivery techniques, and the use of theranostic radiopharmaceuticals to treat cancer. Dr. Glide-Hurst also mentioned that DHO members' participation in the meeting indicated the impact that our medical physicists are making across scientific, educational, and professional domains within the field.
Among the highlights on the theme of novel treatment delivery techniques were the following:
Patrick Hill, DHO associate professor, presented on an automated and efficient solution to achieve maximum target overlap in Spatially Fractionated Radiation Therapy.
Hill also co-authored several other presentations on proton therapy, including a session on a camera and scintillator based isocenter alignment device, dose calibration and internal depth dose correction, experimental validation of penumbra sharpening. This focus on proton therapy aligns with the future of the department as UW Health will offer proton therapy at the Eastpark Medical Center, which is expected to open in 2024.
Highlights of the department's work using state-of-the-art imaging technology in normal tissue toxicity include the following:
Jessica Miller, DHO associate professor, and Dr. Michael Lawless, DHO assistant professor, presented several sessions on the department's state-of-art work using multi-energy CT for tumor delineation of primary head and neck tumors, an exploration of the use of iterative beam-hardening corrections to increase the accuracy in multi-energy CT, and delineation of active bone marrow with CT and MRI.
Glide-Hurst organized and spoke in a session highlighting the emerging field of cardiotoxicity from cancer therapies, including sharing her lab's work on integrating advanced functional and anatomical imaging and artificial intelligence for enhanced cardiac sparing
The meeting also included the following interdisciplinary sessions on the use of theranostic radiopharmaceuticals, radioactive compounds used to image and treat specific disease targets:
Zachary Morris, DHO associate professor, presented a session on how theranostic radiopharmaceuticals affect the immune system and can create the abscopal effect, in which local radiation targeted at a tumor shrinks the tumor and causes untreated tumors to shrink."To have a physician-scientist like Dr. Morris, an expert on immunotherapy, come to our medical physicists' meeting was really exciting for us. His work in this area generated a lot of interest," Dr. Glide-Hurst says. "This presentation dovetails nicely to future offerings at our Eastpark expansion, which will include a UW Theranostic Center."
David Adam, a graduate research assistant in the Department of Medical Physics who collaborated with several DHO physicists and physicians presented "Combining Monte Carlo Voxel-Level External Beam Radiotherapy and Iodine-131 SPECT Based RadioPharmaceutical Therapy Dosimetry Using Deformable Registration and Radiobiological Quantities" as part of the Early-Career Investigator Symposium. This was one of just 10 abstracts selected for this high honor. During this session, Adam described how targeted radiopharmaceutical therapy in combination with external beam radiotherapy shows promise as a method to increase tumor control and mitigate potential high-grade toxicities associated with retreatment for patients with recurrent head and neck cancer. This pioneering work highlights research supported by the Wisconsin Head and Neck Specialized Programs of Research Excellence SPORE grant, promoting translational clinical research to improve overall outcome for patients with head and neck cancer.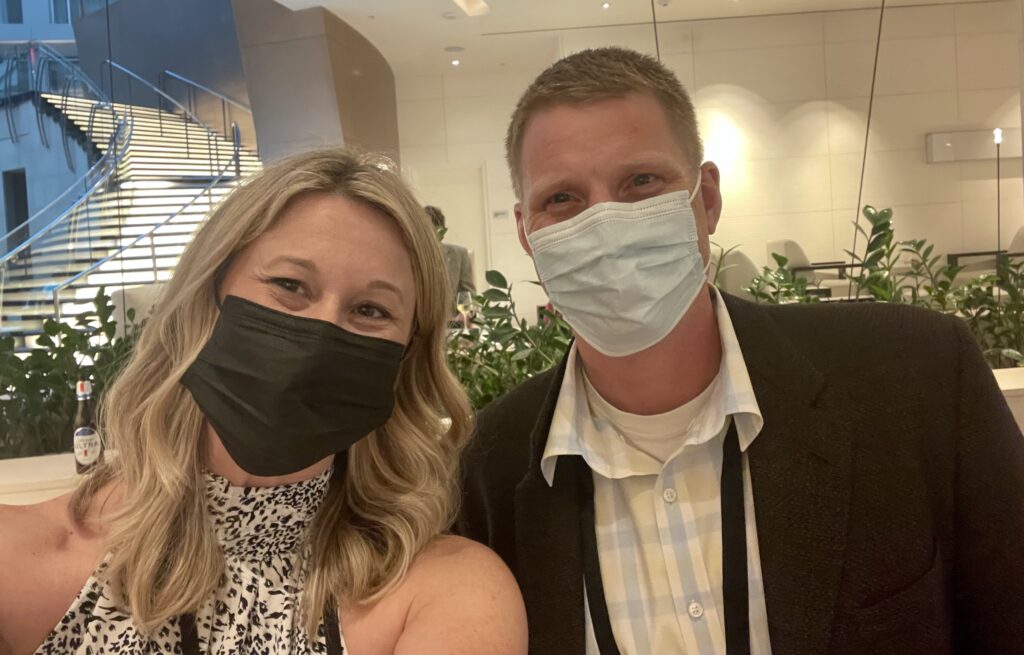 Dr. Glide-Hurst noted that the meeting was well represented by trainees from the Departments of Human Oncology and Medical Physics. "These trainees represent the future of the field, and I'm happy to see that they were so actively involved in the meeting and supported by our DHO faculty," she said. This year, 11 DHO sessions included work by trainees.
This was Dr. Glide-Hurst's last year serving as Scientific Program Director for the AAPM Annual Meeting and was glad to have finished out her term with an in-person meeting after two years of virtual meetings due to the Covid-19 pandemic.
"Being back in person provided a tremendous opportunity for growing our professional networks, and because it was held in Washington, DC, it created a unique opportunity to interact with National Institutes of Health program officials," Dr. Glide-Hurst says. "More than anything, it was an inspiring event for our field that gave us the opportunity to highlight how our DHO clinical and research activities can have a positive impact on patient outcomes."
A complete list of DHO members' sessions at the 2022 AAPM Annual Meeting can be found here.
Abby Besemer and Carri Glide-Hurst