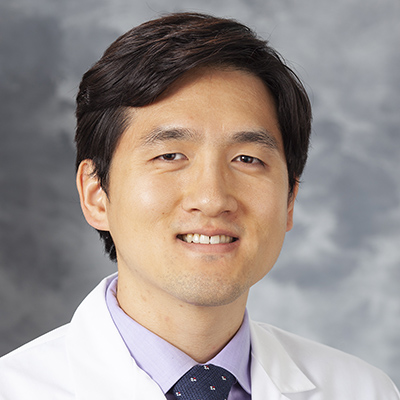 Dr. Sangjune Laurence Lee, a Wolfe Clinical Research Fellow in the Department of Human Oncology, recently earned a Radiological Society of North America (RSNA) Fellow Grant. This one-year $50,000 award supports his research on using MRI to measure treatment response and cardiac toxicity in patients who undergo chemoradiation for locally advanced esophageal cancer.
Locally advanced esophageal cancer has a high mortality rate. The standard treatment for locally advanced esophageal cancer is chemoradiation followed by esophagectomy. This treatment is associated with significant toxicities including a 10 percent chance of developing symptomatic cardiac disease years after radiation treatment.
Dr. Lee aims to determine whether an MRI-guided radiation therapy system can gather prospective data to improve preoperative radiation therapy for patients with locally advanced esophageal cancer. He will also study the use of multiparametric diagnostic MRI to determine whether acute cardiac toxicity can be detected while also assessing the tumor for treatment response.
Working under the mentorship of Dr. Michael Bassetti, assistant professor of human oncology, Dr. Lee will capture MRIs to measure tumor response during radiation therapy on the department's ViewRay MRIdian, an MRI-guided radiation therapy system. He will also capture high-resolution diagnostic MRI scans at baseline, mid-treatment, end of treatment and one-and-a-half years after treatment to measure tumor characteristics such as cellularity (how tightly packed tumor cells are) and vascularity (blood supply).
The patients in this study will receive the standard chemoradiation treatment. "We'll be making observations about how they respond, how we can measure that with MRI and what that might mean for future patients," Dr. Lee says. "It would be helpful to see the response to the chemoradiation over time and be able to know whether we need to increase or decrease the dose or even forgo surgery if there is a particularly good response."
Dr. Lee will also use the high-resolution diagnostic MRI scans to measure heart toxicity. MRI scans in previous studies have indicated heart edema in some patients six months after standard chemoradiation treatment for esophageal cancer. A year-and-a-half after treatment, MRI scans showed scar tissue in areas that previously had edema. Dr. Lee says this suggests that MRI may be able to identify damage to the heart that has yet to cause symptoms.
This study will use MRI to assess potential cardiac damage from intensity-modulated radiation therapy (IMRT) to treat esophageal cancer. IMRT spreads the radiation dose over a larger area than less advanced techniques, which may reduce heart toxicity.
"If the MRI scans indicate swelling in the heart right after the concurrent chemoradiation, it might be a sign that we need to follow these patients a bit more closely," Dr. Lee says.
Dr. Lee says he is excited about the opportunities of this grant and his fellowship to use novel techniques, including the latest cardiac imaging and MR-guided radiation therapy to better target esophageal tumors.
Dr. Lee also received funding from the UW Carbone Cancer Center Pancreas Cancer Pilot Grant for another MRI-guided study. He will leverage experience in MRI-guided radiation therapy to create a large-scale dataset that will be used to develop automated segmentation and deformable registration of the GI tract. He will then analyze the results to develop guidelines for artificial intelligence-based methods to support safe radiation dose escalation to treat pancreatic tumors.
"I've always been interested applying new technologies to medicine," Dr. Lee says. "When I started my residency program, combining an MRI with a linear accelerator was just an experimental treatment. It's exciting for me to see that patients are routinely being treated with this technology right now. The imaging afforded by MRI-guidance could potentially make a big impact on reducing toxicities. As a doctor, I enjoy seeing patients over time. It's really interesting to me to figure out what the biggest problems are for patients and trying to solve those problems through research. I am grateful for this opportunity and hope that what we learn will be applicable to other cancer as well."