Dr. Steven Howard, associate professor of human oncology, has been awarded the HEADRUSH Brain Tumor Professorship, an endowed professorship that will provide support for his research aimed at improving care for patients with brain tumors.
The professorship is the result of the fundraising efforts led by Brandi Funk and her late husband Chris, a UW Carbone Cancer Center patient who died from a brain tumor in 2010.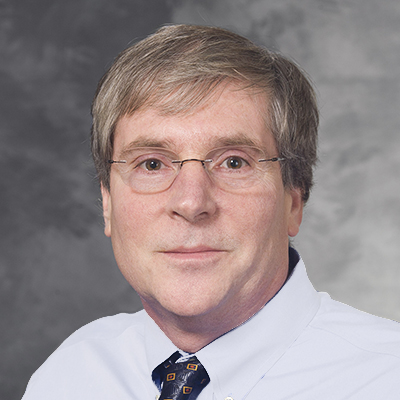 "This award means a lot because even though I wasn't formally Chris' doctor, I was involved with his treatment and I know the family," Dr. Howard says. "Over the years I've attended many events they've hosted and given many talks to patient groups that they have attended. They are a powerhouse—everyday people who have been able to raise a substantial amount of money to advance brain tumor research. It's amazing what they have done!"
This professorship will provide seed money to help Dr. Howard advance prospective projects in several areas, including following:
Pulsed Reduced-Dose Rate Radiation Therapy (PRDR)—Standard radiation therapy is delivered quickly, but cells repair radiation damage more efficiently when the radiation is delivered slowly. Dr. Howard has treated many brain tumor patients using PRDR, a technique that delivers radiation more slowly than standard treatment. This enhances the ability of normal cells to repair damage from radiation and potentially reduces toxicities to normal brain tissue. Dr. Howard has found that some glioma patients are particularly sensitive to this treatment and their tumors respond really well.
"I have patients who have stable disease for years, and I'm very excited about that," Dr. Howard says. "I've started looking at the various mutations in gliomas, and I'd like to get to the point where we can predict who's going to respond well to this treatment and who's not. That's very important because treatment for glioma is very toxic. If a patient manages to survive, they live with the neurocognitive effects of treatment. Anything we could do to reduce toxicity would be a substantial benefit to patients."
Inhaled chemotherapy—Dr. Howard has studied the use of perillyl alcohol, a plant-derived agent used in the fragrance industry, to treat brain tumors. Animal models indicated its potential as a chemopreventive agent for several cancers. But clinical trials in the 1990s and 2000s failed to demonstrate its effectiveness in human patients. "In these trials, you'd see one or two patients who benefited, but it wasn't clear if it really had efficacy or if these were just random events," Dr. Howard says.
His analysis of the data indicated that perillyl alcohol accelerated programmed cell death, and he thought it could potentially be used as a radiosensitizer. Follow-up studies in the lab supported this use, and he designed a clinical trial to test it in human patients. But his work in this area stalled when the manufacture of the drug stopped. Unbeknownst to him, a team of neurosurgeons in Brazil were studying perillyl alcohol as an inhaled chemotherapy. Their research showed some efficacy among brain tumor patients who received the drug by sniffing it, bypassing the blood-brain barrier.
"This opened up a new route for me," Dr. Howard says. "One of the first things I'll work on with funding from the HEADRUSH Professorship is to see if we can resurrect this trial. What's interesting is that perillyl alcohol is relatively nontoxic. The group in Brazil has treated over 400 patients with this methodology—without radiation—and they have had some incredible long-term survivors."
Brain analysis—Over the years, Dr. Howard has amassed perhaps the largest collection of patient-donated brains of any radiation oncologist in the United States. One of Dr. Howard's goals before he retires is to begin analyzing these brains and gathering data to better understand mutations associated with the different types of brain tumors and changes that occur as a result of radiation therapy. This award will help fund that effort.
Artificial intelligence—Working with UW neuroradiologists, Dr. Howard has begun using an artificial intelligence program that combines radiation therapy scans with images made in neuroradiology to guide treatment. He will use funding from this award to expand the use of this technique to benefit more patients.
Founded in 2004, HEADRUSH built an endowment by hosting a series of family-friendly outdoor fundraising events. The endowment will fund brain tumor research as a lasting legacy to Chris Funk.
"I'm very pleased that Dr. Howard was selected for this award, and I'm sure Chris would be stoked as well," Brandi Funk says. "Dr. Howard is an authentic, kind and outstanding doctor with all these brilliant ideas. I look forward to see what comes from his research."