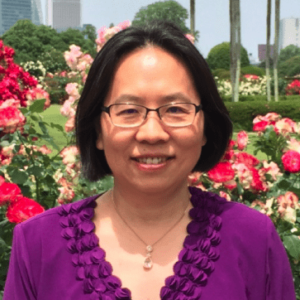 Dr. Zachary Morris, associate professor in the Department of Human Oncology (DHO), and an interdisciplinary team of researchers earned a 2021 Wisconsin Alumni Research Foundation (WARF) Innovation Award for their project, "Nanoparticle to Render Tumors More Susceptible to Treatment."
In recent years there has been substantial progress in the development of immune checkpoint inhibitors, a type of immunotherapy. "Immune checkpoint inhibitors take the brakes off the immune system and unleash it on a patient's cancer," Dr. Morris says. "The response to immune checkpoint inhibitors can be robust and long-lasting, even curative. But they work in just a small fraction of patients who have metastatic cancer. We hope to increase the rate at which we achieve response to immunotherapies, so we can potentially improve patient survival."
Dr. Morris and team members Shaoqin "Sarah" Gong, professor of biomedical engineering; Ying Zhang, biomedical engineering postdoctoral researcher; and Raghava Sriramaneni, DHO researcher, combined a novel nanoparticle, radiation therapy, and a checkpoint inhibitor in an approach that could increase the number patients whose tumors respond to immunotherapy.
"In preclinical settings, when we combine immunotherapies with radiation to target one area, the tumor may die in a way that allows the immune system to better recognize the tumor cells," Dr. Morris says. "When that happens not only does the radiation create a local effect on the treated area, but it also can lead to a better systemic response. What we're trying to do now is develop an agent that can be injected into that irradiated tumor to activate a better systemic response by the patient's immune system against their cancer."
The team was selected for this $10,000 award by an independent panel of judges from several hundred invention disclosures submitted to WARF over the prior 12 months.