Dr. Zachary Morris, an assistant professor in the Department of Human Oncology (DHO) at the University of Wisconsin School of Medicine and Public Health, has won a National Institutes of Health (NIH) Director's Early Independence Award.
This prestigious award is given to a small group of exemplary early-career scientists to help them establish their independent research careers. This award provides $1,250,000 (plus additional indirect costs) over five years in support of Morris' preclinical research on combining radiation and immunotherapies to treat metastatic cancer.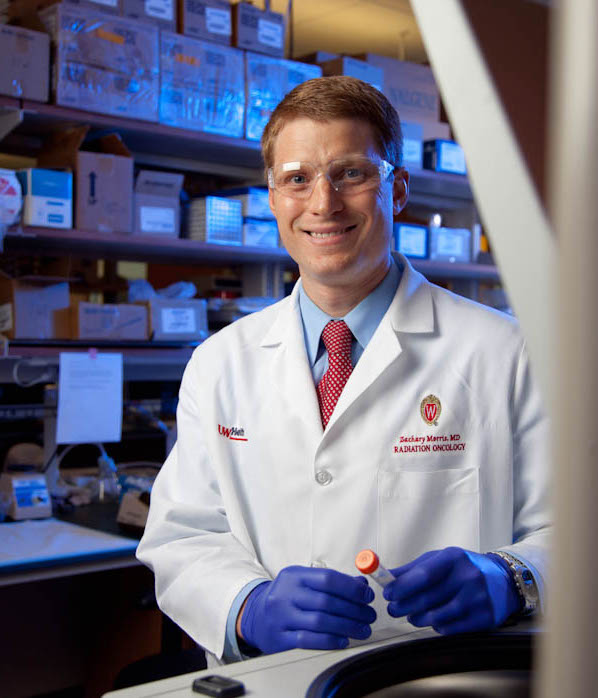 "NIH funding is increasingly competitive, so I am thrilled to have this opportunity," Morris says. "This award will allow us to more effectively move ahead with a series of important preclinical studies that will examine novel mechanisms whereby radiation may impact the efficacy of specific immunotherapies. The results will be critical in guiding our collaborative efforts to advance these promising combinations towards clinical testing in cancer patients."
Morris will use this funding to expand his research on in situ vaccination — a therapeutic approach in which a single tumor site is targeted with the intent of turning the tumor into a sort of anti-tumor vaccine. The idea is to generate a very strong anti-tumor immune response at this site, akin to that triggered at the injection site following a more traditional vaccine (such as the flu vaccine). Once generated, the immune cells that give rise to this anti-cancer immune response can then circulate throughout the body to attack and eradicate other metastatic tumor sites. To achieve this, Morris and his colleagues are treating the in situ vaccine tumor site with a combination of radiation and tumor-specific antibodies and immune-activating proteins called cytokines.
Thus far, Morris and his colleagues have studied the use of immunocytokines — fused antibodies and cytokines — in treating melanoma. This award will enable him to study antibodies and cytokines separately to better understand their specific roles and how they interact with the immune system. Because tumor-specific antibodies are available for most types of cancer, this approach could potentially be applicable to a wide variety of tumor types. In the near future, Morris is particularly focused on investigating this technique for treatment of sarcoma, melanoma, neuroblastoma, and cancers of the head and neck, breast and pancreas.
In addition, the award will enable Morris to develop better tumor models to study in situ vaccination mechanisms. Morris' group most commonly uses transplant models, where cell lines derived from a mouse tumor are injected into nearly identical mice. Although this is an efficient way to grow tumors in mice, it is more artificial than other models and results in tumors that may be more readily cured.
For this project, Morris will incorporate use of transgenic mice that can be induced to develop tumors by suppressing or amplifying the activities of certain genes. This approach more accurately captures how a normal tumor grows and spreads. He will treat these mice with radiation and immunotherapies.
"These models will be more challenging to treat because they will have fewer mutations for the immune system to recognize," Morris says. "But if we're able to show efficacy in these models that may be a strong indication that we will be able to improve on current immunotherapies, which are often ineffective against tumors with low mutation burden."
Morris will also study in situ vaccination in mouse models with many tumors throughout the body to better evaluate how the local immune microenvironments of such distant sites affects the local antitumor immune response at the in situ vaccine site.
As a recipient of this award, Morris will attend career-development events with other recipients, which, Morris says, will provide him a unique opportunity to learn more about the exciting research of the other recipients of this prestigious award.
Morris, who joined the DHO faculty in 2016 after completing his residency in the department, is grateful for the support he has received at UWSMPH and specifically the guidance from his research mentors Drs. Paul Harari, DHO chairman, and Paul Sondel, DHO professor.  "When I was interviewed at the NIH for this award, the panel commented specifically that our institutional training environment is 'incredibly strong.' It was an important factor in my getting this award. I feel very fortunate to have trained here and to now have the opportunity to continue this exciting and rewarding work."