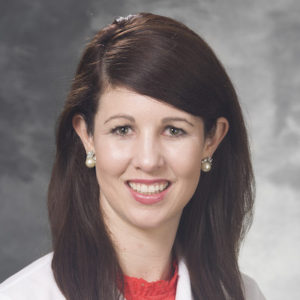 Kathryn Mittauer, PhD
Bentson Fellow 2017-2019

Dr. Mittauer has a PhD in medical physics from the University of Florida, an MS in radiological medical physics from the University of Kentucky and a BS in physics from Furman University. She completed the Radiation Oncology Medical Physics Residency at the University of Wisconsin.
Current Position
Medical Physicist and Assistant Professor
Miami Cancer Institute, Florida International University
Research Description
Pancreatic cancer is often undertreated by radiation to limit potentially lethal toxicities at the adjacent bowel. Currently, the dose level at which such bowel toxicities occur is not well understood. This is due to previous technological limitations and limited animal models of human anatomical size. Dr. Mittauer completed research that utilized a novel swine model in combination with the precision of MR-guided adaptive radiotherapy to evaluate the maximum tolerated dose to the duodenum. The results of her studies potentially will allow for delivery of additional dose to patients with localized pancreatic cancer, and this may confer a survival benefit.
Academic Achievements as a Bentson Fellow
During her time as a Bentson Fellow, Dr. Mittauer was awarded an Early Career Medical Physics Scholar at Winter Institute of Medical Physics Meeting for her work in assessing duodenal toxicity using a swine model with MR-guided radiotherapy. Dr. Mittauer also received competitive external funding support through a Radiological Society of North America (RSNA) research grant. She presented the findings from her studies at numerous international research meetings and has or is in the process of publishing these findings in peer-reviewed research manuscripts. She was an invited speaker at Sun Nuclear Quality Assurance Dosimetry Symposium (March 2018), principal investigator on an MR-guided IRB protocol, author of a book chapter on MR-guided radiotherapy for the American Association of Physicists in Medicine (AAPM), and invited speaker at the July 2017 at AAPM Annual Meeting on MR-guided adaptive radiotherapy. Because of this record of achievement, Dr. Mittauer was able to achieve her goal of launching an independent research career when she was hired to a faculty position in the Department of Radiation Oncology at the Miami Cancer Institute with a joint appointment at Florida International University.
Recent Publications
Rosenberg SA, Henke LE, Shaverdian N, Mittauer K, Wojcieszynski AP, Hullett CR, Kamrava M, Lamb J, Cao M, Green OL, Kashani R, Paliwal B, Bayouth J, Harari PM, Olsen JR, Lee P, Parikh PJ, Bassetti M.  A Multi-Institutional Experience of MR-Guided Liver Stereotactic Body Radiation Therapy. Adv Radiat Oncol. 2018 Aug 23;4(1):142-149. doi: 10.1016/j.adro.2018.08.005. eCollection 2019 Jan-Mar.
Yan G, Li J, Huang Y, Mittauer K, Lu B, Liu C. Ghost marker detection and elimination in marker-based optical tracking systems for real-time tracking in stereotactic body radiotherapy. Med Phys. 2014 Oct;41(10):101713. doi: 10.1118/1.4896126.
Lu B, Samant S, Mittauer K, Lee S, Huang Y, Li J, Kahler D, Liu C. A further investigation of the centroid-to-centroid method for stereotactic lung radiotherapy: a phantom study. Med Phys. 2013 Oct;40(10):101704. doi: 10.1118/1.4820365.
Pathmanathan AU, van As NJ, Kerkmeijer LGW, Christodouleas J, Lawton CAF, Vesprini D, van der Heide UA, Frank SJ, Nill S, Oelfke U, van Herk M, Li XA, Mittauer K, Ritter M, Choudhury A, Tree AC. Magnetic Resonance Imaging-Guided Adaptive Radiation Therapy: A "Game Changer" for Prostate Treatment? Int J Radiat Oncol Biol Phys. 2018 Feb 1;100(2):361-373. doi: 10.1016/j.ijrobp.2017.10.020.
Mittauer K, Paliwal B, Hill P, Bayouth JE, Geurts MW, Baschnagel AM, Bradley KA, Harari PM, Rosenberg S, Brower JV, Wojcieszynski AP, Hullett C, Bayliss RA, Labby ZE, Bassetti MF. A New Era of Image Guidance with Magnetic Resonance-guided Radiation Therapy for Abdominal and Thoracic Malignancies. Cureus. 2018 Apr 4;10(4):e2422. doi: 10.7759/cureus.2422.