One year after completing treatment for prostate cancer, Brad Glassel donated a bell to UW Cancer Center–Johnson Creek for patients to ring to celebrate the end of their treatment.
"It's easy to walk out the door on the last day of treatment and think it's just another day. But it's not," Glassel says. "It isn't the end of the cancer journey, but it certainly is an accomplishment."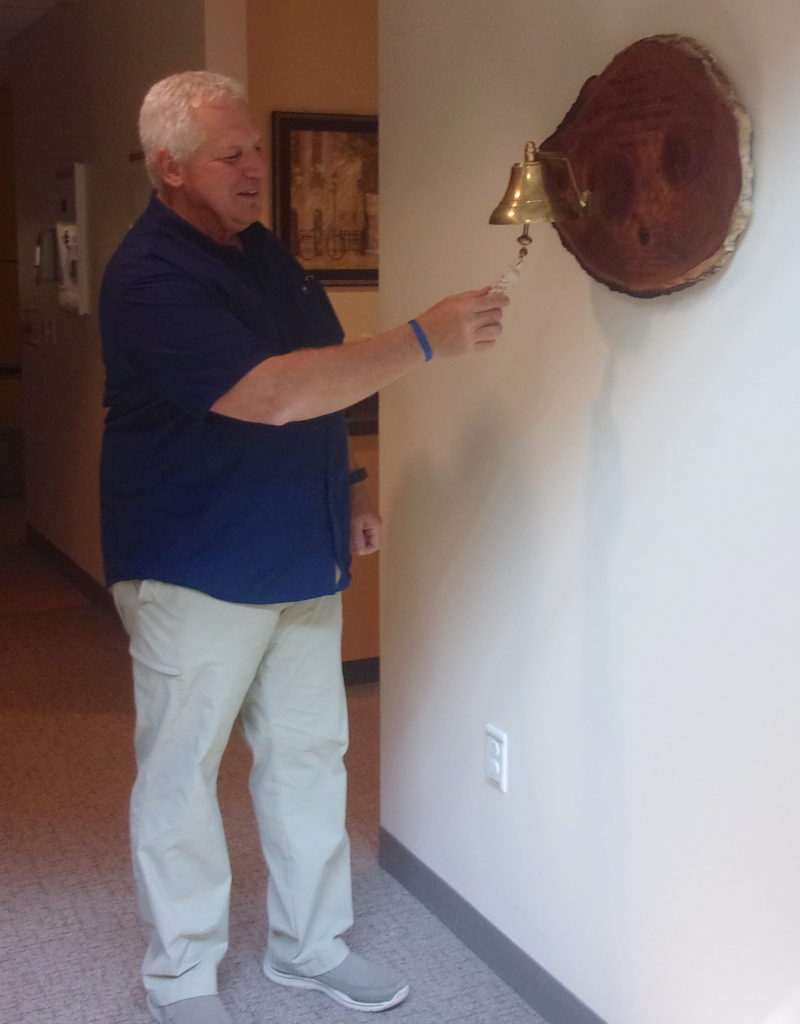 The bell, mounted on a beautifully finished cross section of tree trunk, hangs outside the radiation treatment room and bears the following inscription:
"I ring this bell to celebrate! My treatment here is done. Cancer does not define me and I'm already moving on."
When Glassel donated the bell, his treatment team encouraged him to be the first to ring it.
"Ringing the bell was pretty emotional. It brought me back to that time," Glassel says.
Glassel was diagnosed with prostate cancer in March 2016 and began Lupron hormone therapy, followed by five weeks of external beam radiation five days a week under the care of Dr. Jessica Schuster, radiation oncologist at UW Cancer Center–Johnson Creek. He then received brachytherapy—a type of treatment in which a radioactive source is inserted directly into a tumor to deliver a precise, localized dose of radiation—under the care of Dr. Gregory Cooley, radiation oncologist at the UW Carbone Cancer Center.
Treatment was difficult for Glassel. Like many patients, he experienced depression. He found that talking to other patients, volunteering for various cancer fundraisers and going on adventures with his wife, Alicia, daughter, Hope, other family members and friends have helped him "move on." He hopes the bell will encourage patients to reflect on where they've been and what it means for them to move on.
"The message isn't that you're done with your cancer journey, but it's an accomplishment getting to this point," Glassel says. "Look at how you're going to live your life going forward and what you're going to do to stay healthy."
The finish bell has been a "huge hit" among patients, Dr. Schuster says. "Patients undergoing treatment look forward to ringing the bell, and all the patients who have finished have opted to ring it. It gives them a sense of closure and provides an opportunity for them to get an extra congratulatory boost from the staff and other patients. Every time I hear the finish bell ring it reminds me of just how much of an accomplishment completing treatment is and the role we all play in helping our patients get there."