The 11th Annual Heads Up! Golf Outing, a fundraiser for head and neck cancer research and treatment at the University of Wisconsin, brought together 130 golfers and more than 180 dinner guests at University Ridge Golf Course on July 24. This year's outing raised more than $20,000.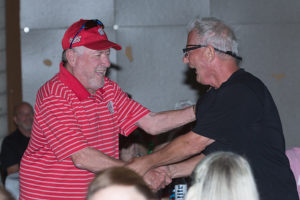 Patients Scott Russell and Danielle Stone shared their cancer stories and took the opportunity to personally thank their care providers, family and friends for their support.
"Finding out that you have cancer is one of the scariest moments ever, but when you have a team of top-notch doctors and people who really love and care for you, it makes facing that challenge much easier," Stone said.
The program also included a panel of UW "rising star" head and neck cancer physicians, including neuroradiologists Dr. Gregory Avey and Dr. Tabby Kennedy, head and neck cancer surgeon Dr. Aaron Wieland and medical oncologist Dr. Justine Bruce. These doctors explained their roles in the team-based approach to treating head and neck cancer.
"The thing that really helps us make it through every day is sharing in your successes by actually being able to see that your cancers have melted away after the treatments," Kennedy told the audience. "We're behind the scenes, but we're sharing in your successes. We're also deeply moved by your stories."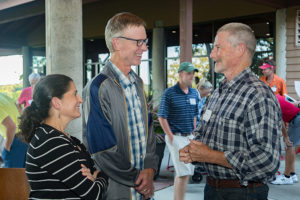 Dr. Paul Harari, chairman of the Department of Human Oncology and emcee of the event, shared with the audience a brief update on the John Carey Head and Neck Cancer Scholarship and Karl Harter Head and Neck Cancer Scholarship. These scholarships, which are named for two UW patients, support students and fellows engaged in head and neck cancer research at the university.
Cancer research takes time, and it's difficult," Harari said. "If these cancers were easy to cure, we would have done so a long ago, but with consistency, perseverance and dedication, we are advancing step-by-step the cure rates for these challenging cancers. This is our mission."
If you'd like to donate to the UW Head and Neck Human Oncology Program Fund or the scholarship funds mentioned above, please visit Make a Gift.