The 13th Annual Heads Up! Golf Outing, a fundraiser for head and neck cancer research and treatment at the University of Wisconsin, drew 125 golfers at University Ridge Golf Course on July 29. This year's event raised $22,000 for research.
At the dinner recognition ceremony, Tim Mielcarek and Rob Andringa shared their experiences as cancer patients.
Mielcarek, who was diagnosed with advanced throat cancer in November 2018, spoke eloquently about his strong faith and the unwavering support from his family, friends and coworkers as well as his UW Carbone Cancer Center medical team that he described as "compassionate, caring and awesome."
Mielcarek refrained from self-pity when he was diagnosed, choosing instead to see his illness as an opportunity.
"You can handle it any way you want. I made up my mind I was going to be positive and work through it. As patients, we have the opportunity to leave a legacy to our kids, to our grandkids, to our family and friends on how we act and handle the news and the treatments and how we go through the whole illness," Mielcarek said.
Mielcarek said that facing cancer has been the best of times and the worst of times. "It was the worst going through the treatments [seven weeks of radiation and chemotherapy]. You just have to get through it. But for all the support I received, for the friends I've made, for the people who helped me at the hospital, it was best of times. I'm very thankful. And what will be will be. It's going to be great. We're in God's hands, and I'm going to be fine."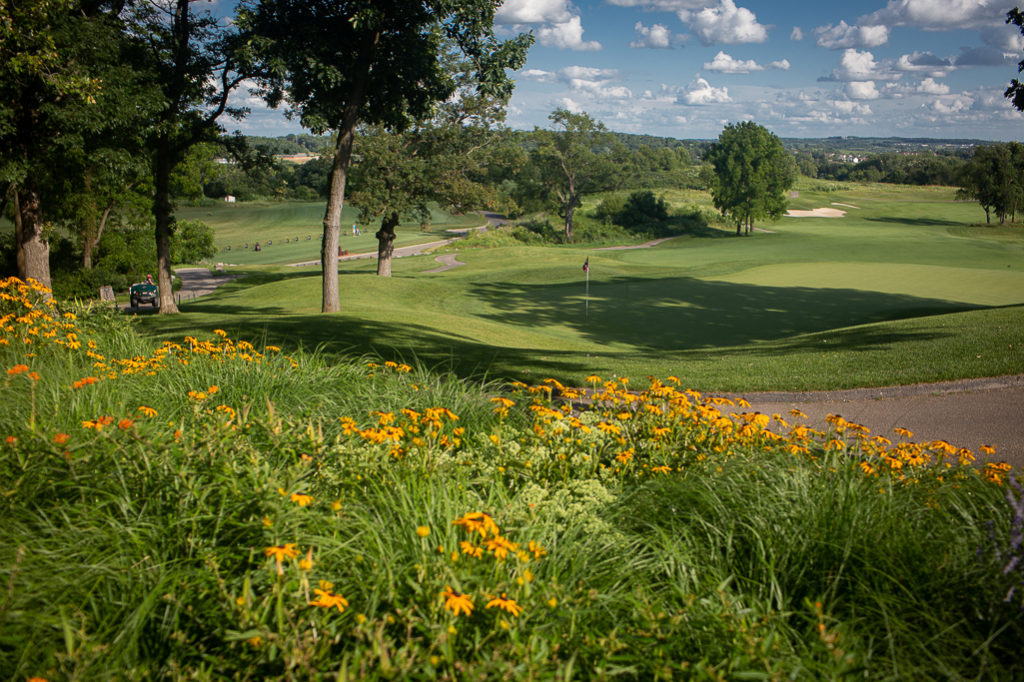 In December 2017, Rob Andringa, a member of the 1990 NCAA championship UW men's hockey team, had recently started a new job that entailed extensive travel. He wasn't feeling well. He thought it might have been because he wasn't eating as well as he should or a lack of exercise. He visited his doctor and had some blood tests. Soon after, his doctor called and told him to get to the emergency room. The doctor later gave him the news that he had Stage 4 colon cancer.
"When you get that news it's a frying pan to the face; it's a kick to the gut," Andringa said. "It feels like you're on a different planet."
After hearing the news, Andringa's wife said, "We got this." "She gave me all the confidence in the world," he said.
Andringa chose the most aggressive of three chemotherapy regimen options, hoping that it would give him the best outcome despite more intense side effects. Going through treatment changed his perspective.
"I cried the other day walking by myself because it was such a beautiful day," he said. "I've been given the gift to realize that there are a lot more important things than a wallet, a nice car or other monetary things. You have it all right in front of you. Usually it's your family and friends and incredible doctors. It takes courage and a lot of support. You've got to take a step back from everything you do and appreciate what you have. If you can't enjoy every single day, it's going to be a tough ride."
Dr. Paul Harari, chairman of the Department of Human Oncology and emcee of the event, noted that advances in cancer treatment have improved outcomes for many patients, but there's still work to be done.
"We want to prolong life and have more people cured of cancer. Despite the progress we've made, not everyone is a long-term survivor," Dr. Harari said. "In this audience, we have people who have lost loved ones to cancer. Several head and neck cancer patients very important to this event are no longer here with us. But their loved ones keep coming back and that is a testimony the spirit generated here. That inspires us to strive for better outcomes, longer survival and more cures. Your support helps immensely in these efforts."
Looking to the future, several resident physicians were interviewed during the 2019 Heads Up! recognition ceremony, two head and neck surgery residents (Drs. Sarah Rosen and Thomas Gessert) and two radiation oncology residents (Drs. Grace Blitzer and Adam Burr). They shared comments and stories about their chosen medical specialty, work hours, daily routines including trials and tribulations. A common theme was their close collaboration with one another across disciplines to effect the best possible outcome for complex cancer patients.
Step by step, the future is gradually looking brighter for head and neck cancer patients with each new generation of health care providers and promising new research and treatment discoveries. See you at the 14thAnnual Heads Up! Outing in July 2020 to continue the march forward.
Photos by Todd Brown/UW Health