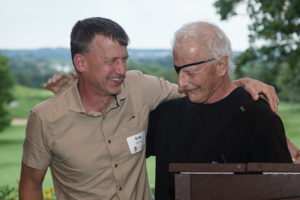 A major milestone
It's been 20 years since Karl Harter was diagnosed with adenoid cystic carcinoma (ACC), a rare cancer that often originates in the head and neck region and can strike healthy people in the prime of life.
Harter's disease is incurable, and fewer than one percent of patients with the same diagnosis survive as long as he has. But thanks to the high level of care offered at the University of Wisconsin and treatment advances from research at the university and throughout the world, he has been able to not only survive, but to enjoy a high-quality life for many years.
To mark this major milestone, Harter, 67, delivered brief comments at the 12th annual Heads Up! Golf Outing, a fundraiser that supports head and neck cancer research at the University of Wisconsin.
Harter thanked his treatment team, several of whom have been with him since his initial diagnosis in 1998, including Dr. Greg Hartig, H&N surgeon, Dr. Paul Harari, H&N radiation oncologist, Dr. Justine Bruce, H&N medical oncologist, and Dr. Aaron Wieland, H&N surgeon.
"I am very fortunate to have these incredibly talented and compassionate people on my team. They have worked diligently to keep me alive. I'm convinced that if I lived anywhere else I wouldn't be alive today," Harter said.
He also thanked his wife, Christina, and friends and family for being by his side throughout his many treatments.
Harter's cancer experience has been challenging, to say the least. His initial surgery—a craniofacial resection—took 14 hours and resulted in the loss of his right eye and sense of smell. Since then he has undergone four courses of radiation treatment and multiple follow-up surgeries.
By 2015, Harter's cancer had metastasized to his lungs. "I was declared untreatable because I had numerous tumors—too many to count—in my lungs." Nevertheless, he has participated in two clinical trials that combine standard chemotherapy and experimental medications.
"These treatments have stabilized my tumors, which has probably added five years or more to my life. And I have a very full life, Harter said, noting that he does hot yoga, works out at the gym, bikes and travels—most recently to Angkor Wat in Cambodia.
"I have a very good quality of life, thanks to Paul Harari, Greg Hartig, Justine Bruce, Aaron Wieland and others," Harter said. "And I intend to keep going."
Paralympian, cancer survivor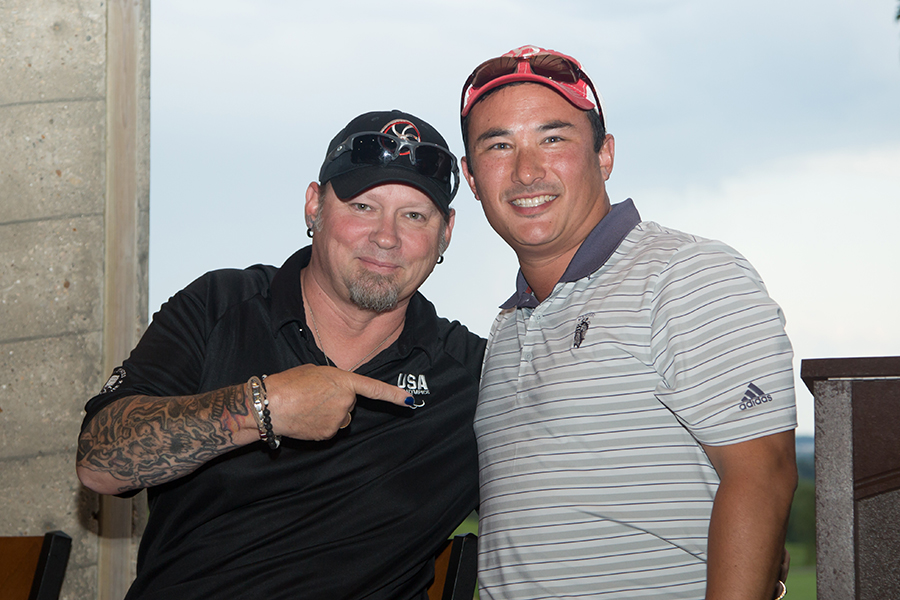 Pat McDonald, 51, has been cancer free a year and a half after being treated for a malignant tumor involving his soft palate and sinuses at UW Health. He was on hand at the 2018 Heads Up! Golf Outing to share his story.
In 1991, McDonald lost the use of his legs after suffering a spinal cord injury in an armored personnel transport accident while serving in the U.S. Army in South Korea. Determination, a positive attitude and participation in sports helped him adapt to his new situation. He tried many sports during rehabilitation, including in basketball, golf, swimming, cycling, shooting and table tennis. Then, in 2008 he discovered curling and quickly became a top competitor in the sport and competed as a member of the U.S. Open Team and U.S. Paralympic Team.
His athletic conditioning served him well during his cancer treatment and was able to tolerate a more aggressive radiation and chemotherapy regimen than many patients. Halfway through treatment, he needed the aid of a feeding tube when severe sore throat made eating virtually impossible. "I'm the type of guy who thinks he can power through anything. I was on fence about getting the feeding tube, but I figured the best way to go through this was to listen to the doctor," McDonald said.
Like many head and neck cancer patients the difficulty swallowing caused him to lose a substantial amount of weight, going from 215 to 160 pounds. His loss of muscle made everyday tasks difficult. He tired easily. Nevertheless, he worked hard and returned to curling soon after treatment.
McDonald and his family recently relocated to Phoenix. "Winters were getting hard on my body. I feel much better in a warmer climate," he said. "I'm just going about my life in a positive way as a loving husband and father and hope to continue living a happy life, free of cancer."
He offered the following advice to fellow head and neck cancer patients:
"Stay positive. Believe in your doctor, medical staff and support network. Try not to get down. Everybody is going to have a bad day no matter what the situation, but you've got to stay positive and enjoy life as you can."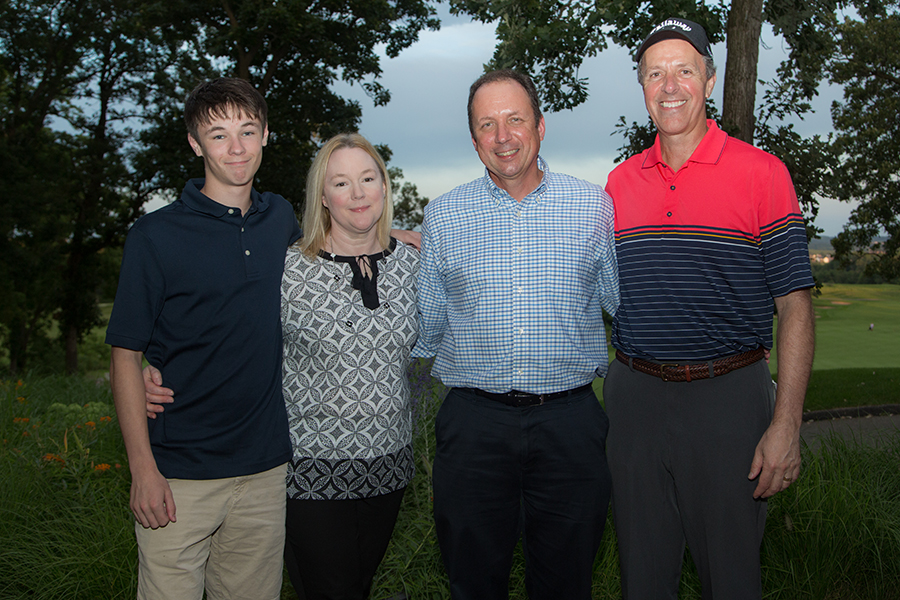 "I feel very fortunate."
Randy Eggert, a senior investment officer with the State of Wisconsin Investment Board and head and neck cancer survivor, spoke about his experience and his hopes for the future of head and neck cancer treatment.On his 39th birthday Randy Eggert discovered a lump on the side of his neck. After two inconclusive biopsies, he was referred to UW Health surgeon Dr. Greg Hartig, who removed four cancerous lymph nodes from his neck. The diagnosis: Stage 4 squamous cell carcinoma of the tonsil.
He then received radiation therapy under the direction of Dr. Paul Harari and chemotherapy under the direction of Dr. Anne Traynor at the UW Carbone Cancer Center.
"I feel very fortunate because here I am 12 years later doing well and feeling good, I've been able to watch my kids grow up, and I know that the great UW doctors and staff who treated me are still available to speak with or see about any concerns I might have," Eggert said.
Treatment was challenging. He needed to use a feeding tube and lost 30 pounds during treatment because he couldn't swallow anything but small amounts of water due to the effects of the radiation. However, long-term side effects have been minimal. Unlike many patients who have undergone similar treatments he doesn't have a major issue with dry mouth due to damaged salivary glands.
"I think by the time I was being treated, radiation therapy had advanced to the point where side effects weren't as severe as they had been for patients treated just a few years earlier," Eggert said.
Eggert said he hopes further advances such as more precise radiation therapy and development of immunotherapies and combination therapies will provide better treatment with fewer side effects.
"I'm very indebted to the team at UW Carbone Cancer Center and all the research they do to help people with head and neck cancer," Eggert said. "In addition to all the clinical staff, there's this whole team behind the scenes that never stops trying to come up with new ways of helping patients. Their work has a real impact on the lives of people like me."
Eggert currently serves as a patient advocate for the Wisconsin H&N SPORE Grant providing a valuable patient voice to the advancement of H&N cancer translational research.
This year's Heads Up! outing raised $30,000 to support advances in H&N cancer research and clinical care.  Click through the photo album below from the 2018 event. 
12th Annual Heads Up! Golf Fundraiser 2018
12th Annual Heads Up! Golf Fundraiser 2018
12th Annual Heads Up! Golf Fundraiser 2018
12th Annual Heads Up! Golf Fundraiser 2018
12th Annual Heads Up! Golf Fundraiser 2018
12th Annual Heads Up! Golf Fundraiser 2018
12th Annual Heads Up! Golf Fundraiser 2018
12th Annual Heads Up! Golf Fundraiser 2018
12th Annual Heads Up! Golf Fundraiser 2018
12th Annual Heads Up! Golf Fundraiser 2018
12th Annual Heads Up! Golf Fundraiser 2018
12th Annual Heads Up! Golf Fundraiser 2018
12th Annual Heads Up! Golf Fundraiser 2018
12th Annual Heads Up! Golf Fundraiser 2018
12th Annual Heads Up! Golf Fundraiser 2018
12th Annual Heads Up! Golf Fundraiser 2018
12th Annual Heads Up! Golf Fundraiser 2018
12th Annual Heads Up! Fundraiser 2018
12th Annual Heads Up! Golf Fundraiser 2018
12th Annual Heads Up! Golf Fundraiser 2018
12th Annual Heads Up! Golf Fundraiser 2018
12th Annual Heads Up! Golf Fundraiser 2018
12th Annual Heads Up! Golf Fundraiser 2018
12th Annual Heads Up! Golf Fundraiser 2018
12th Annual Heads Up! Golf Fundraiser 2018
12th Annual Heads Up! Golf Fundraiser 2018
12th Annual Heads Up! Golf Fundraiser 2018
12th Annual Heads Up! Golf Fundraiser 2018
12th Annual Heads Up! Golf Fundraiser 2018
12th Annual Heads Up! Golf Fundraiser 2018
12th Annual Heads Up! Golf Fundraiser 2018
12th Annual Heads Up! Golf Fundraiser 2018
12th Annual Heads Up! Golf Fundraiser 2018
12th Annual Heads Up! Golf Fundraiser 2018
12th Annual Heads Up! Golf Fundraiser 2018
12th Annual Heads Up! Golf Outing (2018)
12th Annual Heads Up! Golf Fundraiser 2018
12th Annual Heads Up! Golf Fundraiser 2018
12th Annual Heads Up! Golf Fundraiser 2018
12th Annual Heads Up! Golf Fundraiser 2018
12th Annual Heads Up! Golf Fundraiser 2018
12th Annual Heads Up! Golf Fundraiser 2018
12th Annual Heads Up! Golf Fundraiser 2018
12th Annual Heads Up! Golf Fundraiser 2018
12th Annual Heads Up! Golf Fundraiser 2018
12th Annual Heads Up! Golf Fundraiser 2018
12th Annual Heads Up! Golf Fundraiser 2018
12th Annual Heads Up! Golf Fundraiser 2018
12th Annual Heads Up! Golf Fundraiser 2018
12th Annual Heads Up! Golf Fundraiser 2018
12th Annual Heads Up! Golf Fundraiser 2018
12th Annual Heads Up! Golf Fundraiser 2018
12th Annual Heads Up! Golf Fundraiser 2018
12th Annual Heads Up! Golf Fundraiser 2018
12th Annual Heads Up! Golf Fundraiser 2018
12th Annual Heads Up! Golf Fundraiser 2018
12th Annual Heads Up! Golf Fundraiser 2018
12th Annual Heads Up! Golf Fundraiser 2018
12th Annual Heads Up! Golf Fundraiser 2018
12th Annual Heads Up! Golf Fundraiser 2018
12th Annual Heads Up! Golf Fundraiser 2018
12th Annual Heads Up! Golf Fundraiser 2018
12th Annual Heads Up! Golf Fundraiser 2018
12th Annual Heads Up! Golf Fundraiser 2018
12th Annual Heads Up! Golf Fundraiser 2018
12th Annual Heads Up! Golf Fundraiser 2018
12th Annual Heads Up! Golf Fundraiser 2018
12th Annual Heads Up! Golf Fundraiser 2018
12th Annual Heads Up! Golf Fundraiser 2018
12th Annual Heads Up! Golf Fundraiser 2018
12th Annual Heads Up! Golf Fundraiser 2018