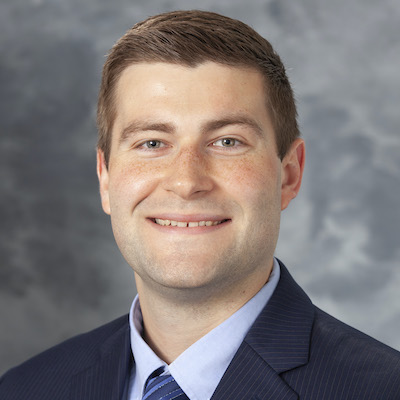 Justin Jagodinsky, an MD-PhD student in the Morris Lab in the Department of Human Oncology, has earned an NIH F30 award. This award, which totals $97,000 over 2.5 years, supports his preclinical research on the combined use of brachytherapy and immunotherapy to improve cure rates for metastatic cancer.
Jagodinsky is pursuing his PhD in cellular and molecular biology with a focus on clinical and translational science. With his mentor, Dr. Zachary Morris, DHO assistant professor, he investigates the effects of radiation on the tumor immune microenvironment and the combined use of radiation and immunotherapy to generate a systemic anti-tumor immune response.
Cancer cells evade the immune system by displaying checkpoint proteins on their surface that inactivate immune cells. Immune checkpoint inhibitors (ICIs) target these proteins to help the immune system recognize and destroy cancer cells. ICIs can improve the anti-tumor immune response, but they are only effective in a small subset of patients with immunologically "hot" tumors, those with many mutations and infiltrating T cells.
In this project, Jagodinsky combines the use of ICIs with brachytherapy in mouse models. His aim is to determine how this combination might enhance the immune response against immunologically "cold" tumors.
In previous preclinical research, Dr. Morris and others have demonstrated that radiation therapy can be combined with ICI to create an in situ vaccination, a treatment in which a single tumor site is targeted to turn the tumor into a focus for improved immune recognition of cancer cells.
Nearly all studies of combining radiation and immunotherapy have used external beam radiotherapy, which delivers a homogenous dose of radiation. Preclinical studies indicate that the immunogenic effects of radiation are sensitive to dose and field size. Jagodinsky says that brachytherapy's conformality and dose heterogeneity may offer advantages over external beam radiation in stimulating in situ vaccination.
Dr. Morris has been impressed with Jagodinsky's early progress. "Justin has put together an outstanding research proposal and at the same time he has established a critical collaboration for our team with DHO Medical Physicist, Dr. Jessica Miller. Together they are generating very promising data that suggests brachytherapy may be considerably more immunogenic than conventional external beam radiation."
"This award has not only been a valuable learning experience for my future career as a physician-scientist in putting together my first NIH style grant, but more importantly, enables me to purse research that has the potential to benefit patients with metastatic cancer," Jagodinsky says.
Both Morris and Jagodinsky expect that the insights and treatment regimens developed in these studies will lead to opportunities for translation to clinical testing. "While this approach could potentially be applied for any type of metastatic cancer," Morris says, "it may be most immediately applicable to patients with prostate, endometrial, breast, head and neck, or cervical cancer, given the established role for brachytherapy in the treatment of these diseases."