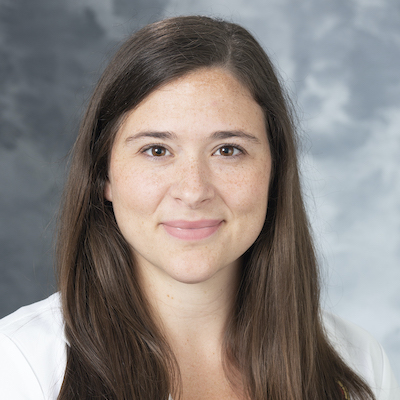 Dr. Tara Tyson, who earned her PhD in medical physics at the State University of New York at Buffalo and recently completed her medical physics residency at Thomas Jefferson University Hospital, joined the Department of Human Oncology as an assistant professor (CHS) in August.
Dr. Tyson describes her position as "the one you aim for." "Medical physics at UW­­–Madison is pretty much legendary. The Department of Human Oncology produces so much top-notch research and the cancer center has world-class facilities. This position has that balance I was really interested in—a large clinical role and opportunities to pursue research and teach."
Her doctoral research focused on a novel approach to achieving a more homogenous dose distribution with total body irradiation. During her residency she began research on out-of-field dose. Her initial research indicated that out-of-field dose is often over- or underestimated.
"If physicians are going to make clinical decisions based on out-of-field dose, it's important to explore ways of further quantifying that discrepancy that we're seeing for different combinations of treatment planning systems, beam models, and calculation algorithms and down the road develop a treatment planning system that accurately represents out-of-field dose."
In the final year of her residency Dr. Tyson commissioned a ViewRay MRIdian Linac and looks forward to pursuing adaptive radiation therapy on the DHO's ViewRay. "The UW is setting the standard for adaptive radiation therapy, which I think is the future of the field. Once physicians are able to see anatomical changes that they will be able to account for with adaptive radiation therapy, I think it will become standard treatment."
Dr. Tyson grew up in Orange County, N.Y., a rural area about 60 miles from New York City. When she was 14 she and her friends formed Full Armor Band, a band inspired by the Catholic faith. Dr. Tyson sang for the band, which recorded five albums and toured regularly before going on hiatus in 2020. "It has been an invaluable experience collaborating with friends and creating something new. We're looking forward to getting together as the pandemic eases," she says.
As a physics undergraduate at The Catholic University of America, Dr. Tyson hadn't given much thought to what she would do after earning her degree. She learned about medical physics from Christopher, the PhD student in charge of the physics lab where she was interning. "I was having my crisis. What am I going to do with a physics degree? I don't want to be in lab all day. I want to be around people and do something tangible. He told me about medical physics. He's now my husband, and he's jealous of my career."
Dr. Tyson and Christopher, a data scientist, have two children: Teddy, 2 and a half, and Rusty, 4 months. "We've been having fun going on walks and exploring the parks. There are so many, and they're so green," Dr. Tyson says. "We love the ability to enjoy nature while still being in the city. It's a great combination."