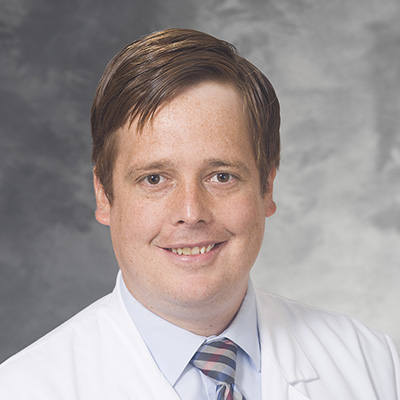 Dr. Adam Burr joined the Department of Human Oncology (DHO) as an assistant professor in July 2020 after completing his radiation oncology residency in the department.
His primary role will be clinical care with a focus on treating head and neck cancer patients. He will also conduct clinical and translational research to help further refine and improve head and neck cancer treatments for the future.
Dr. Burr holds an MD and PhD from the University of Cincinnati and a BS in biomedical engineering from the University of Minnesota. "I worked in a large, very competitive lab during my PhD program and learned that my greatest strengths were in technical areas. So I was looking for a field of medicine that would match those strengths. I considered radiation oncology, radiology, and a few other fields. Within the first day of my radiation oncology rotation, I knew I was in the right field," Dr. Burr says.
He developed an interest in treating head and neck cancer as a resident working with Drs. Paul Harari, DHO chairman, Matthew Witek, former DHO assistant professor, and Randy Kimple, DHO associate professor. "I enjoy the anatomic complexity of it," Dr. Burr says. "Very detailed thought goes into crafting a really good treatment plan for head and neck cancer. I also enjoy serving this patient population. Plus, the University of Wisconsin has a great tradition of being a leader in head and neck radiation oncology."
"We are very fortunate to have Dr. Adam Burr joining the DHO faculty," notes Dr. Harari. "Adam blends high caliber technical smarts and efficiency with a thoughtful and compassionate personality. This is a perfect combination for head and neck cancer patients and, frankly, for any cohort of cancer patients. He is a talented clinical researcher who will advance his skills on behalf of patients for many years to come. Adam is someone you can always count on, and he will flourish in this department as a clinician, researcher, and educator."
Dr. Burr was drawn to the position for other reasons as well. "This is a great department. It's extremely collegial from the therapists to the nurses to the attending physicians and residents. It also has a leading-edge physics group, which enables us to do a lot of really amazing things for patients that you couldn't really do in many other practices," he says.
Dr. Burr grew up in Sun Prairie, Wis., so another benefit of joining the DHO is being able to be near family and friends.  Outside of work, Dr. Burr enjoys spending time with his wife, Samantha, their two sons, Jack, nearly 3, and Charlie, nearly 1. He also enjoys fishing and has done some recent home improvement projects. "I'm not sure I really love home improvement, but it's what I've been doing lately," he says.
As he begins his career in the DHO, Dr. Burr says he's excited about getting established and treating patients as an attending physician and continuing his research aimed at predicting head and neck cancer recurrence, tailoring treatment fields based on prognosis, and using immunotherapies to treat metastatic head and neck cancer.
"If you asked me in my first year of residency what I'd like to do once I graduate, I would have said 'to treat head and neck cancer in an academic program,' Dr. Burr says. "That's exactly what I get to do, which is awesome!"