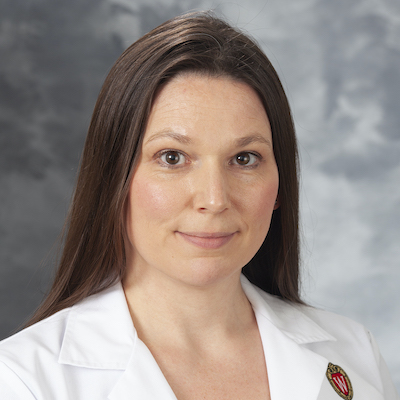 Dr. Gemma Davies, who earned her PhD in medical physics at the Institute of Cancer Research and the Royal Marsden Hospital in the U.K. and most recently served as a senior clinical physicist at Johns Hopkins Hospital, joined the Department of Human Oncology as an assistant professor (CHS) in February.
Dr. Davies became interested in radiation oncology physics as a medical physics master's degree student at King's College London. "During that master's program we did acquaintanceships in all areas of medical physics—ultrasound, diagnostic radiology, radiation protection—and longer placements in areas we could choose, and I focused on nuclear medicine, MRI, and radiation therapy. I decided radiation therapy was my favorite because of the depth of the field and technology, and I found the multidisciplinary teams working very closely together to execute a patient's treatment really interesting," she says.
After completing her master's degree, she served as a radiotherapy clinical scientist in the Department of Radiation Physics and Radiobiology at Imperial College in London. After nearly five years of clinical experience, she decided to pursue her PhD in radiotherapy at Royal Marsden Hospital.
"I was already very familiar with radiation therapy, so I was able to hit the ground running," Dr. Davies says.
As a PhD student Dr. Davies PhD conducted research on multi-leaf collimator tumor tracking in radiation therapy. "I had a really great time during my PhD, but my heart is in the clinic treating patients. So, I declined the opportunity to do further research as a postdoctoral fellow," she says.
Dr. Davies worked at Johns Hopkins Hospital for nearly six years. She relocated to Madison with her husband, Dr. Timothy Grant, who accepted a position as a Morgridge Institute investigator and assistant professor of biochemistry at the University of Wisconsin–Madison.
Dr. Davies says the DHO's reputation for innovation, education, and sophisticated treatment attracted her to the position.
"It's lovely to be part of this very strong, educated, and talented group of physicists," Dr. Davies says.
Outside of work, Dr. Davies enjoys hiking with her husband, baking European-style bread, soap-making, and cross stitch. She and her husband have two sons, Theo, 5, and Owen, 18-months. "One of the reasons we chose to move to Madison was to live closer to work and be able to attend our sons' activities."