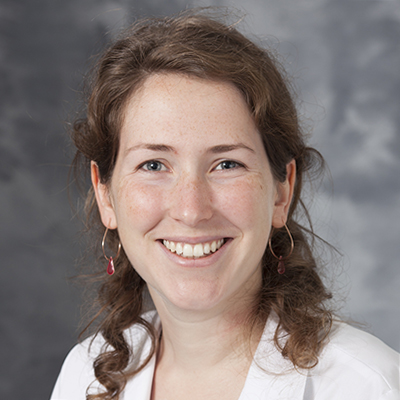 Dr. Grace Blitzer joined the Department of Human Oncology (DHO) as an assistant professor in July 2022 after completing her radiation oncology residency in the department.
She will provide clinical care at the radiation oncology clinic at UW Cancer Center Johnson Creek three days a week and devote two days a week to translational cancer research.
Dr. Blitzer holds an MD from the Medical College of Wisconsin and a BS from UW–Madison in biology. As an undergraduate she had the opportunity to work with Dr. Paul Harari, DHO chairman, and Dr. Randy Kimple, DHO associate professor. "I had a great experience learning all about cancer research and that sparked my interest in working on research on improving patients' quality of life," Dr. Blitzer says. "Because of that experience, I knew going from undergrad into medical school that I was interested in oncology and cancer research."
Dr. Blitzer grew up in Florida in a medical family. Her father was radiation oncologist, and her mother was a pediatrician. "My father was very happy with his career choice and getting to care for patients. That made an impact on me as I thought about where I wanted to end up what I want to do," Dr. Blitzer says.
She decided on radiation oncology as a specialty after participating in an away rotation in the UW Health Radiation Oncology Clinic during medical school. "I loved the department and really enjoyed my time here. I chose to do my residency here, and obviously, I've continued to enjoy the department and appreciate the wonderful culture and the research opportunities that here."
Her time as a radiation oncology resident further focused her goals. "My experience as a resident was fantastic!" she says. "I had the opportunity to write multiple clinical trials from IRB submission to protocol writing through enrolling patients and analyzing results. Getting to be part of that has solidified my interest in cancer research, specifically translational research and clinical trials."
Dr. Blitzer also found the culture of the department to be an excellent fit. "Every person in the department is there to take care of their patients and help each other. That supportiveness was huge for me," she says. "At the start of my career, I wanted to have that support network built in along with research opportunities because my goal is to take the best possible care of my patients. I know this department is a great place for me to achieve my goals."
When she's not at work, Dr. Blitzer spends time with her husband, Troy, an electrical engineer and Wisconsin native. She enjoys hiking, swimming, biking, and gardening. "When you're in the clinic all day, it's good to get outside," she says.