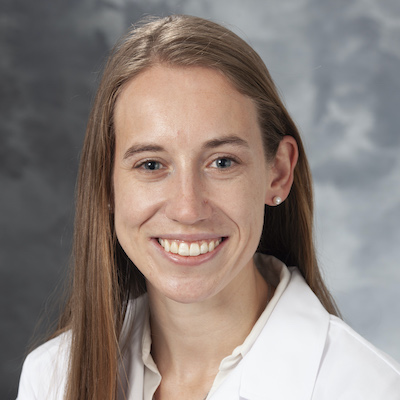 Dr. Jennie Crosby joined the Department of Human Oncology (DHO) as an assistant professor in July 2022 after completing her radiation oncology physics residency in the department.
During her residency, Dr. Crosby helped commission equipment in the new radiation oncology clinic at the William S. Middleton Memorial Veterans Hospital and worked on projects focused on patient safety and quality assurance.
In her faculty role, Dr. Crosby will work in the clinic on the ViewRay system and continue to work on patient safety and quality assurance in addition to general clinical duties. She will also teach courses and mentor residents.
Dr. Crosby majored in nuclear engineering as an undergraduate at UW–Madison as an undergraduate. She had the opportunity to work with Dr. Bruce Thomadsen, UW professor of medical physics and human oncology, on a prostate brachytherapy project through the Undergraduate Research Scholars Program. She continued this work throughout her undergraduate years and her interest in medical physics grew.
Dr. Crosby got her PhD in medical physics at the University of Chicago. In graduate school, she did artificial intelligence scripting work and is excited to apply that experience in automating certain clinical processes to free up clinicians to apply their skills where they matter most: providing superior patient care.
Her experience as a resident helped her further refine her skills as well as build strong professional relationships, a key factor in her decision to join the faculty.
"Primarily what made me stay here is that I really like the culture of our department," Dr. Crosby says. "Everybody has treated me very well as a resident. I feel like I've been treated more like a colleague than an underling within the department. I really like that and that has helped me build relationships with different faculty members over the last couple of years. I really enjoy working with these people and want to continue working with them and continue contributing to our patient safety and quality improvement measures as well as our automation. Being familiar with our clinical workflows and clinical practice really helps as well."
Dr. Crosby is originally from Southern California. Her husband, Spencer, produces fitness videos. Outside of work she enjoys crocheting, quilting, and sewing. "I like to make little gifts," she says. "I'm kind of known around the department for making baby shower gifts—I crochet little baby booties that everybody loves. so that's really fun."