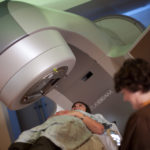 The UW Health Radiation Oncology Clinic at University Hospital recently earned national recognition for its exceptional quality of cancer care from the American Society for Radiation Oncology's (ASTRO) Accreditation Program for Excellence (APEx®).
This prestigious distinction is the culmination of a comprehensive two-year process of self-assessment and external review of the clinic's systems, personnel, policies, and procedures.
APEx is a voluntary accreditation program that supports quality improvement in radiation oncology practice. It focuses on five pillars: process of care, radiation oncology team, safety, quality management, and patient-centered care.
"We knew we had built a very-high quality practice over the years, but we also knew there would be opportunities for improvement. This accreditation process helped us identify those opportunities," says Zacariah Labby, interim director of Radiation Oncology Physics in the Department of Human Oncology. "We learned that we could improve how our policies and procedures are standardized and communicated among the staff. As a result of going through this accreditation, we now have a set of well-reviewed standards that lays out how we provide care throughout the treatment process. This benefits patients, helps us onboard new staff, and provides a way to demonstrate our commitment to high-quality care to physicians who refer patients to us."
APEx accreditation is not a one-time endeavor, Labby says. "In a sense we have just started the process. We go through reaccreditation every four years, which is really a good thing. We don't get to rest on our laurels. We have to continually make sure that our policies and procedures are always up to date, clear, and cover everything we do. It has become part of our culture."
ASTRO is a leading radiation oncology professional association that is dedicated to improving patient care through professional education and training, support for clinical practice and health policy standards, advancement of science and research, and advocacy.