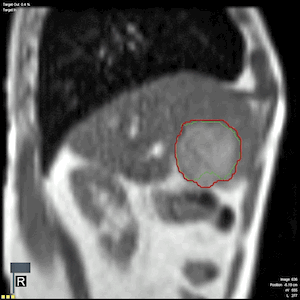 The following are descriptions of several MR-guided radiation therapy research projects that our medical physicists are currently pursuing:
MRI-guided Radiation Therapy (Bayouth)
MRI is an excellent imaging modality for visualization of soft tissues. This is particularly useful for tumors of the abdomen, such as pancreatic cancer shown below.  The left image shows the patient's anatomy during exhale, while the image on the right shows the anatomical change during a maximum inspiration breath hold (MIBH). In the MIBH image we can see motion of nearly all the soft tissue, providing us superior ability to align the tumor during our treatment delivery. We are analyzing the clinical impact of using these treatment planning and delivery techniques and our patient's ability to comply with self-guided breathing maneuvers.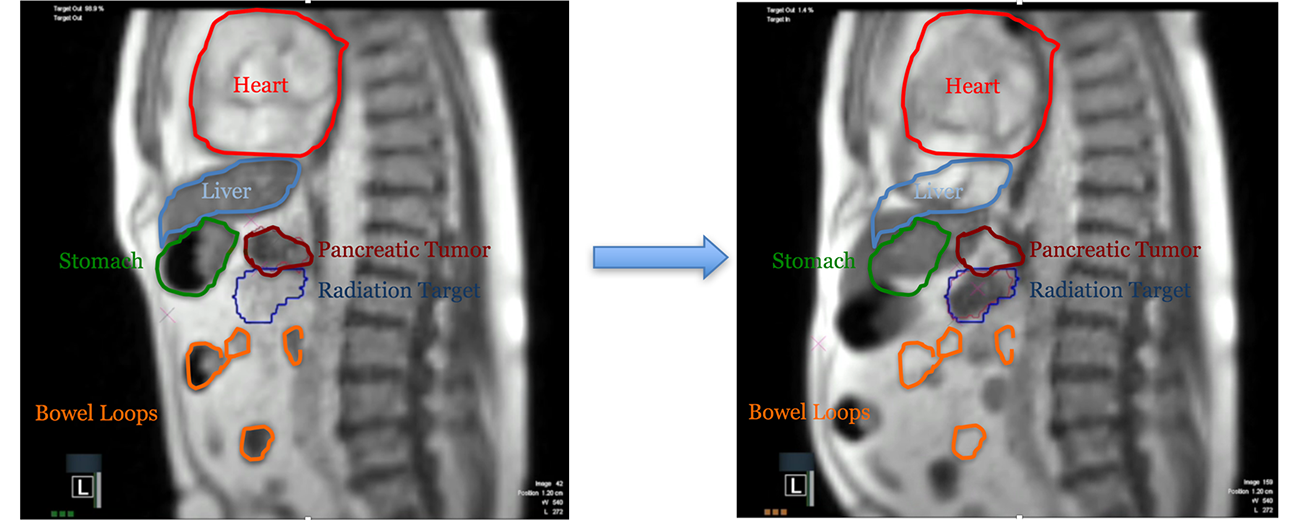 COMMISSIONING AND IMPLEMENTATION OF VIEWRAY MRIDIAN MR-LINAC RADIOTHERAPY SYSTEM (Mittauer)
Our physics team is currently working toward commissioning the MRIdian linac system (ViewRay, Inc., Cleveland, OH.), the next generation MR-guided radiotherapy system at the University of Wisconsin. Quality assurance procedures are being developed to characterize this novel technology. Treatment strategies are being developed that highlight the unique capabilities of the MR-linac to expand our current MR-guided radiotherapy program.