I am an associate professor in the Department of Human Oncology specializing in treatment of breast and gynecologic cancers. In the clinic, my primary goal is to come alongside women and their families who are facing a cancer diagnosis and work together to identify a thoughtful treatment approach that best fits their cancer and life situation.
Through clinical research efforts, I strive to make radiation therapy an easier and more successful journey for women in the future. This includes the use of treatment methods that may be completed more quickly and/or limit radiation dose to nearby parts of the body. Accelerated partial breast irradiation (APBI), hypofractionated (short duration) whole breast irradiation, MRI-guided external radiation and brachytherapy are just a few examples of the treatment options that women may benefit from.
At the University of Wisconsin, I work with residents and medical students on a daily basis. I enjoy getting to know the trainees who come through the radiation oncology clinic, learning about their goals and helping them achieve those goals by building their clinical skills and research experience. Investing in bright, upcoming health care providers produces a ripple effect of caring and innovation, which can impact the future of medicine in a far greater way than the work of a single person.
Education
Fellow, Institut Gustave Roussy, Brachytherapy (2010)
Resident, University of Wisconsin–Madison, Radiation Oncology (2010)
MD, University of Wisconsin–Madison, Medicine (2005)
BA, Lawrence University, Biology and Biomedical Ethics (2001)
Academic Appointments
Associate Professor (CHS), Human Oncology (2018)
Assistant Professor, Human Oncology (2010)
Selected Honors and Awards
Patient Experience Physician Champion Award, UW Health (2015)
Educator of the Year Award, ARRO (2013)
Boards, Advisory Committees and Professional Organizations
Committee for Equality Member, ASTRO (2017-pres.)
CME/MOC Committee Member, ASTRO (2015-pres.)
Corresponding Principal Investigator, NRG (2015-pres.)
Clinic Director, UW Radiation Oncology (2014-pres.)
Peer Review Committee Member, UW Health (2012-2014)
Research Focus
Breast Cancer, Gynecologic Cancer
---
Dr. Bethany Anderson specializes in the treatment of breast and gynecologic cancers. Her research is focused on partial breast irradiation, hypofractionated whole breast irradiation, MRI-guided external radiation and brachytherapy.
Traditional radiation therapy requires multiple treatments and may cause side effects in surrounding healthy tissues.
My research investigates ways to improve cancer control and reduce side effects of treatment for breast and gynecologic cancer. This includes using advanced imaging and radiation delivery techniques to more precisely identify and treat cancerous areas. I also study shorter treatment courses.
Magnetic Resonance Imaging (MRI)-Guided Breast Radiation
The University of Wisconsin is one of the first radiation oncology clinics in the world to offer treatment with the ViewRay treatment system. This allows us to monitor patients with MRI in real time before and during the delivery of radiation therapy, ensuring the most precise treatment possible. I am utilizing this technology to learn more about the motion of breast tissue (i.e., post-operative lumpectomy cavity) and other adjacent healthy organs (i.e., lung) between and during radiation treatments.
Accelerated Partial Breast Irradiation
Traditionally, nearly all women undergoing partial mastectomy for early-stage breast cancer received approximately six weeks of once-daily radiation treatments directed at the whole breast. Many options now exist that allow certain women to receive approximately one week of radiation treatments directed only to the portion of the breast affected by cancer (APBI). Soon, we will be offering women a novel option for receiving a total of three MRI-guided ViewRay APBI treatments precisely targeted to only the affected portion of the breast.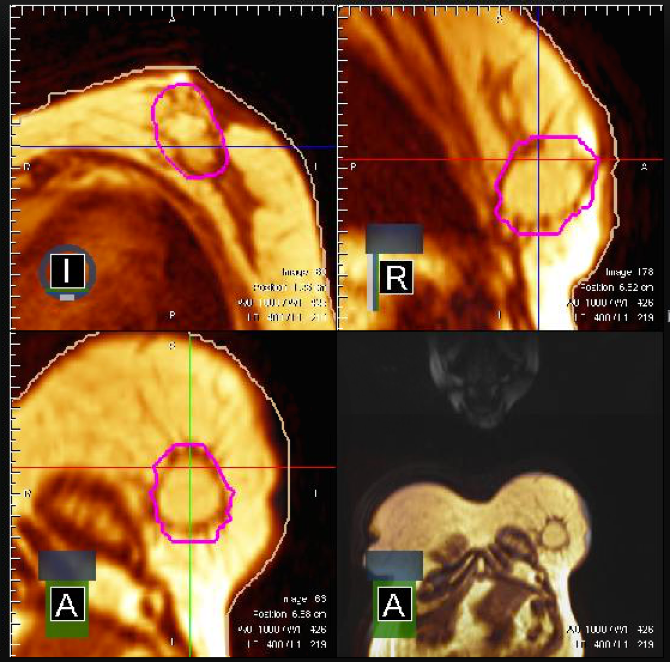 Considering Lumpectomy Cavity PTV Expansions: Characterization of Intrafraction Lumpectomy Cavity Motion Practical radiation oncology
Merfeld EC, Blitzer GC, Kuczmarska-Haas A, Witt JS, Wojcieszynski AP, Mittauer KM, Hill PM, Bayouth JE, Yadav P, Anderson BM
2023 Jan-Feb;13(1):e14-e19. doi: 10.1016/j.prro.2022.08.011. Epub 2022 Sep 9.


More

PURPOSE: Accelerated partial breast irradiation and lumpectomy cavity boost radiation therapy plans generally use volumetric expansions from the lumpectomy cavity clinical target volume to the planning target volume (PTV) of 1 to 1.5 cm, substantially increasing the volume of irradiated breast tissue. The purpose of this study was to quantify intrafraction lumpectomy cavity motion during external beam radiation therapy to inform the indicated clinical target volume to PTV expansion.

METHODS AND MATERIALS: Forty-four patients were treated with a whole breast irradiation using traditional linear accelerator-based radiation therapy followed by lumpectomy cavity boost using magnetic resonance (MR)-guided radiation therapy on a prospective registry study. Two-dimensional cine-MR images through the center of the surgical cavity were acquired during each boost treatment to define the treatment position of the lumpectomy cavity. This was compared with the reference position to quantify intrafraction cavity motion. Free-breathing technique was used during treatment. Clinical outcomes including toxicity, cosmesis, and rates of local control were additionally analyzed.

RESULTS: The mean maximum displacement per fraction in the anterior-posterior (AP) direction was 1.4 mm. Per frame, AP motion was <5 mm in 92% of frames. The mean maximum displacement per fraction in the superior-inferior (SI) direction was 1.2 mm. Per frame, SI motion was <5 mm in 94% of frames. Composite motion was <5 mm in 89% of frames. Three-year local control was 97%. Eight women (18%) developed acute G2 radiation dermatitis. With a median follow-up of 32.4 months, cosmetic outcomes were excellent (22/44, 50%), good (19/44, 43%), and fair (2/44, 5%).

CONCLUSIONS: In approximately 90% of analyzed frames, intrafraction displacement of the lumpectomy cavity was <5 mm, with even less motion expected with deep inspiratory breath hold. Our results suggest reduced PTV expansions of 5 mm would be sufficient to account for lumpectomy cavity position, which may accordingly reduce late toxicity and improve cosmetic outcomes.

PMID:36089252 | DOI:10.1016/j.prro.2022.08.011

View details for

PubMedID 36089252
Contact Information
Bethany Anderson, MD
600 Highland Avenue,
Box 3684 Clinical Science Center
Madison, WI 53792