I am an Assistant Professor in the Department of Human Oncology. The study of cancer biology has been my passion since I was an undergraduate when I studied the role of inflammation in lung cancer. I then attended the MD/PhD program at the University of Colorado and worked with HHMI professor Leslie Leinwand during graduate school. During that time, I established and characterized a model of cardiac muscle atrophy due to cancer. Throughout medical school I loved caring for cancer patients, and combined with my love for cancer research, led me to specialize in radiation oncology. I moved to St. Louis for my clinical residency at Washington University, where I received excellent training. I was fortunate to receive entry into the B. Leonard Holman Research Pathway during residency, where I performed RNA sequencing of cervical tumors before and during chemoradiation therapy. This research provided novel insight into how these tumors respond to treatment and what factors may be involved in treatment resistance. Following residency, I elected to do post-doctoral study here at the University of Wisconsin through the Bentson Research Fellowship. I worked with Dr. Beth Weaver and studied how chromosomal instability affects radiation sensitivity.
Radiation oncologists have been treating each type of cancer (i.e., head and neck, lung, brain) with the exact same dose over the last 50 years. We now know that each patient's tumor is biologically unique and may contain certain vulnerabilities or resistance mechanisms that can be targeted to increase therapeutic response. My ultimate goal is to improve how radiation oncologists treat patients by targeting the unique biology of each patient's tumor.
My main interest is in Human Papilloma Virus (HPV) induced cancers, such as cervical and head and neck cancer. Specifically, I am interested in how the virus induces different types of chromosomal instability (CIN) and how this affects radiation sensitivity, which may offer some insight into radiation sensitivity or resistance within HPV+ cancers. My group is also interested in determining how CIN directly affects the immune response to the tumor in the context of radiation therapy.
Education
Bentson Translational Research Fellow, University of Wisconsin, (2018 - 2021)
Resident, Washington University in St. Louis, Radiation Oncology (2018)
Intern, St. Joseph Hospital, Internal Medicine (2014)
MD, University of Colorado, (2013)
PhD, University of Colorado Boulder, Molecular Biology (2011)
BS, University of Texas at Austin, Biochemistry (2002)
Academic Appointments
Assistant Professor, Department of Human Oncology (2022)
Instructor CHS, Department of Human Oncology, (2021-2022)
Fellow, Department of Human Oncology,
Selected Honors and Awards
Forbeck Scholar (2021)
National Institutes of Health (NIH) K08 Career Development Award (2021)
RSNA Fellow Research Grant (2019-2020)
ASCO Young Investigator Award (2019-2020)
RSNA Fellow Research Grant (2019-2020)
RSNA Resident Research Grant (2016-2017)
B. Leonard Holman Research Pathway recipient (2015-2017)
NHLBI Pre-Doctoral T32 Award (2008-2011)
American Association of University Women Scholarship (2010)
American Heart Association Pre-Doctoral Fellowship (2007-2009)
Dow Chemical Centennial Endowed Presidential Scholarship (2002)
Boards, Advisory Committees and Professional Organizations
Associate Senior Editor of Biology, Advances in Radiation Oncology, 2020-pres.
American Society for Radiation Oncology (ASTRO), 2014-pres.
Radiation Research Society (RRS), 2016-pres.
Radiological Society of North America (RSNA), 2016-pres.
American Association for Cancer Research (AACR), 2017-pres.
American Society of Clinical Oncology (ASCO), 2018-pres.
Research Focus
Chromosomal instability, aneuploidy, Head & Neck Cancer and Cervical Cancer
Chromosomal instability as a potential mechanism and marker of radiation sensitivity in head and neck cancer.
Human Papilloma Virus (HPV) is the main cause of cervical and oropharyngeal cancers. I am studying how chromosomal instability modulates radiation response in HPV-positive and HPV-negative head and neck cancers and how HPV affects the immune response to the tumor.
Project 1:
Human Papilloma Virus (HPV) is recognized as a significant cause of head and neck cancer and represents a unique clinical entity. Chromosomal Instability (CIN) is an ongoing rate of missegregation events over the course of multiple cell divisions, and is common in human tumors. Our laboratory and others have shown that combining two independent insults that each cause low CIN results in high CIN, which leads to cell death and tumor suppression. Ionizing radiation and HPV can each induce low CIN, thus we hypothesize that low CIN in tumors prior to treatment sensitizes head and neck cancer cells to radiation therapy. We propose to test this in vitroand in vivoby creating isogenic chromosomally stable and unstable HPV-positiveand HPV-negativecell lines.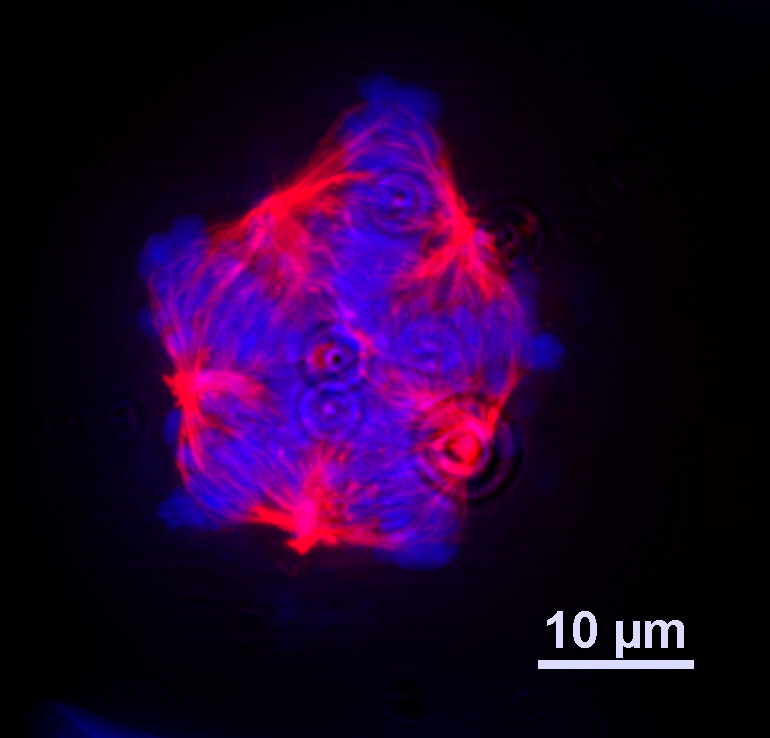 Project 2:
Many cell types sense exogenous DNA through the cytosolic DNA receptor GMP-AMP synthase (cGAS), which produces a second messenger cGAMP which activates STING, and ultimately results in a type I interferon immune response. Cells utilize this pathway to protect the host from viral and bacterial infection as well as from genomic instability, which can also cause cytosolic DNA. Many cancer cells have lost this pathway to avoid immune detection and aid in their survival. I am interested in determining if cancers caused by Human Papilloma Virus (HPV) have differential activation of the cGAS/STING pathway at baseline and in response to radiation compared to HPV negative cancers, and whether this affects the immune response to the tumor. Using this information, I hope to gain insight into the differential outcomes of HPV-positive versus negative tumors in order to improve the treatment response of HPV-negative cancers and hopefully increase patient survival
A comparison of oral and transdermal short-term estrogen therapy in postmenopausal women with metabolic syndrome Fertility and sterility
Chu MC, Cosper P, Nakhuda GS, Lobo RA
2006 Dec;86(6):1669-75. doi: 10.1016/j.fertnstert.2006.04.043. Epub 2006 Oct 30.


More

OBJECTIVE: To determine whether it would be preferable to prescribe oral or transdermal estrogen to symptomatic postmenopausal women with metabolic syndrome (MBS).

DESIGN: Prospective, randomized study.

SETTING: Academic medical center.

PATIENT(S): Fifty obese postmenopausal women with MBS.

INTERVENTION(S): Women were randomized to receive either oral E(2) (oE(2), 1 mg/d) or transdermal E(2) (tE(2), 0.05 mg/d) for 3 months. Fasting blood was obtained before and after treatment for glucose, insulin, lipid profiles, the adipocytokines (adiponectin, leptin, and resistin), and a gastric peptide (ghrelin). In addition, a 75-g 2-hour oral glucose-tolerance and intravenous insulin-tolerance tests were performed before and after E(2).

MAIN OUTCOME MEASURE(S): Changes in parameters of insulin resistance (IR), lipid profiles, and adipocytokine levels.

RESULT(S): Mean serum concentrations of E(2) in women using oE(2) and tE(2) were 39.1 +/- 5.6 and 49.2 +/- 28.6 pg/mL, respectively. After oE(2), there was a statistically significant worsening of IR markers, including an increase in baseline insulin (15.28 +/- 1.27 to 22.02 +/- 2.40 microU/mL), a reduction in quantitative insulin-sensitivity check index (0.3177 +/- 0.0043 to 0.2977 +/- 0.0057), and an increase in homeostasis model assessment (3.96 +/- 0.38 to 8.59 +/- 2.08). The only significant change in the lipid profile was an increase in high-density-lipoprotein cholesterol (50.46 +/- 2.34 vs. 55.08 +/- 2.51 mg/dL). Leptin levels increased (81.43 +/- 7.87 ng/mL to 94.10 +/- 6.56 ng/mL), and adiponectin decreased nonsignificantly, resulting in an increased leptin-adiponectin ratio (12.56 +/- 1.70 to 15.86 +/- 2.24); resistin levels increased (9.37 +/- 1.09 ng/mL to 11.72 +/- 1.10 ng/mL); and baseline ghrelin levels decreased (701.64 +/- 59.79 pg/mL to 581.72 +/- 36.07 pg/mL). After tE(2), no significant changes in IR parameters occurred, except for a decrease in glucose-insulin ratio. There were no changes in lipid parameters. Leptin did not change (72.7 +/- 9.3 ng/mL to 78.8 +/- 7.9 ng/mL), whereas adiponectin levels showed statistically significant increase (7.97 +/- 0.7 microg/mL vs. 9.96 +/- 1.1 microg/mL), with no change in the leptin-adiponectin ratio. Resistin levels did not change significantly, and ghrelin levels decreased (888.52 +/- 109.98 pg/mL vs. 579.04 +/- 39.30 pg/mL).

CONCLUSION(S): This short-term study suggests that oral E(2) may worsen IR and adipocytokine parameters, worsening cardiovascular risk. Transdermal E(2) had minimal effects on IR and resulted in higher adiponectin. Although these data may not reflect alterations that occur with estrogen therapy in more metabolically normal postmenopausal women or with longer term therapy, the findings suggest that tE(2) may be a preferable treatment for obese women with MBS. Long-term studies are needed to make any recommendations.

PMID:17074346 | DOI:10.1016/j.fertnstert.2006.04.043

View details for

PubMedID 17074346
Contact Information
Pippa Cosper, MD, PhD
1111 Highland Avenue,
WIMR I 3057
Madison, WI 53703