I am a professor in the Department of Human Oncology (DHO) at UW–Madison, where I study genome surveillance, cell growth and neurodegeneration. Prior to joining DHO in 2010, I was an associate professor in the Department of Pharmacology at UW–Madison. My postdoctoral studies were carried out in the laboratory of Robert Abraham University (Duke University). We were among the first labs to functionally characterize members of the PI3 kinase-related kinase superfamily that includes DNA-PK, ATM and ATR—three critical regulators of the intracellular DNA damage response.
Current work in our lab is aimed at understanding how diverse growth-inhibitory signals, including DNA damage, cell-cell contact and growth factor depletion downregulate gene expression through the CREB pathway and how defects in this regulation contribute to tumorigenesis. A second related project is deciphering how alternative splicing influences DNA damage repair and tumor suppression using cellular and in vivo (mouse) models. Finally, our laboratory has developed several Drosophila melanogaster (fruit fly) models for the motor neuron disease amyotrophic lateral sclerosis. We are using these models to probe genetic mechanisms of neurodegeneration. We actively collaborate with both basic science and clinical colleagues within and outside the UW campus on each of these projects. I also teach material related to cell growth and DNA damage repair for several on-campus graduate programs, serve on both NINDS and NCI grant review panels and have served as editor and ad hoc reviewer for the Journal of Biological Chemistry, Nature, the EMBO Journal and other journals.
Education
Postdoctoral Fellow, Duke University, Cancer Biology (2000)
PhD, Northwestern University, Microbiology-Immunology (1996)
BS, University of Minnesota, Biochemistry and Chemistry (1989)
Academic Appointments
Professor, Human Oncology (2015)
Associate Professor, Human Oncology (2011)
Associate Professor, Pharmacology (2007)
Assistant Professor, Pharmacology (2001)
Selected Honors and Awards
Shaw Scientist Award, Greater Milwaukee Foundation (2003)
Robert M. and Barbara R. Bell Basic Science of Cancer Award, Duke University (2000)
Research Fellow, Leukemia Society of America (1997–2000)
National Research Service Award "Cellular and Molecular Basis of Disease" Northwestern University (1992–1994)
Stipend Recipient, Undergraduate Research Opportunities Program (UROP), University of Minnesota (1988)
American Chemical Society Outstanding Sophomore Chemistry Student (1986)
Most Outstanding Freshman Chemistry Student (1985)
Research Focus
Genome Surveillance and Cell Growth Regulation, Molecular Pathogenesis of ALS
---
Dr. Randal Tibbetts studies genome surveillance, cell growth and neurodegeneration. Current work in his lab is aimed at understanding how diverse growth-inhibitory signals, including DNA damage, cell-cell contact and growth factor depletion downregulate gene expression through the CREB pathway and how defects in this regulation contribute to tumorigenesis.
The Tibbetts Lab studies growth control and DNA repair pathways that become disrupted in cancer cells while maintaining secondary interests in neurodegenerative disease.
DNA repair defects and increased proliferative potential are two hallmarks of virtually all cancer cells. We are investigating pathways controlling DNA repair and cell proliferation—and the interfaces between them—to define cancer cell vulnerabilities that may be exploited through novel targeted therapies.
Genome surveillance and cell growth regulation
There are currently two active projects that broadly pertain to mechanisms of genome surveillance growth regulation and tumor suppression.
Interface between DNA damage signaling and CREB-mediated transcription: implications for tumor suppression and metabolic control—The ataxia-telangiectasia-mutated (ATM) protein kinase and related proteins ATR and DNA-PK function as master regulators of the cellular DNA damage response, phosphorylating hundreds of proteins in response to various types of genotoxic stress. Mutations in ATM cause ataxia-telangiectasia (A-T), a syndrome of cancer susceptibility and neurodegeneration characterized at the cellular level by radiation sensitivity and dramatically impaired ability to signal and repair DNA double-strand breaks. A-T patients and ATM-deficient mice also manifest metabolic abnormalities suggesting that ATM senses and responds to metabolic cues. We are investigating how ATM signaling through the CREB (cAMP-response element-binding protein) contributes to cell growth and metabolic control. CREB fulfills key roles in metabolism (gluconeogenesis) and long-term memory formation and has been strongly implicated as a protooncogene in a host of cancers. We have defined a new mechanism of CREB regulation whereby ATM-dependent phosphorylation of a conserved cluster of Ser/Thr residues diminishes CREB DNA binding activity through an autoinhibitory mechanism. In addition, ATM-independent pathways mediate CREB autoinhibition in response to a variety of growth-inhibitory stimuli, whereas signaling through the pro-growth mTOR pathway promotes CREB dephosphorylation (Fig. 1). In addition to defining these pathways and elucidating biochemical mechanisms of autoinhibition, we are currently investigating functional impacts of cancer-associated mutations that may diminish CREB autoinhibition. The importance of these pathways in tumor suppression and other CREB-mediated processes is being tested using CREB gene-edited mice.
Novel roles of RNA-binding proteins in DNA damage repair and tumor suppression—A second project is focusing on emergent roles for RNA-bindings proteins (RBPs) in DNA damage-dependent alternative splicing, DNA repair and tumor suppression. We are elucidating pathways controlling DNA damage-dependent changes in alternative splicing  and modeling the implications of these changes in mice using CRISPR/CAS9-mediated genome editing in mice. The long-term goal of these studies is to understand fundamental aspects of DNA damage repair and response that can be used to guide radio- and chemotherapeutic strategies for cancer patients.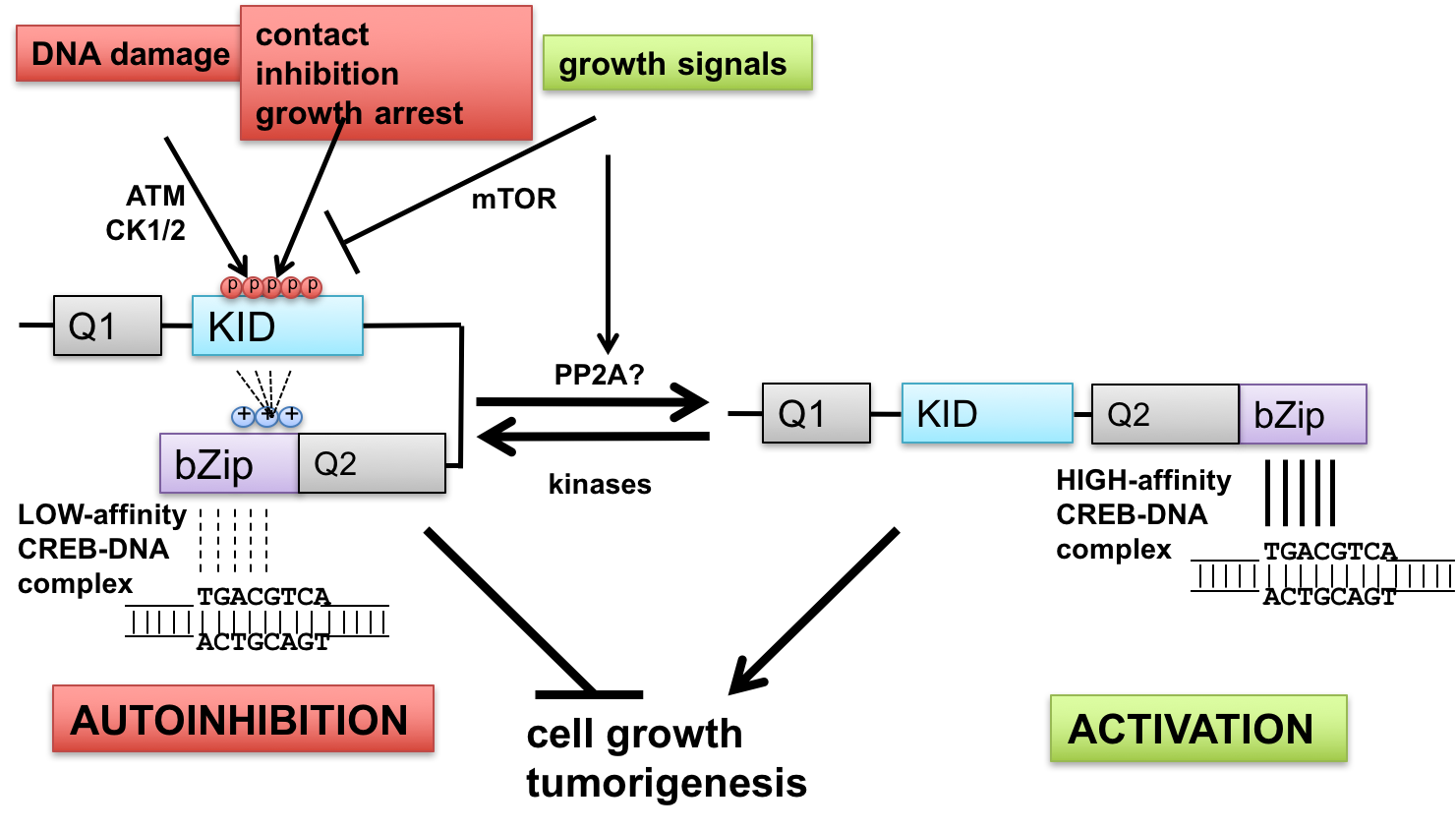 Molecular pathogenesis of ALS.
ALS is a fatal neurodegenerative disease that affects motor neurons. Recent genetic advances have identified genes that are critically involved in the ALS disease process, including the RNA-binding proteins TDP-43 and FUS/TLS, the uncharacterized open reading frame, C9ORF72, and UBQLN2.  We are using cell culture, Drosophila melanogaster (fruit fly) and mouse models to understand how ALS-associated mutations in these genes instigate neurodegeneration. We are particularly interested in how ALS mutations in the ubiquitin chaperone UBQLN2 promote its misfolding and aggregation, leading to disruption of protein clearance mechanisms and neuron death (Fig. 2).  The long-term goal of this work is to identify key pathways that may be amenable to therapeutic intervention in ALS and related dementias.
Axon guidance genes modulate neurotoxicity of ALS-associated UBQLN2 eLife
Kim SH, Nichols KD, Anderson EN, Liu Y, Ramesh N, Jia W, Kuerbis CJ, Scalf M, Smith LM, Pandey UB, Tibbetts RS
2023 Apr 11;12:e84382. doi: 10.7554/eLife.84382.


More

Mutations in the ubiquitin (Ub) chaperone Ubiquilin 2 (UBQLN2) cause X-linked forms of amyotrophic lateral sclerosis (ALS) and frontotemporal dementia (FTD) through unknown mechanisms. Here, we show that aggregation-prone, ALS-associated mutants of UBQLN2 (UBQLN2ALS) trigger heat stress-dependent neurodegeneration in Drosophila. A genetic modifier screen implicated endolysosomal and axon guidance genes, including the netrin receptor, Unc-5, as key modulators of UBQLN2 toxicity. Reduced gene dosage of Unc-5 or its coreceptor Dcc/frazzled diminished neurodegenerative phenotypes, including motor dysfunction, neuromuscular junction defects, and shortened lifespan, in flies expressing UBQLN2ALS alleles. Induced pluripotent stem cells (iPSCs) harboring UBQLN2ALS knockin mutations exhibited lysosomal defects while inducible motor neurons (iMNs) expressing UBQLN2ALS alleles exhibited cytosolic UBQLN2 inclusions, reduced neurite complexity, and growth cone defects that were partially reversed by silencing of UNC5B and DCC. The combined findings suggest that altered growth cone dynamics are a conserved pathomechanism in UBQLN2-associated ALS/FTD.

PMID:37039476 | PMC:PMC10147378 | DOI:10.7554/eLife.84382

View details for

PubMedID 37039476
Contact Information
Randal Tibbetts, PhD
3059 WIMR,
1111 Highland Avenue
Madison, WI 53705