I am an assistant professor and director of Clinical Physics in the Department of Human Oncology. As a medical physicist in radiation therapy, my role is to ensure the safe, effective and accurate delivery of radiation to our patients as well as the protection of the general public from our treatment activities. I am the lead physicist for our stereotactic radiosurgery (SRS) program. Through these efforts, I spend most of my time clinically working with patients requiring treatment for primary or metastatic intracranial disease, ensuring the most accurate treatments possible. SRS treatments include the smallest and highest dose-per-fraction treatments delivered anywhere in radiation therapy, so my focus is on highly conformal delivery and planning techniques.
My research interests include methods to improve the accuracy of treatment alignment and delivery strategies, with the goal of reducing the total spatial uncertainty in SRS treatments, and to develop new treatment planning strategies that result in very robust yet efficient treatment plans for SRS patients. I also work with graduate students and faculty in medical physics on research efforts to more precisely measure doses from modern treatment systems.
I also serve as the director of our Radiation Oncology Physics Residency Program, overseeing the day-to-day efforts of our residents and setting the vision and organizational structure of our training program. Working with young medical physicists during their transition from graduate student to independent clinical physicist is a highly rewarding experience, and my ultimate goal is to create a learning environment where our graduating residents can positively impact the radiation oncology patient condition by enabling the highest quality of care everywhere they go.
Education
Residency, University of Michigan, Clinical Medical Physics (2014)
PhD, University of Chicago, Medical Physics (2012)
BS, University of Wisconsin–Madison, Applied Mathematics, Engineering and Physics (2007)
Academic Appointments
Assistant Professor (CHS), Human Oncology (2015)
Assistant Researcher, Human Oncology (2014)
Selected Honors and Awards
Clinical Physics Educator Award (2019)
Good Catch Great Care Award, Human Oncology (2019)
University of Chicago Biological Sciences Division Outstanding Performance Award in the Field of Medical Physics (2012)
First Place, Young Investigator Session, Midwest Chapter AAPM Spring Meeting (2011)
University of Chicago Doolittle-Harrison Fellowship (2011)
University of Chicago Graduate Program in Medical Physics, Lawrence Lanzl Award for Exceptional Research Ability in Medical Physics (2010)
First Place, Young Investigator Session, North Central Chapter AAPM Fall Meeting (2010)
Paul C. Hodges Research Award in Radiology (2009–2010)
Phi Beta Kappa, University of Wisconsin–Madison (2007)
AAPM Summer Undergraduate Fellowship Award (2006)
Radtke Award for Undergraduate Academic Achievement in Physics (2004)
Dean's List, University of Wisconsin–Madison (2003–2007)
National Merit Scholar (2003–2007)
Boards, Advisory Committees and Professional Organizations
Presidential Chain, North Central Chapter of the American Association of Physicists in Medicine (2018-2020)
Reviewer for multiple journals and annual meetings (including Medical Physics, Medical Dosimetry, Int J Rad Onc Biol Phys, AAPM Annual Meeting, etc.)
Vice Chair, Journals Business Management Committee, American Association of Physicists in Medicine
Chair, Radiation Oncology Physics Residency Program Oversight Committee, University of Wisconsin–Madison
Chair, Radiation Oncology Physics Residency Program Selection Committee, University of Wisconsin–Madison
Research Focus
Brain, Spine
Improving the precision and accuracy of what we do will allow us to help more patients, more effectively than ever before.
In radiation therapy, we know that dose delivered through small fields must be measured differently, but how, exactly? We know that modern treatment systems can compensate for spatial inaccuracies, but will such strategies always work? I'm interested in finding and eradicating imprecision in the technical aspects of radiation therapy.
Treatment Planning Strategies for Stereotactic Radiosurgery
For intracranial radiosurgery treatments, we seek conformal high-dose radiation dose distributions with exceptionally sharp fall-off of the dose outside the treatment volume. Depending on the exact size, shape and location of the target volume, we have access to different treatment planning approaches to achieve these goals. We could treat the target with multiple "shots" of radiation built up from spherical doses with circular conical collimators, or we could treat the target with customized multi-leaf collimator sequences. Sometimes we wish to center the radiation beams exactly in the center of one target, and sometimes we wish to treat multiple targets all with the same localization. We're working to quantify the exact trade-offs between various treatment planning strategies to better decide the optimal strategy for every unique patient.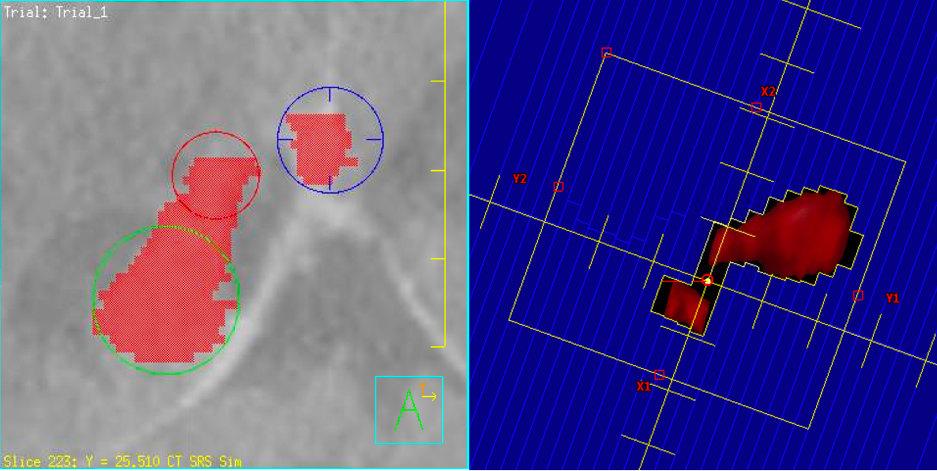 Patient Plan-Specific Detector Corrections for Accurate Radiation Measurements
It is well known in radiation physics that ionization chambers respond differently to small fields of radiation (compared to larger fields) due to spectral response characteristics and variable perturbation effects. What is less well known is the magnitude of these effects for any particular patient plan, or for a patient plan characterized by modulation indices, etc. We are working with a graduate student in the UW Radiation Calibration Laboratory to better quantify these effects to enable more accurate radiation dose measurements for individual patients and to enable more precise computer modeling of radiation delivery systems.
Improving the Mechanical Precision of Radiation Therapy Delivery
I'm especially fascinated with the potential to improve the mechanical precision of radiation therapy treatment delivery through a variety of strategies. I'm working on techniques to better align conical collimators with the delivery system axes and to ensure that alignment is stable over time. I'm working on more complete and more efficient tests to check the accuracy of multi-leaf collimator positioning, down to 0.05 mm or better. I'm also working on active strategies to compensate for mechanical flex and misalignment, with the goal of overall combined mechanical accuracy on the order of 0.2 mm.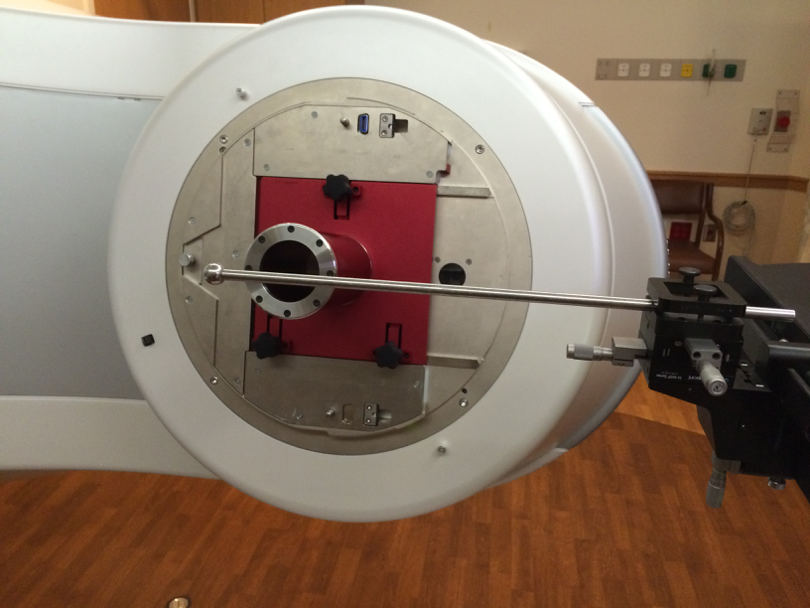 Diagnosing atmospheric communication of a sealed monitor chamber Journal of applied clinical medical physics
McCaw TJ, Barraclough BA, Belanger M, Besemer A, Dunkerley AP, Labby ZE
2020 Aug;21(8):309-314. doi: 10.1002/acm2.12975. Epub 2020 Jul 10.


More

Daily output variations of up to ±2% were observed for a protracted time on a Varian TrueBeam® STx; these output variations were hypothesized to be the result of atmospheric communication of the sealed monitor chamber. Daily changes in output relative to baseline, measured with an ionization chamber array (DQA3) and the amorphous silicon flat panel detector (IDU) on the TrueBeam®, were compared with daily temperature-pressure corrections (PTP ) determined from sensors within the DQA3. Output measurements were performed using a Farmer® ionization chamber over a 5-hour period, during which there was controlled variation in the monitor chamber temperature. The root mean square difference between percentage output change from baseline measured with the DQA3 and IDU was 0.50% over all measurements. Over a 7-month retrospective review of daily changes in output and PTP , weak correlation (R2 = 0.30) was observed between output and PTP for the first 5 months; for the final 2 months, daily output changes were linearly correlated with changes in PTP , with a slope of 0.84 (R2 = 0.89). Ionization measurements corrected for ambient temperature and pressure during controlled heating and cooling of the monitor chamber differed from expected values for a sealed monitor chamber by up to 4.6%, but were consistent with expectation for an air-communicating monitor chamber within uncertainty (1.3%, k = 2). Following replacement of the depressurized monitor chamber, there has been no correlation between daily percentage change in output and PTP (R2 = 0.09). The utility of control charts is demonstrated for earlier identification of changes in the sensitivity of a sealed monitor chamber.

PMID:32648368 | PMC:PMC7484838 | DOI:10.1002/acm2.12975

View details for

PubMedID 32648368
Contact Information
Zacariah Labby, PhD
600 Highland Avenue,
K4/b100
Madison, WI 53792