On Jan. 14, the UW Cancer Center Johnson Creek commenced cancer patient treatments in a freshly upgraded radiation oncology clinic. At the heart of this upgrade is a highly sophisticated and newly commissioned Varian TrueBeam Radiotherapy System. This state-of-the-art linear accelerator will enable the clinic to provide cancer patients in Southeastern Wisconsin convenient access to many high-precision radiation treatments available at the UW Carbone Cancer Center in Madison.
This new radiation therapy machine is expertly matched to the TrueBeam machines at University Hospital. "Having the same equipment as at the UW campus exemplifies the mission of Johnson Creek, which is to provide local access to high-quality cancer care," says Dr. Jessica Schuster, radiation oncologist at UW Cancer Center Johnson Creek. "It also enables seamless care. If a patient being treated at Johnson Creek becomes very ill and needs to go to University Hospital, they will be able to continue radiation treatments there without delay."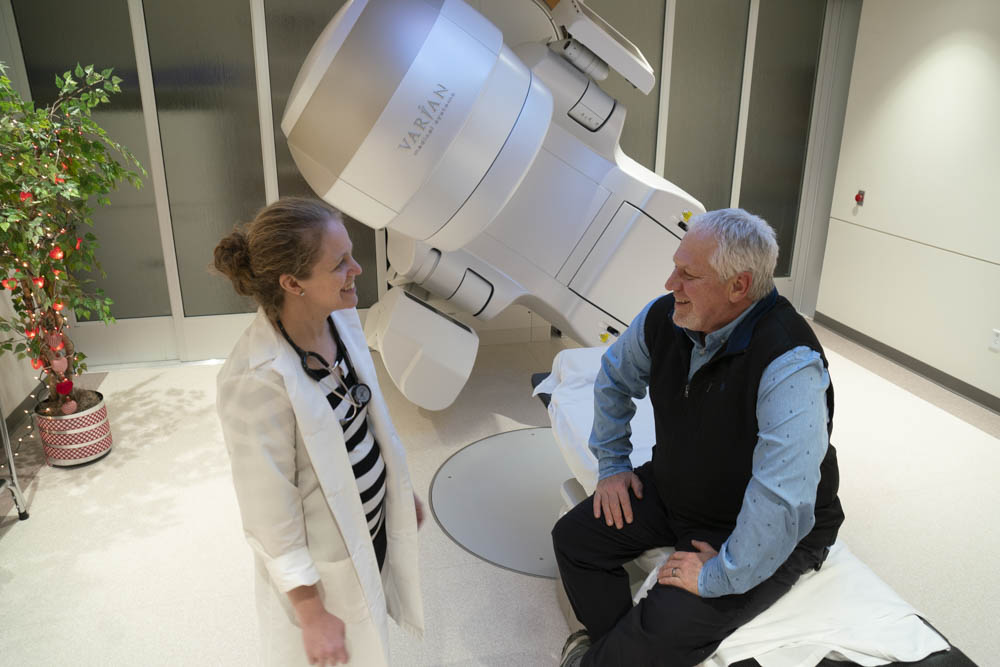 New features of the upgraded radiation oncology clinic at UW Cancer Center Johnson Creek include the following:
Advanced imaging—The TrueBeam has an integrated imaging system. This enables clinic staff to capture patient images and compare them with images from the treatment plan to ensure treatment accuracy.
A highly adjustable couch—The clinic's new treatment couch can be adjusted in six dimensions. This reduces the need to move the patient manually and makes overall treatment times quicker.
High-energy radiation—The TrueBeam can deliver high-energy radiation to treat tumors deep within the body.
Optical Surface Monitoring System (OSMS)—This system uses three ceiling-mounted cameras to create a 3D model of the patient. The system compares this model to the images of the patient from the treatment plan. If the patient moves out of position, the system shuts off the treatment beam.
Respiratory gating system—This video-based system uses an infrared camera that tracks a reflective marker on the patient. It enables clinicians to correlate tumor position to the patient's breathing.
This technology will enable Dr. Schuster and her staff to provide highly precise treatments, such as stereotactic radiation for early stage lung cancer and short-course prostate cancer treatment. Previously, patients often needed to travel to Madison to be treated with these state-of-the-art technologies.
In years past, traveling to Madison was offered to cancer patients who might benefit. When an individual patient was deemed likely to benefit from an advanced technology at University Hospital, Dr. Schuster would discuss this opportunity. However, not all patients had the means and support to travel the additional distance each day.
"It can be hard to convince patients—particularly older patients—to drive an hour and 15 minutes to campus for six weeks versus driving 10 to 20 minutes to Johnson Creek. They may feel comfortable driving short distances but often need someone else to drive them to Madison. With the new capabilities at UW Cancer Center Johnson Creek, I will now be able to tell patients they can receive the same treatment with the same technology as in Madison, but much closer to home."
"I love the idea of having of patients being treated at Johnson Creek with the best technology available without having to travel to Madison," says Brad Glassel, who underwent five weeks of radiation therapy as part of his treatment for prostate cancer under the care of Dr. Schuster. "It's going to make getting to treatment appointments so much easier and less stressful for many patients."