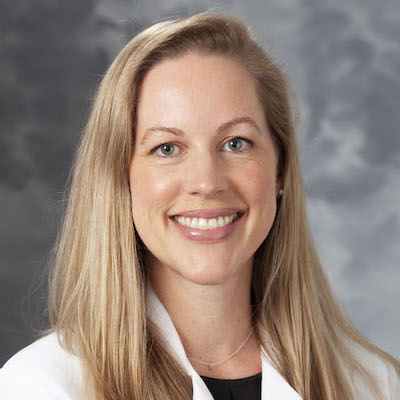 Dr. Pippa Cosper, a Bentson Translational Research Fellow in the Department of Human Oncology, hypothesizes that chromosomal instability (CIN) may influence the response of tumors to radiation therapy. If true, this could provide valuable to predict treatment outcome and adjust the treatment approach based on measurement of CIN before treatment.
Malignant tumors are characterized by CIN, the gain or loss of chromosomes that can occur when cells divide, resulting in daughter cells with the wrong number of chromosomes. Low rates of CIN can promote tumor growth, while high rates result in cell death and tumor suppression.
Ionizing radiation is known to cause CIN and is more effective in treating human papillomavirus (HPV)-positive head and neck cancers (HNC) than HPV-negative HNC. As a result, patients with HPV-positive HNC have significantly higher survival rates than patients with HPV-negative HNC. The reasons for this difference in radiosensitivity and patient outcome are poorly understood.
The extent of CIN correlates with radiation response and clusters according to HPV status in a small cohort of HNC patient-derived xenografts—cancer cells from patients injected into mice.
Dr. Cosper recently received two grants to support her study of the role of CIN as a potential mechanism and marker of radiation sensitivity in head and neck and cervical cancer: an American Society of Clinical Oncology (ASCO) Young Investigator Award and a Radiological Society of North America (RSNA) Research Fellow Grant. Each grant provides $50,000 for one year. The ASCO grant will focus on CIN in HNC, and the RSNA grant will focus on CIN in HNC and cervical cancer, which is also an HPV-associated disease.
Working under the mentorship of Dr. Beth Weaver, associate professor of cell and regenerative biology, and Dr. Randy Kimple, associate professor of human oncology, Cosper will examine HPV-positive and HPV-negative cancer cells to see if CIN correlates with radiation sensitivity. She will then look for the same correlation using patient-derived xenografts. Finally, she will quantify mitotic defects in biopsy samples from HNC patients and see if CIN correlates with treatment response and outcomes.
"Studying this cohort of patients retrospectively is the most important part of this research," Cosper says. "We know how each of these patients responded to treatment. We think we'll find that the more chromosomally unstable the cells are before treatment the more they'll respond to radiation therapy. In that way CIN could be a biomarker. If that's true, then maybe one day we will be able to use a lower dose of radiation to treat tumors that have chromosomal instability. This could reduce the severity of side effects and improve quality of life long-term. Understanding the mechanisms of how CIN affects radiation sensitivity may also allow us to overcome radiation resistance."
Cosper, who has an MD and a PhD in molecular biology from the University of Colorado, joined the department in July 2018. She says that the research supported by these grants will help her develop her research niche and jumpstart her career. Her ultimate goal is to obtain an independent researcher position as a physician-scientist, where she would see and treat patients, and run her own research lab aimed at discovering new cancer treatments.
"These highly competitive and prestigious career development awards not only provide critical funding support for the exciting translational research that Dr. Cosper is spearheading as a Bentson Fellow here at UW, but they also signify a high level of international recognition for her potential as a future leader in the field of cancer research, " says Dr. Zachary Morris, assistant professor of human oncology and director of the Bentson Translational Research Fellowship.
Cosper says that the support she has received through her fellowship has been essential to her success. "Without my Bentson Translational Research Fellowship I would not have been able to get these grants," Cosper says. "The resources here are fantastic, and Drs. Weaver and Kimple are amazing mentors. I feel very fortunate to be able to have the opportunity to follow my passions and do this important research, which will hopefully positively impact cancer patients in the future."
The Bentson Translational Research Fellowship attracts highly promising physician-scientists in radiation oncology and provides an important bridge for their successful transition into academic faculty positions. The program offers fellows protected research time, formal mentorship, individualized career planning, grant and manuscript writing experience and networking and recognition opportunities at national research meetings.