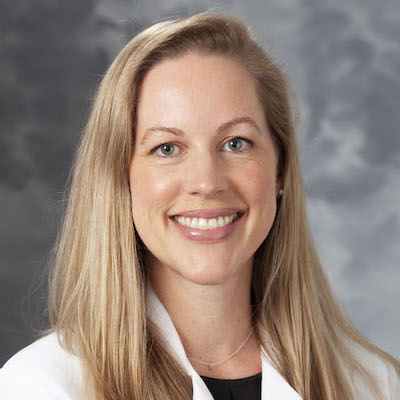 Dr. Pippa Cosper, an instructor in the Department of Human Oncology and Bentson Translational Research Fellow alumna, has been named a Forbeck Scholar. This highly prestigious award is intended to "foster research and encourage cooperation among the most brilliant minds in cancer research," according to the William Guy Forbeck Research Foundation's website.
As a Forbeck Scholar, Dr. Cosper will attend the "Aneuploidy in Cancer Development, Prognosis and Treatment" forum. This is a gathering of scientists studying how chromosome imbalances arise during tumorigenesis and how they can be targeted for cancer therapy. She will also attend the annual Forbeck Scholar Retreat for the next three years.
Dr. Cosper's research focuses on how chromosomal instability (CIN), an ongoing rate of chromosome missegregation, affects radiation sensitivity. CIN is very common in malignant tumors resulting in daughter cells with an abnormal number of chromosomes, otherwise known as aneuploidy.
"Over 90 percent of cancers are aneuploid but the extent and types of aneuploidies differ among tumors. Therefore, it is of great interest to determine if certain chromosome imbalances or mitotic errors can be specifically targeted for treatment," Dr. Cosper says. "My goal is to be able to use a tumor's baseline characteristics in terms of its CIN or aneuploidy to either determine how radiosensitive it will be or how to manipulate the tumor cells to enhance radiation-induced cell death.
"I am excited to be able to represent radiation oncology at these forums because radiation is often left out of the equation despite the fact that most cancer patients receive radiation at some point in their treatment. Interacting with the best biologists in the aneuploidy field will allow us to think of new ways to study aneuploidy and how it relates to radiation resistance or sensitivity."
Dr. Cosper will be in rare company as these forums are limited to just 20 top researchers in their respective fields.
"This award is very special as it is a recognition from the scientific community that they believe in my expertise, ideas, and potential for improving cancer research," Dr. Cosper says. "Having an opportunity to learn from and interact with the international leaders in the field is an amazing opportunity. I am very proud to represent the amazing science that is going on here at the University of Wisconsin!"
Dr. Cosper was mentored by both Dr. Beth Weaver, associate professor in the Department of Cell and Regenerative Biology, and Dr. Randy Kimple, DHO associate professor, during her Bentson Translational Research Fellowship. Dr. Kimple says: "This award is a tremendous honor for Dr. Cosper and recognizes her outstanding work, dedication to improving cancer care, and the exciting work she is pursuing. We are tremendously proud of her hard work and dedication to her patients. This award will provide outstanding networking opportunities and puts her into an incredibly small group of the top cancer researchers in the country."