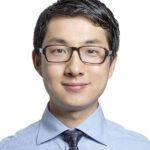 Dr. Shuang (George) Zhao, who earned his MS/MD and completed his radiation oncology residency training at the University of Michigan, joined the Department of Human Oncology as an assistant professor in August.
Dr. Zhao is a physician-scientist whose translational research laboratory focuses on using advances in next-generation sequencing and computational techniques to develop biomarkers of treatment response and resistance. His work to date has primarily involved prostate cancer; however, the research lends itself beautifully to the study of any cancer, and Dr. Zhao is beginning to expand his research to engage additional cancer types. On the clinical side, Dr. Zhao will provide one day per week coverage in the soon-to-open VA radiation oncology clinic along with Drs. Jessica Schuster and Craig Hullett.
"We can now get large quantities of sequencing data on tumors. The challenge is turning that data into useful biological insights or clinical tools that could tell us which patients are going to respond best to which treatments and use that to personalize care," Dr. Zhao says. "Historically, if you had cancer, you got the standard treatment for that cancer type and stage. Now, we hope to utilize the unique molecular characteristics of an individual's cancer to tailor treatment specifically for that patient."
His research is inherently interdisciplinary, and he says he found a great fit both within the department and with collaborators in other departments. "The Department of Human Oncology has a very strong track record of successful physician-scientists," Dr. Zhao says. "The senior faculty do an excellent job of mentoring the junior faculty. I will also be joining Dr. Josh Lang (associate professor of hematology/oncology) to co-direct the Circulating Biomarker Core, where we work on translating liquid biopsy technology into the clinic. I looked for an institution with strength across disciplines and found it at the University of Wisconsin."
Department Chairman Paul Harari notes, "We are thrilled about the recruitment of Dr. George Zhao to the Department of Human Oncology. He is a remarkably talented physician scientist whose work is highly transdisciplinary. His impact will extend well beyond radiation oncology with interface to precision medicine, drug therapy, bio-informatics and artificial intelligence to improve personalization of cancer therapy for the future."
We extend a warm welcome to Dr. Zhao and his wife Laura as they transition to Madison. They are interested to try their hand at sailing on Lake Mendota. Dr. Zhao looks forward to working with many new colleagues and establishing his research program and clinical care service for cancer patients.