The Department of Human Oncology (DHO) recently celebrated the graduation of three talented residents—Drs. Stephen Rosenberg, Craig Hullett and Abigail Besemer.
Dr. Stephen Rosenberg, who completed his radiation oncology residency, will join the H. Lee Moffitt Cancer Center as an assistant professor in Department of Oncologic Sciences at the Morsani College of Medicine at University of South Florida. He will devote 60 percent of his time in the clinic primarily treating patients with head and neck and lung cancers and the other 40 percent pursuing research with a special focus on MRI-guided radiation treatment.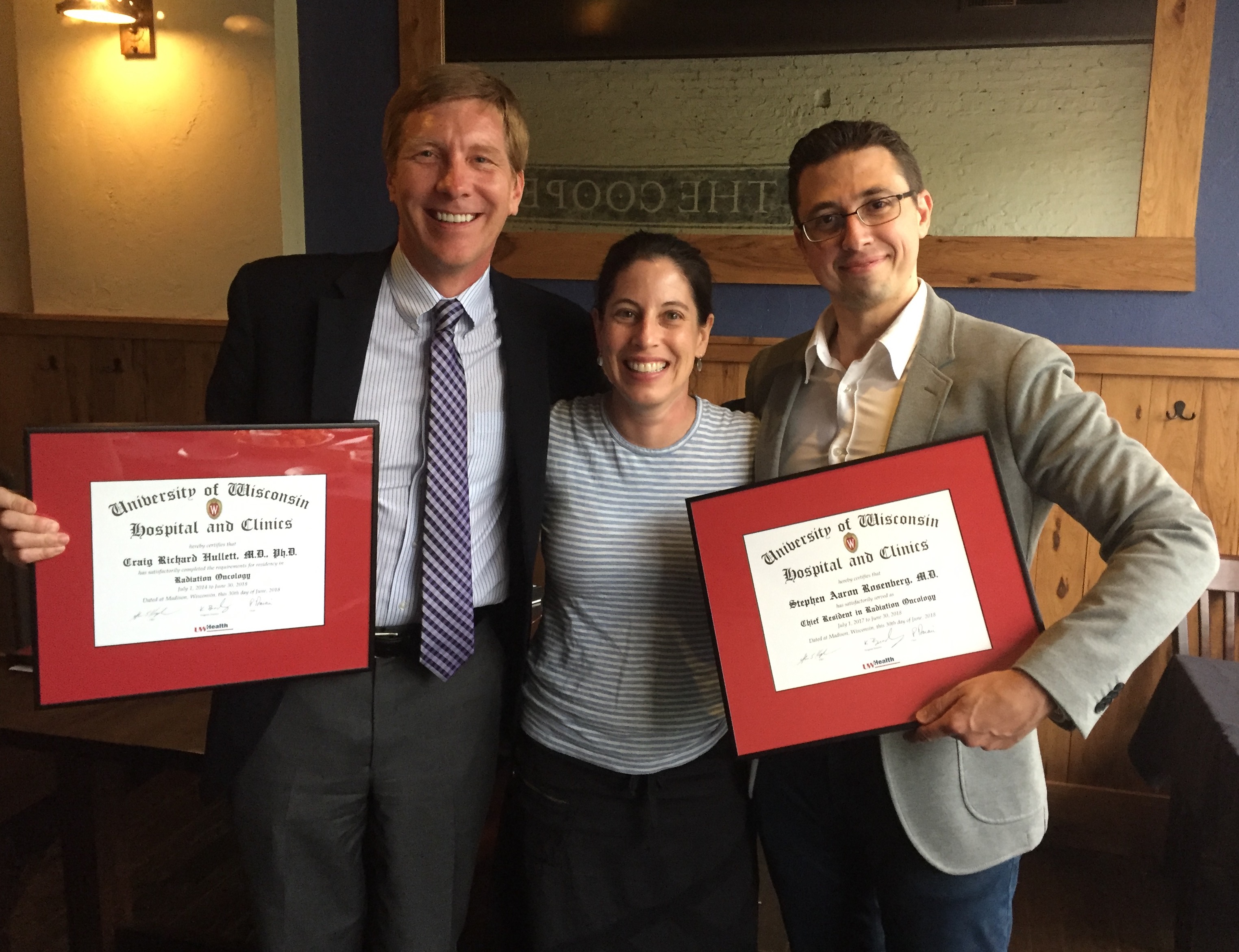 "This residency has been the opportunity of a lifetime," Rosenberg says. "When I came here, I knew I would go into academic medicine, but I hadn't chosen my areas of subspecialty within radiation oncology. I really tried to come in with eyes wide open and explore everything. I've had a lot of different mentors along the way. Each has helped mold me in very specific ways."
He credits Dr. Paul Harari, DHO chairman, with helping to develop his interest and expertise in head and neck cancer. Drs. Michael Bassetti, DHO assistant professor; John Bayouth, DHO chief of physics; and Kathryn Mittauer, DHO staff physicist/Bentson Fellow, trained him in MRI-guided radiotherapy, which he will apply in his new position. Dr. Kristin Bradley, DHO associate professor, got him interested in medical education, and he is looking forward to mentoring residents in his new position. Dr. Randall Kimple, DHO associate professor, helped him develop his passion for patient communication. In addition to collaborating with Kimple and others on research about patient communication, Rosenberg wrote a book for patients titled Cancer: What You Need to Know, which recently won a Midwest Book Award.
"I want to thank my wife and family for supporting me through residency," Rosenberg says. "I also am very grateful to have has such a great group of co-residents and faculty. They have all mentored me and shaped me in important ways. I'd be remiss if I didn't mention how important co-resident Craig Hullett has been to me and how close our families have become. That's the environment that we've created here. It's been a really phenomenal experience."
Dr. Craig Hullett, who completed his radiation oncology residency, will join the Community Cancer Center, a private, non-profit cancer treatment facility in Roseburg, Ore.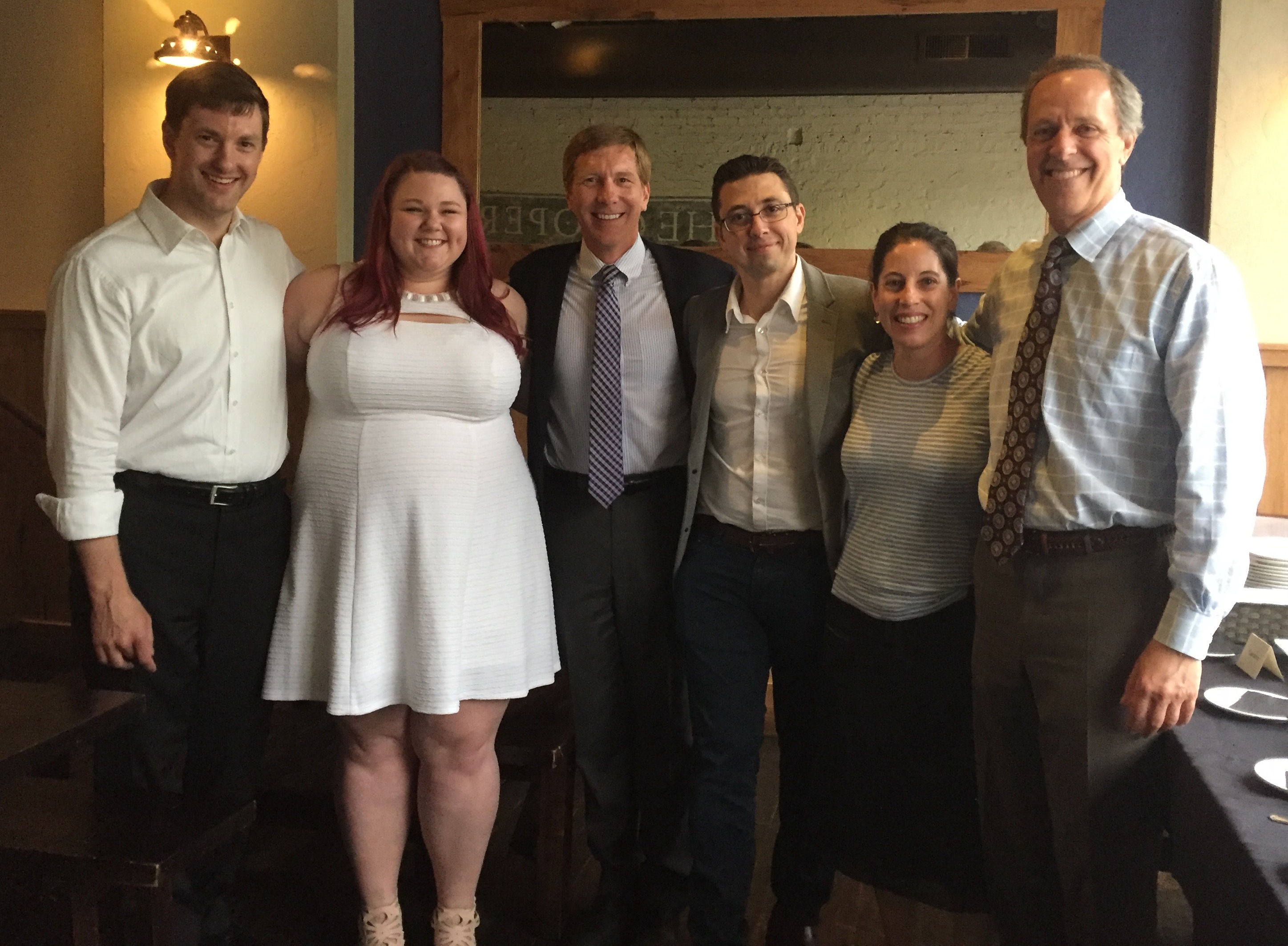 This opportunity is a great fit for many reasons, Hullett says. "The people with whom I hope to become partners are really just remarkable. They are good-hearted, very committed oncologists. It's just a wonderful little practice. Plus, I love that part of the country, and Roseburg is nice size town, where I think my family and I will truly become part of the community."
Hullett says he appreciates that the residency program enables residents to become the kind of physicians they want to be. For some, that means pursuing an academic career with a focus on one or two disease sites. For others, like Hullett, it means pursuing a broad range of interests in preparation to treat all disease sites.
"When I look back over the last five years—in addition to my residency, I did my internship year here—I feel very fortunate to have worked with such wonderful people," Hullett says. "The attendings were great and so were the other residents. And it's been made clear here that your relationships and connections don't end at graduation. There's always an invitation to call or come back anytime you feel you can use a little advice. I've seen residents who have graduated ahead of me come back or call. It shows the department's dedication to us while we're residents and beyond. That's one of my favorite things about this place."
Dr. Abigail Besemer, who completed the radiation oncology physics residency, will be joining the University of Nebraska as an assistant professor in the Department of Radiation Oncology. Her position offers opportunities for her to be involved in a variety of treatments, including stereotactic radiosurgery (SRS) as well as conventional external beam radiation.
"I'm excited that I'll get to do a little bit of everything," Besemer says.
Besemer expects a relatively smooth transition to her new position because the treatment modalities and equipment there are similar to those at the University of Wisconsin.
In addition to her work in the clinic, Besemer will apply her knowledge of radionuclide therapy and Monte Carlo dosimetry to an ongoing R01 grant. She also plans to continue her clinical research, including a project that looks at ways to compensate for gantry sag on the Varian TrueBeam system.
Besemer, who earned her PhD in medical physics at the University of Wisconsin, decided to do her residency at UW as well in part because the physicists are "so friendly and approachable, and they really care about teaching."
"The program is really thorough. I learned what it means to work in a clinic, interacting with others on the team and using my skills to solve problems on the spot," Besemer says. "In addition to learning the basics, treatment planning and quality assurance, we were also able to dive into special procedures such as total skin electron therapy and stereotactic radiosurgery because there are so many physicists here with specialized skills.
"I was least looking forward to the brachytherapy and SRS rotations. Those seemed liked high-pressure situations. The patient is on the table and you have to turn your treatment around fast. I didn't think that was for me, but after I did those rotations I really liked those. I like being in the moment, and when I was interviewing I was looking at places where I would be involved in those treatments."
Besemer is appreciative of her physics mentors. "They made me feel comfortable asking questions at any time. They have all been so great," she says. She is especially grateful to residency director Dr. Zac Labby for his hard work and guidance. "Whenever something exciting came up in the clinic, he'd always be the one to grab us and say, 'Come see this.' He always had us in mind."