Dr. Mark Ritter, professor in the Department of Human Oncology at the University of Wisconsin School of Medicine and Public Health, retired from active clinical service on June 30. Among his many contributions, Ritter directed the department's gastrointestinal program and genitourinary service for nearly 30 years. He led numerous clinical trials, served as principal investigator on multiple research grants, directed a radiation biology teaching course, mentored resident research and contributed to the development of new cancer treatment approaches. He has also provided dedicated care to many cancer patients. In a recent interview, he shared thoughts on his career, the department, the field of radiation oncology and his retirement.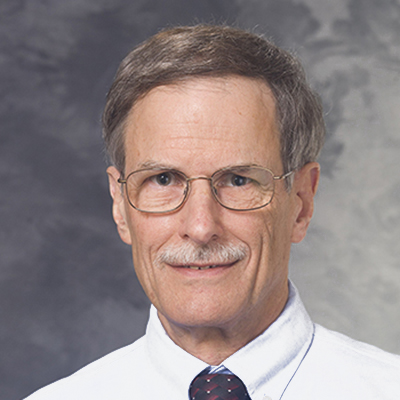 What first drew you to academic medicine and radiation oncology in particular?
Ritter: There were two transitions in my career that ultimately led to medicine. First, as a nuclear engineering graduate student at Berkeley, I began some research in the biomedical group at Lawrence Berkeley Laboratory, and while there, I became interested in radiation biology. I went on to complete my PhD thesis in high LET radiation biology followed by a radiobiology postdoctoral fellowship in Boston. I then took a position as a radiation biologist at the University of Pennsylvania in the Department of Radiation Oncology. Although I was working primarily in the lab and teaching, I was exposed to many fascinating clinical concepts and ideas and saw how the interpersonal aspects of patient care were at least as important as the technical. I became so interested that I decided to leave Penn to complete an accelerated PhD-to-MD program at the University of Miami, returning thereafter to Penn to complete a residency in radiation oncology before going on to a faculty position at the University of Wisconsin. Transitioning to medicine in general and to radiation oncology in particular were terrific decisions—ones that I will be forever grateful to have had the opportunity to make. Many mentors along the way as well as my family provided the critical guidance and support needed to carry me through these transitions.
How has radiation oncology changed during your career?
Ritter: The incredible versatility of radiation has allowed it to evolve into new and innovative areas of practice. Advances in imaging, treatment planning and treatment delivery technology have opened up entirely new treatment paradigms, in many cases enabling the use of radiation therapy, a non-invasive treatment, for types of tumors that could never have been adequately treated with radiation previously. These new capabilities have powered the development of a number of organ-preserving treatments in place of more radical surgery. They have also enabled the development of short-course, high-intensity treatments for multiple types of tumors, including those of the lung, brain, liver, kidney and pancreas. In addition, some of the work we at Wisconsin have done that looked at the clinical radiobiology of prostate cancer has helped open up a whole new approach of using large fraction size radiation therapy for treating prostate cancer. This approach shortens the treatment, improving resource utilization, reducing costs and providing more convenience for patients.
What are you proudest of in your career?
Ritter: I am grateful for the diversity of activities my career has afforded me: basic radiobiology, translational and clinical research and teaching and mentoring. Every day has been interesting and rewarding. I believe, though, that I have derived the most satisfaction and sense of accomplishment from having been able to hear the stories of and care for so many patients. Like all of my colleagues here, I feel that patients are my daily motivation. We feel privileged to be involved and strive to do our best for them.
What have you enjoyed most about working in the department?
Ritter: The people. Our physicians, physicists, residents, advanced practice providers, nurses, therapists and dosimetrists are all talented, kind, ethical and well-intentioned individuals who contribute every day to the patient care, educational and research missions of the department. It has been a pleasure and honor to work with them.
What roles might you play as professor emeritus?
Ritter: I hope to maintain some presence in research, educational and mentorship activities within the department. I hope to continue some teaching, perhaps with some involvement in future offerings of the radiobiology course I taught for many years, to serve on mentor committees and to keep abreast of research in the department, advising where I am able to. There is also some ongoing and completed work to be published and other projects that are just starting.
What else do you plan to do in your retirement?
Ritter: My wife and I will spend a portion of our time outside Wisconsin, but Madison remains very much in our plans as well. With a more flexible schedule, I hope to also engage in several volunteer opportunities. We hope to travel a bit more as well.
Do you have any general advice for students, residents and junior faculty members?
Ritter: Whenever possible, try to include students and trainees in your mix of future professional activities. Not only will it make an important contribution to the future of our field, but you will likely find it self-renewing and one of your most personally rewarding activities.
What excites you most about the future of the department?
Ritter: The department has positioned itself very well for the future. It has a large group of tremendously talented and productive junior and middle-career physicians, scientists and physicists who, assisted by strong leadership and technical and institutional resources, will maintain and further advance the department's position as a leader in research and innovative clinical care.
Would you say a few words about the Mark Ritter Scholarship Fund and what that may mean for DHO in future years?
Ritter: Funding for pilot research projects, whether based in the laboratory or in the clinic, is of critical importance, especially for newer faculty members. Particularly at an early stage of one's career, the availability of initial funding can enable a researcher to obtain the data needed to test the validity of new concepts and to then go on to successfully compete for additional needed funding from outside agencies or foundations. Sources for pilot funding have become increasingly limited, however. This scholarship fund will provide pilot funding for many new and promising lines of oncology research.
Word has it that you have a fantastic sense of humor, often hidden just beneath the surface. Can you confirm the rumor?
Ritter: I enjoy a good joke now and then and I appreciate a sense of humor. Cancer is a serious diagnosis, of course, to be handled with dedication and expertise on behalf of each and every patient. However, maintaining a sense of humor with patients, family members, colleagues and staff can be enormously helpful to maintain a spirit of camaraderie and life balance. Humor can break the ice at times to help us be even more humane and effective in our work.