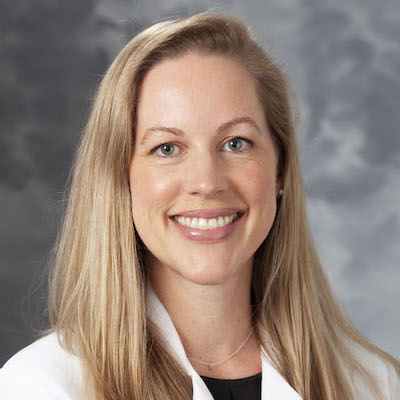 Dr. Pippa Cosper joined the Department of Human Oncology (DHO) as an assistant professor in July 2022, after completing her Bentson Translational Research Fellowship in 2021 and serving as a DHO instructor for a year.
Dr. Cosper will serve as a physician-scientist, running her own lab with a focus on researching the biological consequences of radiation and utilizing inherent vulnerabilities in cancer cells to promote radiation-induced cell death. She will also see patients one day a week at the UW Health Johnson Creek Radiation Oncology Clinic.
Dr. Cosper holds an MD and a PhD in Molecular Biology from the University of Colorado MSTP and a BS in biochemistry from the University of Texas at Austin. She grew up in Colorado and developed a love of science at an early age, despite there being no scientists or doctors in her family. "I would always be digging around in pack rats' nests to see the little animal bones and things they collected," she says. "I guess I've always been curious."
In medical school she found that she had a strong interest and passion for treating cancer patients and had planned on specializing in gynecological oncology until she discovered radiation oncology late in medical school. "Radiation oncology is the perfect specialty for me because it's research oriented and it allows you to care for cancer patients, thereby combining my two great passions" she says.
Dr. Cosper came to the Department of Human Oncology as a Bentson Translational Research Fellow in 2018 after her radiation oncology residency at Washington University in St. Louis to pursue a career as a physician-scientist.
As a Bentson Fellow, Dr. Cosper worked under the mentorship of Drs. Randy Kimple, DHO associate professor, and Beth Weaver, professor in the Department of Cell and Regenerative Biology. Her research on chromosomal instability—chromosome missegregation that occurs during mitosis—as a potential mechanism and marker of radiation sensitivity in head and neck and cervical cancers earned her an American Society of Clinical Oncology (ASCO) Young Investigator Award, a Radiological Society of North America (RSNA) Research Fellow Grant, and culminated in a K08 career development award from the NIH which will fund her for five years.
"The fellowship was an amazing experience," she says. I had excellent mentors and have learned so much. There are so many interesting avenues I can take in my future research now that I'm specialized in the fields of chromosomal instability and aneuploidy. I am now confident that I can lead a research group and make important discoveries that can help cancer patients. My ultimate goal is to create more personalized radiation therapy prescriptions based on the unique biology of each patient's tumor. This is something our field is lacking and could reduce side effects in some patients while increasing cure in others."